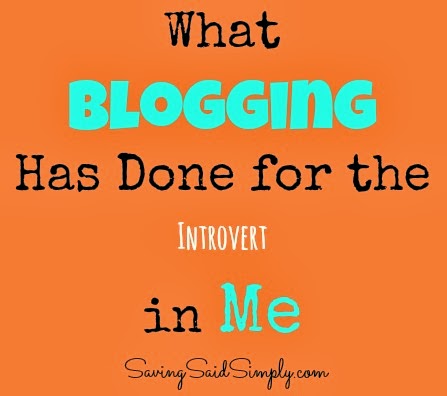 What Blogging Has Done for the Introvert In Me
By nature, I am an introvert.
I am a people watcher, a backseat passenger, an on looker.
I am perfectly happy sitting in the back of the room taking everything in. No spotlight or attention given to me. I melt into the background, fly on the wall, no one will ever remember my face or my name. I am the person that sweats profusely at my own wedding/baby shower/birthday party. No award ceremonies, no speeches, no TV cameras. I hate, Hate, HATE being numero uno.
Then I became a blogger.
I bet you're reading this and going "Oh yeah, blogging is a perfect job for you. No one has to see your face. You can write whatever you want. There's no backlash, no consequences. You can sit at home and still watch the world go by."
Um, yeah….NO.
Blogging has seriously changed the way I do my job everyday. I had to become the extrovert in every sense of the word. I had to become the one person I never thought I had to be.
Let me explain.
It all starts with…self-confidence.
In my day to day operations, I write and receive about 50+ emails a day. Yes, a DAY. In these emails I am constantly selling folks who I am. I tell people why they want to work with me. Why I would be a great representative of their brand. Why their product is the perfect fit for me, my family, my blog.
And if I have zero self-confidence and can't even sell that to myself….then why would any company want to work with me? So some serious soul searching occurred and my own perception of me needed a boost. Can't say I'm perfect or egotistical, but I find myself realizing that I do have worth. I have a story to tell. I do have confidence.
"I am awesome." I am telling folks that everyday. If that's not a great mantra for your self-confidence, I'm not sure what else is. And say it enough…well you start to believe it. Ok, maybe not awesome, but I do think I'm pretty special. WOW. Years ago, I would have never thought that. But seriously, think of how much your perception of yourself affects your personality, especially my introverted personality.
I'm going out more. Blogging is NOT all about sitting behind a computer all day. I'm going to functions, events, parties, conferences. It's me in a sea of people I don't know, praying that they pick me to be on their kickball team. It's nerve wracking.
I'm "dating" all over again. I'm pulling conversations with complete strangers out of thin air. I have to wear EXTRA deodorant on those days for all of the sweat pouring out. I have to look like a person that's got it together (instead of my pj blogger uniform). I am forcing myself to even start the conversation. Tell jokes. Smile. Put myself out there. Stand out in the crowd. Pulling out business cards, resumes, and most of all "please work with me."
But if I remain an introvert, I would never see these opportunities. My blog will become a daily diary of a few ramblings from a mom stuck at home. And well, honestly you'd probably be like BORING…and move on. It's ok. I probably would to.
So in 2.5 years I went from the silent small blogger behind the desk to the still small blogger…but with a little flare. I'm not perfect by any means. But blogging has definitely tested my boundaries, my comfort zone. Blogging has pushed the envelope in me, and I like it. And hey, I've now got a little extrovert in me. Who knew?

Disclosure~ I won't lie. This was a tough post to write. I'm writing about me, my uncomfortableness, and digging deeper into my soul. But I hope someone finds some motivation tucked in there and maybe a hint of inspiration.