Disclosure ~ Post sponsored by WhistleFritz. All opinions are 100% my own.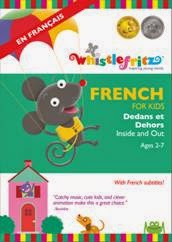 Teach Your Kids French with WhistleFritz
It's no secret that teaching your kids a second language has so many amazing benefits for our little ones. From the cultural benefits to opening doors in their other education learning, I really enjoy when my son gets excited about learning. The award-winning
WhistleFritz
is here with the new French for Kids DVD and CD to make learning French easy and FUN!
Our kids are like little educational sponges, soaking up information faster than our adult minds can handle. WhistleFritz engages kids with bright colorful pictures, catchy songs and an adorable mouse, Fritzi. My son loves singing along with his new favorite mouse friend. And Fritzi make sit easy to interact and chat! Recommended by parents, teachers and critics, Whistlefritz language immersion DVDs blend live-action with lively animation and amusing characters that catch the eye and engage the imagination. CDs feature catchy original tunes and native speakers for an authentic flair! Whistlefritz's programs continue to win honors from some of the most trusted names in children's media, including Parents' Choice Foundation, Dove Foundation, KIDS FIRST! and Dr. Toy, as well as top reviews in such prestigious publications as Booklist, School Library Journal and Video Librarian.
FUN Educational DVD
Dedans et Dehors (Inside and Out) DVD welcomes les enfants (children) to Fritzi's house, where up or down, inside or out, there is lots to learn and plenty to do. Explore every area of Fritzi's house, from la chambre (the bedroom) and la salle de bain (the bathroom) to le salon (the living room) and la cuisine (the kitchen). An engaging interactive format teaches children greetings, parts of the house, positional words, food, daily activities, numbers, and more. And that's not all! Nous allons chanter et danser! (We're going to sing and dance!) This DVD will have children on their feet dancing along to upbeat rhythms.
Designed for children ages 2-7, Dedans et Dehors DVD has French subtitles and includes an easy-to-use translation guide for parents and teachers, who are first time learners of French. Dedans et Dehors has won a Parents' Choice Silver Award, Mom's Choice Gold Award, Dove Foundation's Family-Approved Seal and a Mr. Dad Seal of Approval. Booklist praises, "Catchy music, cute kids and clever animation make this a great choice."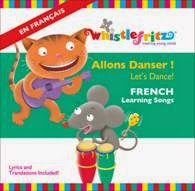 Musical CD
Get in the language-learning groove with Allons Danser! (Let's Dance!) musical CD, a delightful collection of catchy original tunes and beloved traditional favorites performed by internationally acclaimed vocalists Marie-Louise Desage and Didier Prossaird. From "Bonjour Les Amis" to "Au Revoir," kids and adults will be happily immersed in irresistible rhythms and catchy songs that introduce French words and phrases such as numbers ("Un, Deux et Trois"), parts of the body ("La Tête), Les Épaules"/Head, Shoulders) and children's favorite topics "Quand Je Serai Grand"/When I'm Big." A rollicking rendition of "La Vieux MacDonald" (Old MacDonald) puts a French twist on a beloved classic. Recommended for ages 2-7.
Available May 13, 2014 the French for Kids DVD and CD would make a great addition to your home. Dedans et Dehors (Inside and Out) DVD (SRP $19.99) and Allons Danser! (Let's Dance!) musical CD (SRP $14.99) are available to purchase online
. Find out more about WhistleFritz at www.whistlefritz.com
Ready for a giveaway? Thanks to WhistleFritz, 1 lucky reader will win the new WhistleFritz Dedans et Dehors French for Kids DVD to share with your kids. Ends 5/16. Here's how to enter:
Disclosure ~ All posts may contain affiliate links. I received a free product in exchange for this review. No other compensation received. Though the product is free, the opinions are 100% my own. Saving Said Simply is not responsible for shipment of prizes. Be sure to follow Saving Said Simply via Facebook, Twitter, Instagram, Pinterest and YouTube for more fun giveaways!
Blessings!
Christie