Post sponsored by Shout! Factory. All opinions are my own. May contain affiliate links

My Little Pony Tales: The Complete Classic TV Series DVD Set Giveaway
Have you been wanting to share a little bit of your childhood with your sweet little girl? Coming to DVD April 28th, you can own the original My Little Pony Tales: The Complete Classic TV Series, as shown back in 1992! (Are you feeling old yet? I certainly am!) This 2-disc set is filled with the ponies you know and love, now shared with your My Little Pony lover of today!
Ponyland is full of excitement, if you know where to find it, and now all of your favorite My Little Pony Tales are finally collected in one amazing set! Join the 7 Pony Friends—Starlight, Sweetheart, Melody, Bright Eyes, Patch, Clover and Bon Bon — for 13 episodes of outrageous fun! Games, picnics, ice cream shops, roller derbies and even UFOs… nothing is off-limits when it comes to grand Pony adventures! This 2-DVD set from Shout! Kids and Hasbro Studios includes all 13 episodes of the show, originally airing on television in 1992, as well as sing-alongs to delight and entertain your little ones!
Episodes:
Disc 1
Slumber Party / Too Sick To Notice
Battle Of The Bands / And The Winner Is…
Stand By Me / The Tea Party
The Masquerade / Out Of Luck
The Play's The Thing / Shop Talk
Impractical Joker/ The Great Lemonade Stand Wars
Blue Ribbon Blues / Roll Around The Clock
Disc 2
Princess Problems / An Apple For Starlight
Up, Up And Away / Sister Of The Bride
Birds Of A Feather / Send In The Clown
Happy Birthday, Sweetheart / Gribet
Bon Bon's Diary / Just For Kicks
Ponies In Paradise / Who's Responsible
You can purchase the My Little Pony Tales: The Complete Classic TV Series on DVD starting April 28, 2015 for the MSRP of about $15. You can pre-order now for about $10!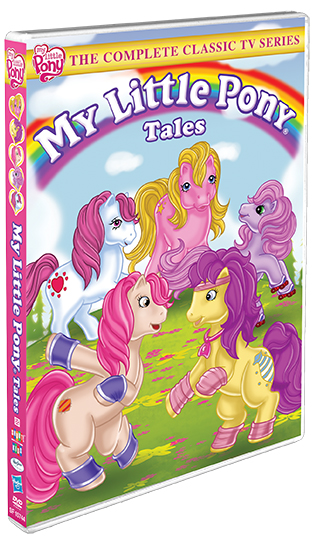 Giveaway
Ready for a fun giveaway? Enter now to win the new My Little Pony Tales: The Complete Classic TV Series DVD Set! Open to U.S. residents only. Ends 4/14. Here's how to enter: