Post sponsored by Go-GURT.  I am proud to be a Go-GURT Lunchbox Creator. All opinions of creations are my own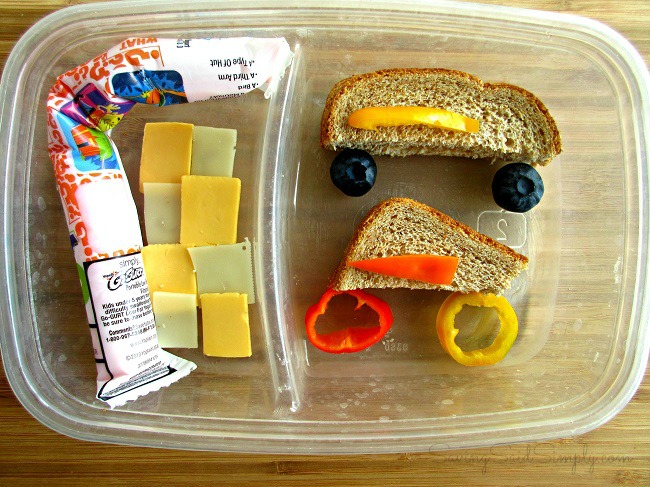 Race Car Bento Lunchbox Idea
And, we are off to the races! With Back-to-School underway for this family, I know that I'm in need of some encouraging lunches to get through this first week. Poor guy isn't used to the early lunch time or eating in the cafeteria instead of at home. Good thing that my son loves loves loves racing cars! So his favorite vehicles inspired my latest lunchbox creation! Here's how to make it:
Ingredients:
2 Slices on Sandwich Bread  -for the body of the cars (plus whatever filling for your sandwiches – peanut butter, lunchmeat, etc.)
1-2 small sweet peppers – for wheels and car accents
2 blueberries – for wheels
2 slices of different colored cheeses – for the checkered flag
1 Go-GURT Yogurt – for the handle of the checkered flag
Feel free to get super creative with the making of your car! My son loves the color red for his racing cars, so thinking about adding strawberry accents for next time! This bento box definitely tells my son that I am cheering for him at the finish line as we wrap up our first week of school! I'm so proud of his Kindergarten accomplishments already!
Need some more lunchbox inspiration? Check out this Teenage Mutant Ninja Turtle inspired bento box!
I received compensation and promotional items as an ambassador to Go-GURT. All opinions and creation ideas are my own. Be sure to follow Saving Said Simply via Facebook, Twitter, Google, Instagram, Pinterest and YouTube  for more easy recipes, kid craft ideas and more.