Make breakfast time FUN for your kids with this Kid Friendly Breakfast Sushi Recipe. This post is sponsored by Pebbles Cereal. All playtime opinions are my own. May contain commissioned links.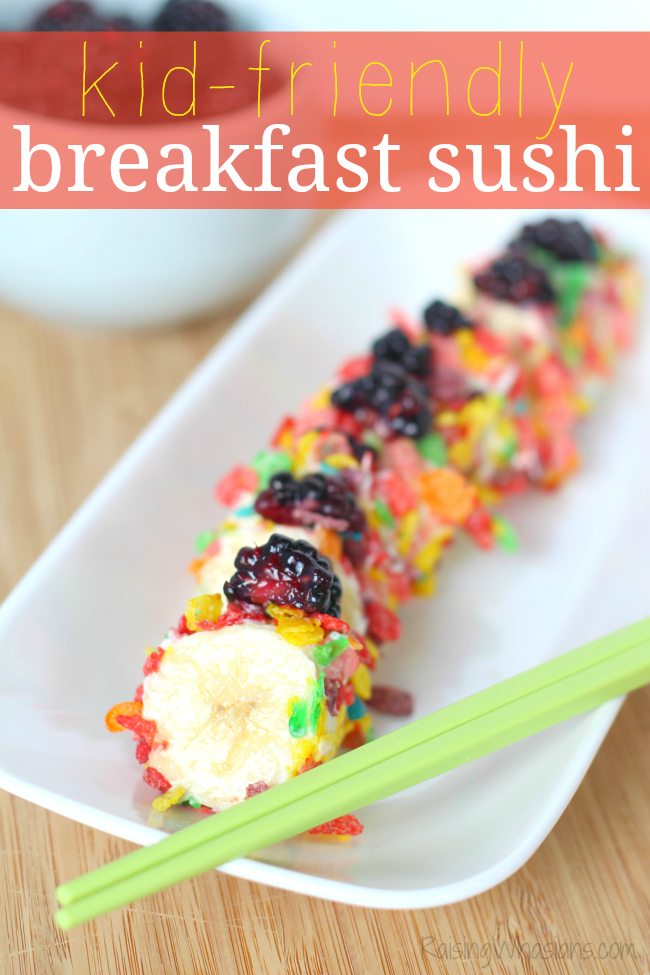 Kid Friendly Breakfast Sushi Recipe
Sushi lover? Yes, that's me. I could eat sushi Every. Single. Day. Perhaps it's in my genes, but just typing the word right now has me craving sushi. My kids on the other hand? Not a chance. All of the Legos and Disney Princesses in the world wouldn't convince my picky eaters that sushi is one of the most delectable food groups. But then again, there's always breakfast! This Kid Friendly Breakfast Sushi Recipe is inspired by my two little picky eaters. A little Asian influence, a delicious balance of kid-favorite breakfast foods, and a perfect way to have FUN in the morning, (Yikes! Is back-to-school on it's way already?) these two couldn't resist our play on sushi…for breakfast.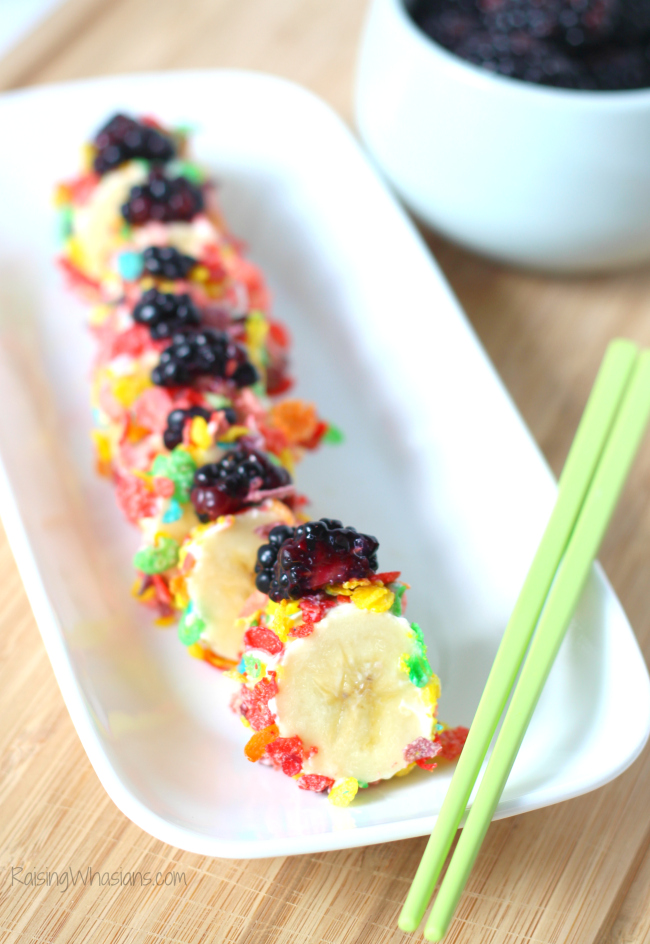 GROAN, I'm already thinking about Back-to-School. Those hurried breakfast meals are a definite cause of stress in our mornings, especially with two grumpy kids. You know what I'm talking about. Making a breakfast that's quick, easy, nutritious and FUN — it's definitely a challenge. Hence, Kid Approved Breakfast Sushi.
Grab your kid-friendly teaching chopsticks!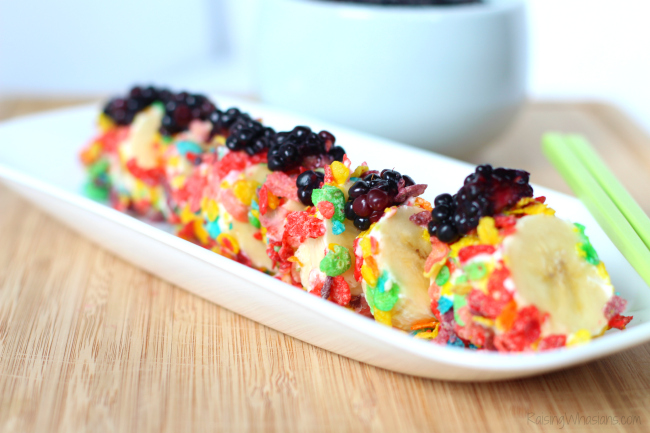 Adorable. Colorful. Tasty!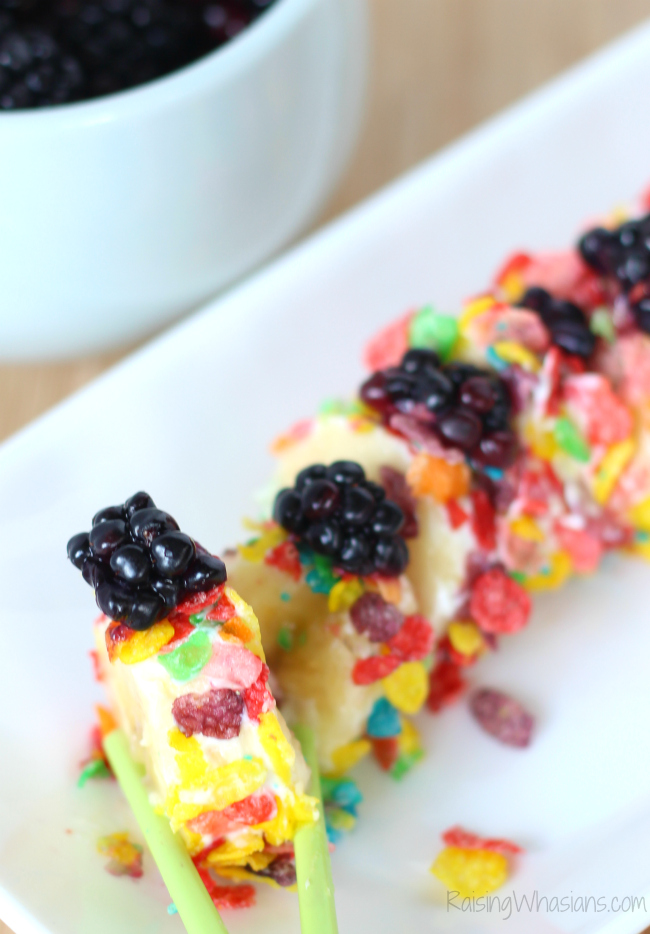 And F-U-N. It's a breakfast that we all can agree on. By mixing together fruit, yogurt and cereal in a playful way, my kids can gobble up the goodness in the morning. And bonus, I even get a smile out of these two early risers! Ready to create your own? Grab the easy recipe!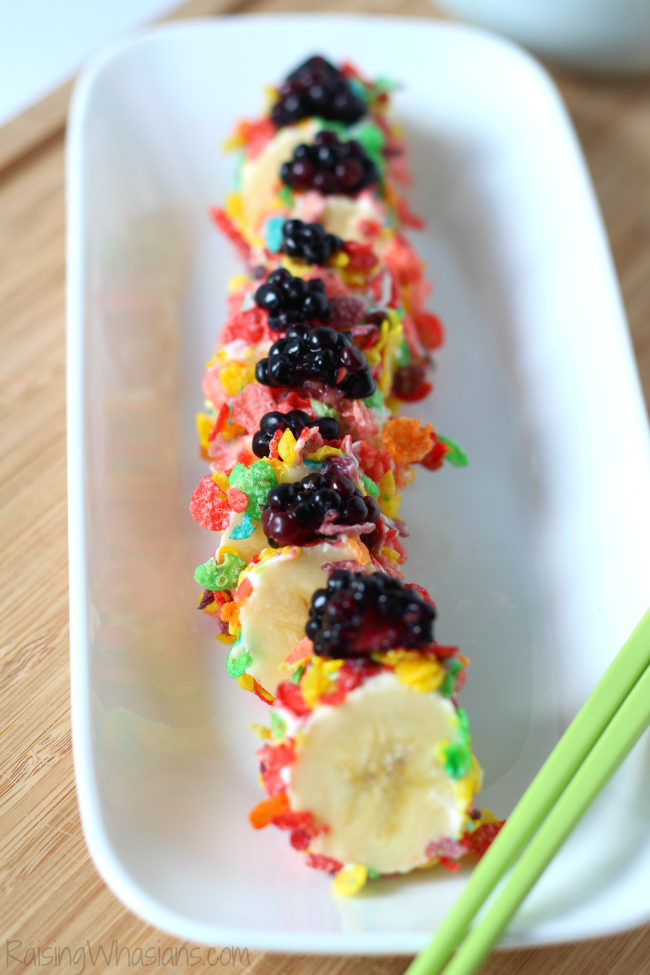 Kid Friendly Breakfast Sushi Recipe
Kid Friendly Breakfast Sushi Recipe
Author:
Christie @ RaisingWhasians.com
Make these delicious Kid-Friendly Breakfast Sushi pieces for a FUN take on a delicious breakfast idea that your kids will love
Ingredients
Banana
Greek Yogurt
Fruity Pebbles Cereal
Blackberries
Instructions
Begin by peeling the banana.
Using a butter knife, spread a layer of Greek yogurt on the outside surface of the banana.
Place your Fruity Pebbles in a shallow dish. Roll your banana in the Fruity Pebbles, until fully coated.
Place banana on a plate. Slice into "sushi" sized pieces. Arrange and top with blackberries.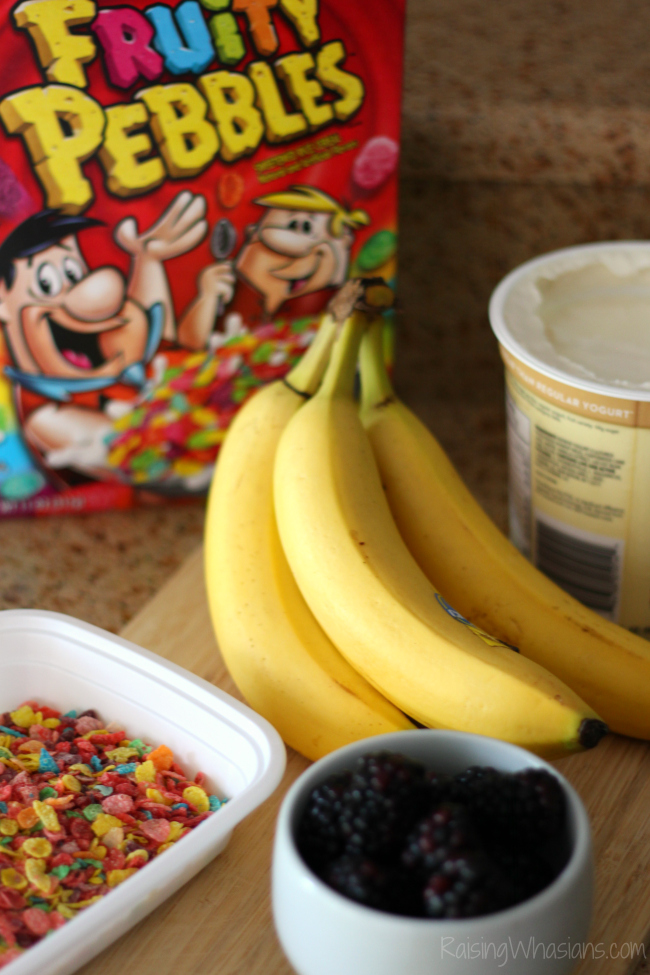 The best part of this recipe? Fruity Pebbles Cereal, of course. A perfect cereal crunch combined with a colorful way to say "Good Morning," we have a delicious breakfast to start our summer days OR our Back-to-School days. Need some more breakfast sushi ideas? Try these: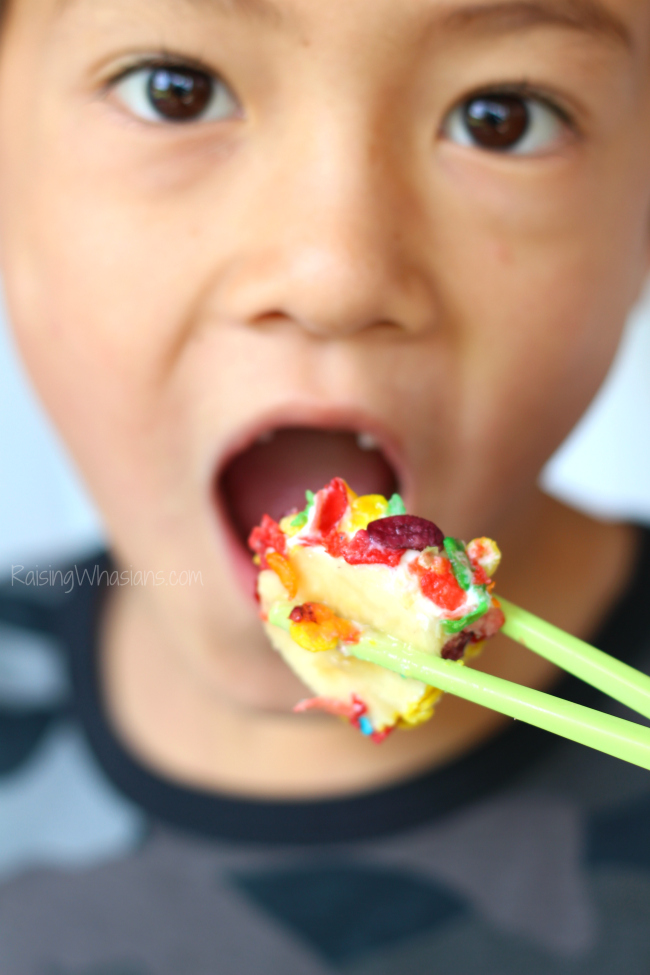 More Kid Friendly Breakfast Sushi Combinations
Banana + Nutella + Cocoa Pebbles Cereal
Banana + Cream Cheese + Fruity Pebbles Cereal
Banana + Peanut Butter + Cocoa Pebbles Cereal
Banana + Peanut Butter + Fruity Pebbles Cereal
Banana + Yogurt + Cocoa Pebbles Cereal
Looking for more kid-friendly recipes?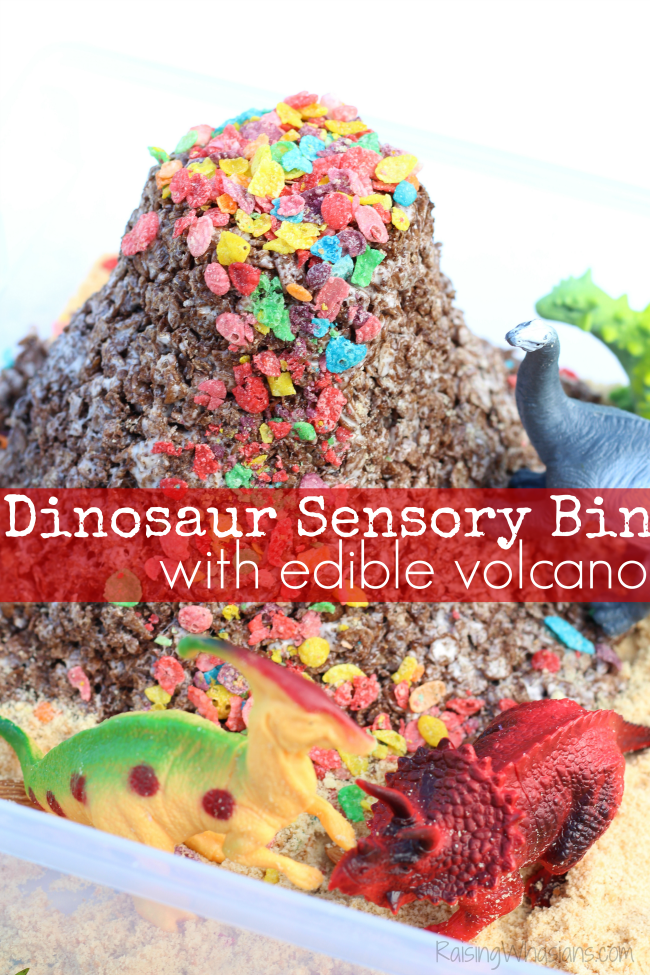 Need some more inspiration to "play" with your food? Check out this FUN activity and snack in one! Make your own DIY Dinosaur Sensory Bin with Edible Volcano.

How do you make breakfast time FUN for your kids?
Be sure to follow Raising Whasians via Facebook, Twitter, Instagram, Pinterest and YouTube for more of your favorite kid-friendly recipes, craft ideas, family travel & hilarious stories.