Universal Orlando NEW Escape from Gringotts Details
I can't believe that it's almost HERE! The new Wizarding World of Harry Potter Diagon Alley is opening soon at Universal Orlando. And they JUST released new details about the Escape from Gringotts attraction. I cannot wait to get on this one! And Universal just gave us our first sneak peek look!
Harry Potter and the Escape from Gringotts will be the signature ride of The Wizarding World of Harry Potter – Diagon Alley. It will be a groundbreaking, multi-dimensional thrill ride that will place riders in the middle of an incredible adventure as they navigate their way through the Gringotts vaults.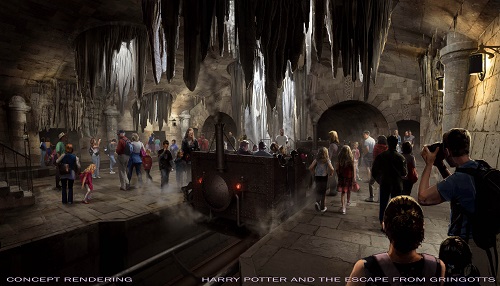 Check out the new artwork rendering for the new ride! "Harry Potter and the Escape from Gringotts will be like no other attraction in the entire world," said Mark Woodbury, president of Universal Creative. "From the moment we saw Gringotts bank in the films, we knew we wanted to bring it to life for our guests – and we're doing this in a way the world has never seen before."
Additional details will be revealed TOMORROW, May 13. For more information on The Wizarding World of Harry Potter – Diagon Alley, visit www.UniversalOrlando.com/WizardingWorld. Universal also just released their new blog at http://blog.universalorlando.com
Love Universal Orlando Resort tips? Check out these popular posts: