Outtake Pumpkin Patch Photos for the Win
So…I'm a little late. I made a promise to myself to get those Family Focus Friday posts out every week – and yeah, life happens. I honestly love sharing my family every Friday. No sponsored posts. No pressure. No editing. 100% honesty and real mom life – unfiltered (like this post that went viral). But deadlines, schedules and a conference this week – we have Family Focus Friday on a Saturday. It has a nice ring to it.
A Pumpkin Patch to a child – a place that comes around every fall where fairy tales meet reality. A place where kids can roam freely, frolicking among hay, decorations and magical pumpkins. They're touching everything in sight, getting dirty and NOT getting in trouble for it.
A Pumpkin Patch to a parent – a place that comes around every fall where parents have a focused mission: take one amazing family picture where everyone is clean and smiling and actually looking at the camera, and oh yeah, take a non-rotten pumpkin home.
So just like any other parent, I had my kids bathed and dressed and ready to capture those darling moments that I would treasure forever. It wasn't until a week later that I finally have had the opportunity to scroll through the candid moments. And I can't stop laughing. Rather than focusing on those priceless Hallmark card smiles – I found myself drawn to what I'm calling the Outtake Pumpkin Patch Photos for the Win.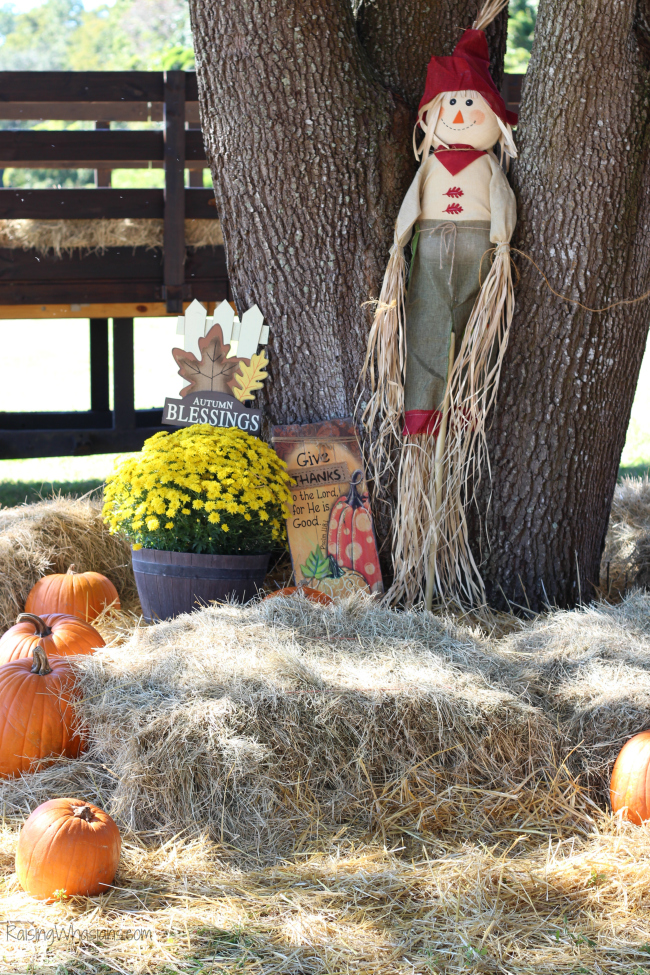 There's always a dedicated pumpkin patch photo spot. As a mom, you immediately zone in on that spot, dreaming of how your kids will hug and love each other, posing their arms and head tilts in your mind. Oh yes, this is going to be good. I even did some test shots and perfected my lighting game. But when you sit your kids down for the pictures, a mom can usually tell within the first few seconds if it's going to be a "good" or a "bad" photo session.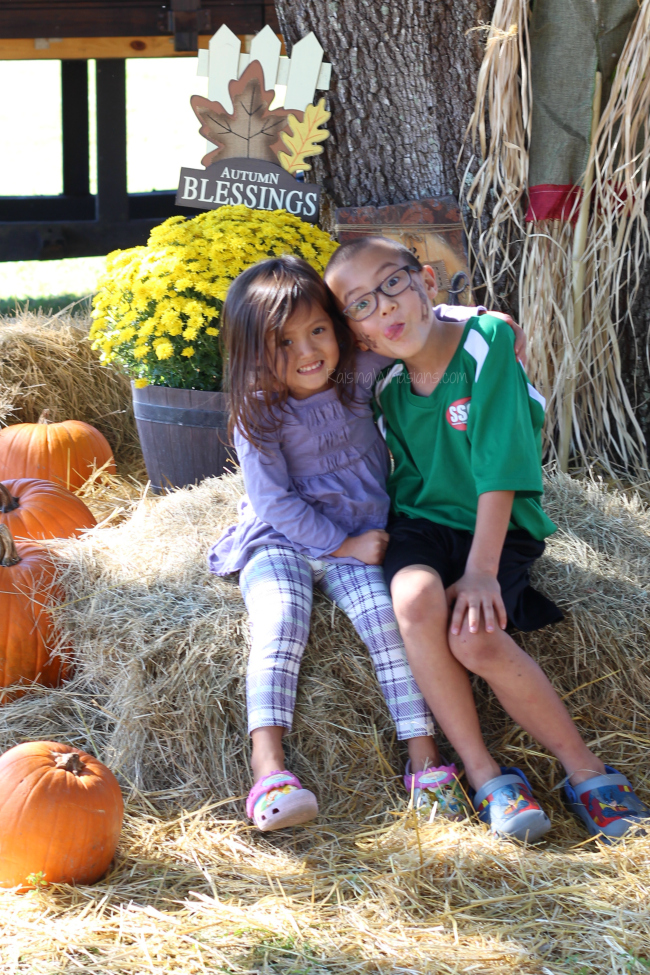 Yeah.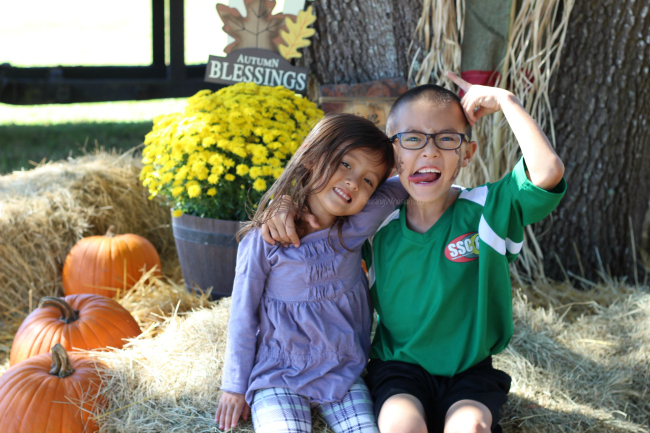 His face.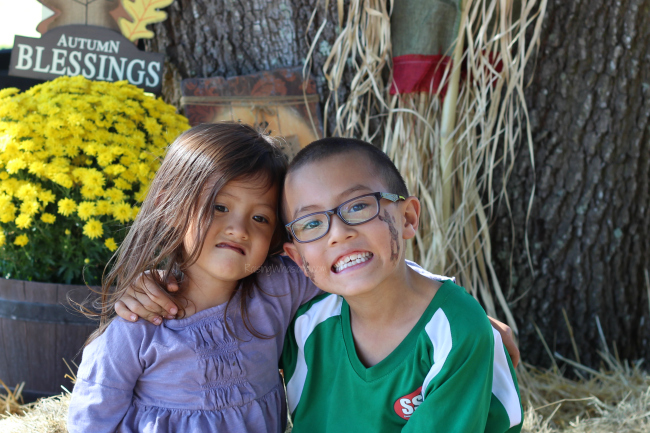 Her face.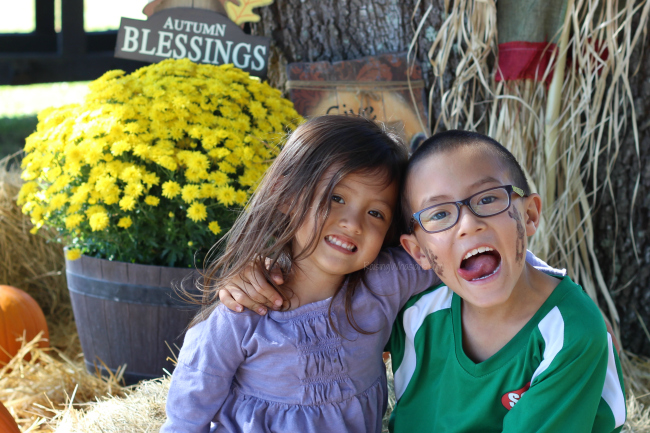 That one too.
Needless to say, these photos didn't make my personal Facebook page or my Instagram feed. But are they worth sharing? Absolutely. Layered beneath my girl's scowl and my son's perfected protruding tongue – there are 2 beautiful, unique, and wonderful kids, REAL kids.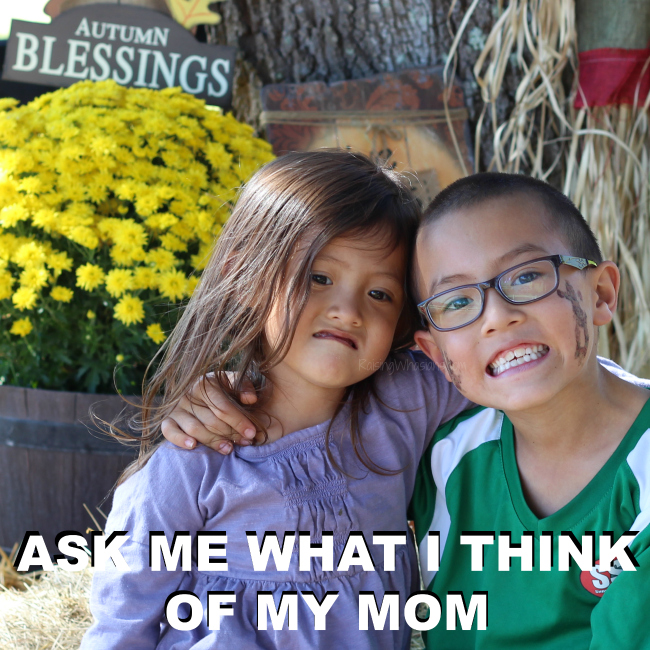 Life is more than just the plastered smiles that we are proud to post on social media. There are the real moments too – the ones that give you a twinkle in your eye, a bust-out-loud-laugh, or just that reminder that we are 100% normal. Now to find frames for these pictures.
Which outtake picture is your favorite? Do you have an amazing outtake photo that you just adore?
Be sure to follow Raising Whasians via Facebook, Twitter, Instagram, Pinterest and YouTube for more of our Family Focus Friday moments – laughter laced with 100% honesty.