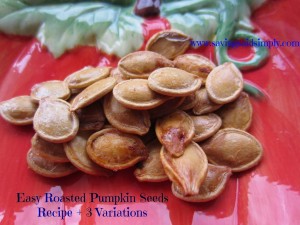 Easy Roasted Pumpkin Seeds + Variations
Here's an easy recipe for one of my favorite fall time snacks! I love this time of year. Fall time means pumpkins and pumpkin mean pumpkin seeds! And roasted pumpkin seeds are a fabulous way to get into the fall spirit!
Roasted Pumpkin Seeds
Ingredients:
1 1/2 Cups Pumpkin seeds – pulp removed, washed, and dried
Butter (about 1 Tablespoon)
1 teaspoon Salt (more or less to taste)
Cost = as low as $5.99 for the pumpkin only!
1. Melt Butter.
2. Coat Pumpkin Seeds with butter
3. Sprinkle with salt (to taste) (I do about 2 pinches)
4. Roast in oven at 250 degrees for about 1 hour, stirring every 15-20 minutes.
-For Extra Dry Seeds (dried overnight), increase temperature to 300 degrees and decrease cooking time to about 45 minutes
5. Remove when golden brown.
For storage:
Allow to cool. Store in an air tight container.
Variations:
Sweet – instead of salt, sprinkle with 2 tablespoons sugar, 1 teaspoon cinnamon, 1/2 teaspoon nutmug, 1/4 teaspoon salt.
Spicy – 1 teaspoon red pepper flakes, dash cayenne pepper, dash of sugar
Cheesy – 1/4 cup Parmesan, Romano or Peccorino Cheese, 1 teaspoon of fresh ground black pepper
ENJOY these yummy fall flavors and for cheap! Couponer tip ~ Buy pumpkins for reduced prices after Halloween to stock up on more seeds!
Blessings!
Christie