This shop has been compensated by Collective Bias, Inc. and its advertiser. All opinions are mine alone.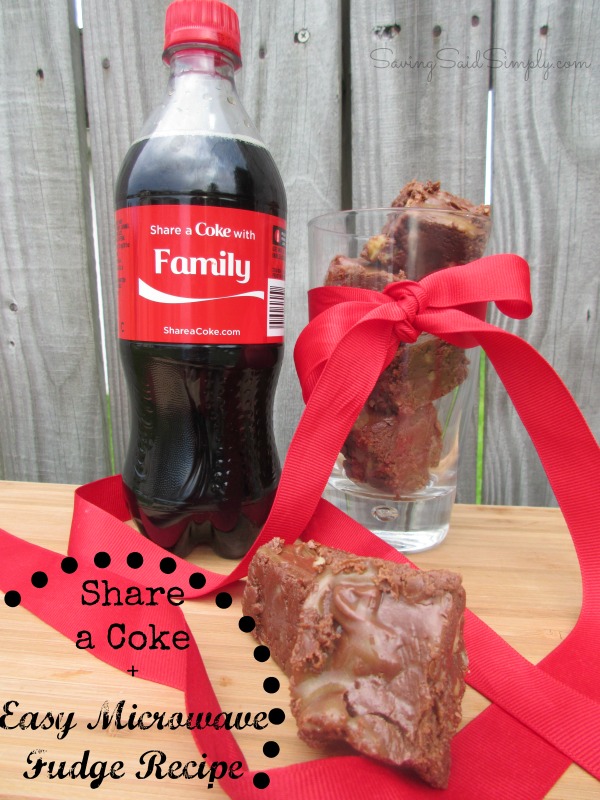 Share a Coke + Easy Microwave Fudge Recipe
He is a little gruff on the outside. With long time military background and a strict English Teacher mentality, you'd never suspect that my Father-in-Law has a warm and fuzzy center. My Father-In-Law and I have a different kind of relationship. We don't hug. We don't say the words "I love you." But over the 13 years I have gotten to know him, I've learned that he expresses love in a very different way…through FOOD. To share a coke with him is my simple way to say how much I care about him and what he means to our family.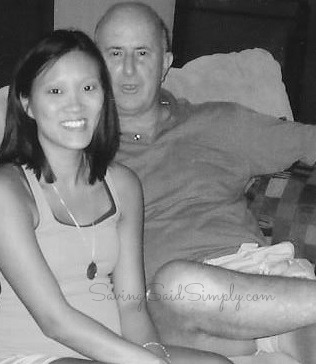 My Father-in-Law will go out of the way to bring me some of my favorite food items; a warm and fresh doughnut, kosher bologna sandwich sliced thin on rye, a cannoli that has been freshly filled. I love bringing him some of his favorite treats too. Warm chocolate chip cookies, homemade fudge and an icy cold Coke are at the top of his "I love you" list.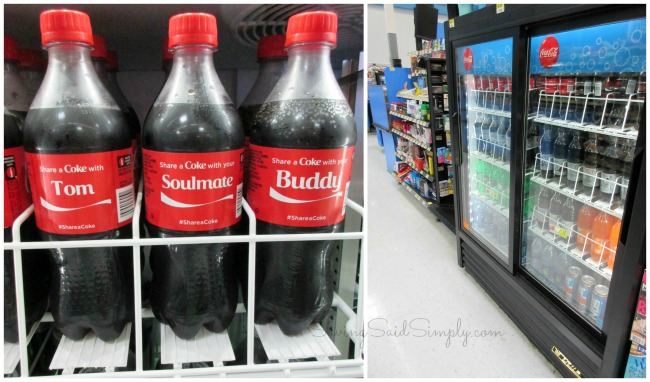 So when I heard about the new Share It Forward with a Coke promotion, I knew that this was the perfect opportunity to say how much he means to me in a very unique way. I headed to my nearest Walmart to pick up the new personalized 20 oz. Coke Bottles. Do you see your loved one's name? What a great way to share a personalized love note for your family, friends, maybe even surprise a local hero! I thought the "Family" one was a perfect reflection of our relationship. I couldn't wait to pick up an icy cold personalized Coke for him!
And no icy cold Coke is complete with his favorite homemade fudge! I was so inspired by the new Share It Forward with a Coke this summer, that I made this Easy Microwave Fudge Recipe topped with a Caramel Coke Drizzle! Check out how to make this fantastic recipe:

Easy Microwave Fudge Recipe with Caramel Coke Drizzle
 Ingredients:
3/4 cup Butter
3 cups Sugar
2/3 cup Evaporated Milk
12 oz. Bag of Semi-Sweet Chocolate Chips
7 oz. of Marshmallow Creme
1 cup of Chopped Nuts
4 TSP. Coca Cola
0.9 oz.(about 3 pieces) of individually wrapped Caramels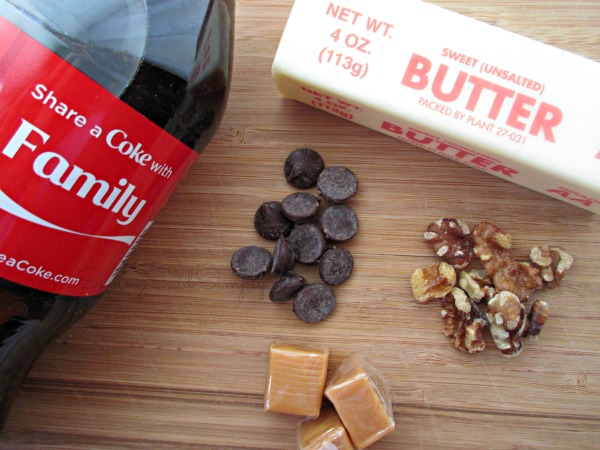 Directions:
In large microwaveable bowl, melt butter in microwave set on HIGH for 60 seconds (or until melted). Stir.
Add sugar and evaporated milk. Mix well. Microwave on HIGH for 3 minutes. Stir, scraping sides. Microwave on HIGH for 1:30-2 minutes, or until boiling. Stir well. Microwave on HIGH another 3 minutes. Stir. Microwave on HIGH another 2:30 minutes. Sugar should be completely dissolved now. WARNING – Bowl will be hot! Handle with care.
Stir in chocolate chips until melted. Add Marshmallow Creme and Nuts. Stir until well blended (will be lumpy due to nuts).
Pour into greased 10×10 or 9x-13 pan. Cool at room temperature.
While fudge is cooling, add Coca Cola and Caramel into small saucepan on stovetop. Cook over low heat, stirring constantly until well blended and smooth.
Drizzle Caramel mixture on top of fudge. Allow to cool at room temperature.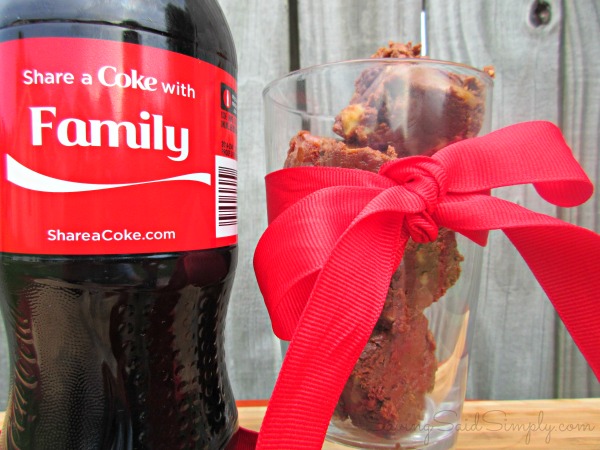 He's a little bit gruff, but I know that he loves me. And I take every opportunity to show how much I love him. Our relationship can be seen as a bit odd…but sharing a Coke with him is a perfect way to say that "I Love You." Share It Forward with a Coke this summer and tell someone else how much they mean to you!
Looking for more?
How do you #ShareItForward?
Thanks to #CollectiveBias for this wonderful opportunity to share some a Coke and some love with my Father-In-Law. Be sure to follow Raising Whasians via Facebook, Twitter, Google, Instagram, Pinterest and YouTube  for more reviews, giveaways and more.