Make your own jewelry cleaner with items you already have at home. This Easy DIY Jewelry Cleaning Solution will give your jewels a sparkly shine for less!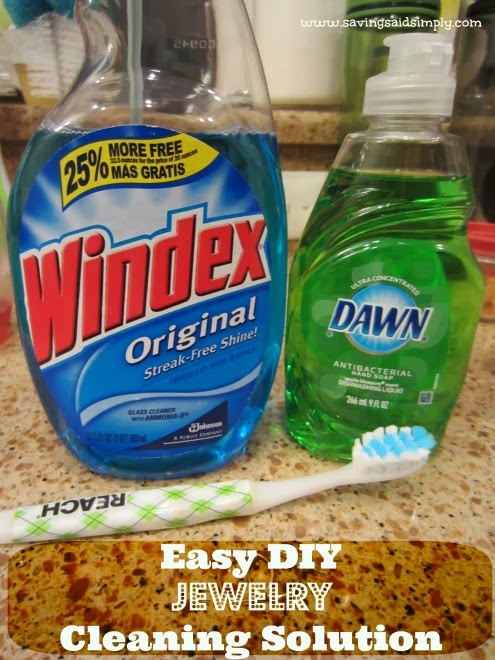 Easy DIY Jewelry Cleaning Solution
For years I went to the professional folks to get my rings cleaned…and then realized how much gas I was burning just for something simple I could do at home. I am by no means certifying that this is the BEST way or guaranteed way, but this is just something I personally do to clean my rings at home. Ready to make your own jewelry cleaner for less, with items you already have at home? Here's how to make my Jewelry Cleaning Solution!
Easy DIY Jewelry Cleaning Solution
What you will need:
1 OLD Soft Bristle Toothbrush
2-3 Tablespoons of Windex (not the cheap glass cleaner)
1/8 Teaspoon Dawn Dish Detergent
Directions:
Mix Windex and Dawn in small microwaveable bowl.
Heat in microwave for about 10-15 seconds (or until hot).
Soak rings for about 10 minutes in solution.
Scrub with soft bristle toothbrush until gleaming.
You won't believe the gook I get in my rings (2 kids, enough said). So this easy DIY jewelry cleaning solution is a perfect way to make my rings sparkle again. So easy! I mix this solution a few times a year for a sparkly clean wedding ring set. My husband thanks me too.
*I do NOT using this method for pearls, opals, or other delicate gems that may be ruined by brushing.*
Looking for more Easy DIYs for less? Check out some of my most popular posts!
How do you clean your jewelry?
Be sure to follow Raising Whasians via Facebook, Twitter, Instagram, Pinterest and YouTube for more of your mom hacks, kid crafts, and giveaways!