Want to control your dandruff flakes for less? Here's How to Make Dandruff Control Shampoo at Home with items you already own!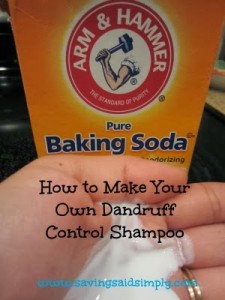 How To Make Dandruff Control Shampoo at Home
Here's an easy How To you can do at home for dandruff control shampoo! It's that time of the year. When the fall/winter months hit, the drier air creeps in. Drier air = drier skin = drier scalp! I know that my head is more prone to dandruff at this time of year. And dandruff control shampoos can be VERY expensive! Here's an easy and cost effective way to save make dandruff-free shampoo at home using items you already have!
How to Make Dandruff Shampoo at Home
You will need:
1. Baking Soda – 1-2 tsp.
2. Your Shampoo
Directions:
1. Mix the baking soda with the normal amount of shampoo for one use. You may need to adjust the baking soda up or down dependent on how much shampoo you use.
2. Shampoo your head normally. Rinse.
3. Make Dandruff Control Shampoo and use every 2-3 days as needed to control your dandruff flakes.
In a rush for faster results?
Alternatively, you can do just straight baking soda on your wet scalp for faster results. However, this will tend to not leave your hair smelling as nice. Plus, when the baking soda is added to the shampoo you can lather much easier. I like adding the baking soda to my favorite shampoo for a "cleaner" hair feeling. Within a week or two my hair is much more manageable with much less flakes. Yay for baking soda!
Have you tried to make dandruff control shampoo at home? How do you control your dandruff flakes during the winter/fall months?