DIY No Sew Heating Pad
With cold and flu season right around the corner and my son coming home with all sorts of fun "bugs" from school, I know that this easy DIY No Sew Heating Pad will come in handy. We have been using these for years (in fact the one I use is probably a couple of years old) and can be made quickly and easily for under $2! Best part is that you probably have everything you need sitting in your house right now. And who doesn't love getting things done on a budget? So let's make this easy DIY No Sew Heating Pad together so you and your family will be ready to battle tummy pains, muscle soreness and cold feet this fall and winter!
What You Will Need:
1 Clean Sock with no holes. The thicker the better. (And I'm sure we all have an unpaired sock laying around, right?)
1 small bag of uncooked rice – depending on size of sock will depend on size of the bag of rice

Directions:
1. Fill sock with bag of rice. Make sure to leave a few inches of room in there.
2. Wrap around and tie a knot in the hole of the sock. Make sure none of the rice can fall out.
3. Microwave sock on high for 30-60 seconds to warm up the rice. Then place on sore muscles, tummies, etc. These socks can be used again and again, just reheat!
Now we have a little family of rice sock heating pads 🙂 Gotta love using daddy's old tube socks!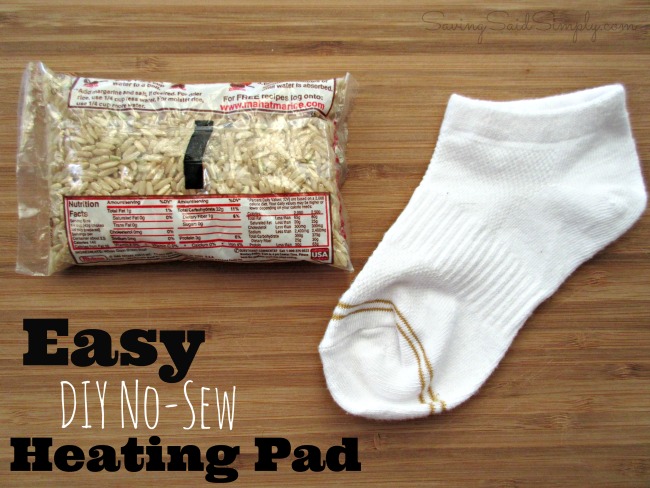 Enjoy your easy DIY No Sew Heating Pad! With a small bag of rice under $2 and a sock already from home, you can be on your way to soothing your kids and other family members this cold season.
Look for more great DIY posts and tips like my homemade pumpkin sugar scrub over on the blog too!
Did you make this too? Let me know how it's working for your family!
Be sure to follow Saving Said Simply via Facebook, Twitter, Instagram, Pinterest and YouTube for more reviews, giveaways and more.