From best selling book to hit family film, you can own Wonder The Movie Now on Blu-Ray. This post is sponsored by Lionsgate. All movie-loving opinions are my own. May contain commissioned links.
Wonder The Movie Now on Blu-Ray
I think everyone has their arsenal of feel-good movies. You know, the ones you watch when you've had a bad day or need a jammies and stay-in-bed day, or just that movie that your soul needs to see again and again. I found another movie to add to my list. I own Wonder The Movie Now on Blu-Ray – and it's going to be one of my go-to movies when I need a little push to be better. Get details on this heartwarming family film, what exclusive special features you need to see now, and be sure to scroll down for a movie giveaway!
My Wonder The Movie Moment
So you know how it seemed that everyone had seen the Wonder movie last year? I heard a lot of buzz about this movie and all of the ugly tears that went with it – but honestly I didn't get a chance to watch in theaters. But WOAH. I just watched at home, and thank goodness I did. I had tons of tissues in hand. There were a ton of emotions hitting me wave after wave. It was incredible. Can we talk about how Via's character clutches right to your soul? But walking away with a mission and a purpose to spread love and kindness like wildfire – that's the sign of an amazing movie. Wonder changes people for better. And it's a movie we all can learn something from.
About Wonder The Movie
Wonder follows the inspiring story of the Pullman family, whose youngest child, Auggie, is a boy born with facial differences. When Auggie enters mainstream elementary school for the first time, his extraordinary journey unites his family, his school, and his community, and proves that you can't blend in when you were born to stand out.

Based on the #1 New York Times bestseller, and USA Today's top-selling book of 2017, by R.J. Palacio, writer-director Stephen Chbosky (Beauty and the Beast, The Perks of Being a Wallflower) brings to life the uplifting story of a boy who inspires and teaches others that true beauty is found within. Certified Fresh™ on Rotten Tomatoes and co-written for the screen by Steven Conrad and Jack Thorne, Wonder stars Academy Award® winner Julia Roberts (2000, Best Actress, Erin Brockovich), Academy Award® nominee Owen Wilson (2001, Best Writing, The Royal Tenenbaums), Golden Globe® nominee Mandy Patinkin (1984, Best Actor – Motion Picture – Musical/Comedy, Yentl; 1995, Best Television Actor – Drama Series, "Chicago Hope"; 2003, Best Supporting Actor – Limited Series or Television Motion Picture, "Homeland"), and Jacob Tremblay (Room, The Smurfs 2).
Blu-Ray Special Features
One of my favorite parts about owning a movie that I love is that we get insider info, behind-the-scenes featurettes and more in-depth looks into creating a great film. With the Wonder movie now on Blu-Ray, I have access to over 3 hours of exclusive special features including:
Never-Before-Seen "Summer of Fun" 5-Part Documentary (MUST-WATCH! More tears and heart warming moments from the actors, the cast and the author.)
"A Child's Sense of Wonder" Featurette
"What a Wonderful World" Featurette
Audio Commentary with Stephen Chbosky and R.J. Palacio (also on DVD)
"Brand New Eyes" Music Video (also on DVD)
Wonder Soundtrack: Behind-the-Scenes Featurette (also on DVD)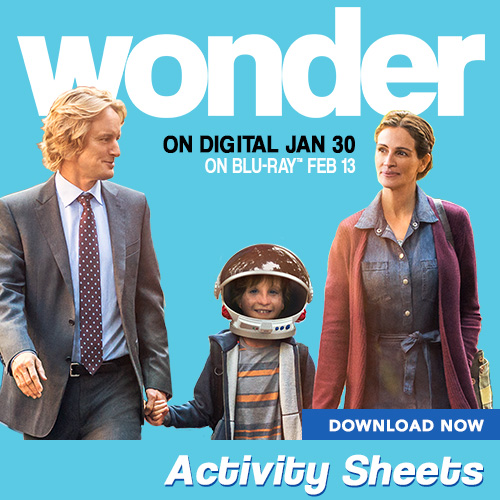 FREE Wonder Printables for Kids
Get your kids excited about the new Wonder the movie on Blu-Ray with these free Wonder printables for kids! Free coloring pages, word searches, writing prompts and more! Click the button above to download and print.
Timed to release on the book's sixth anniversary, and to Valentine's Day, Wonder will be available on 4K Ultra HD Blu-ray Combo Pack, Blu-ray Combo Pack, and DVD – an instant family-favorite film for many years to come.
Follow the Wonder Movie: Website | Instagram | Twitter | #ChooseKind #WonderTheMovie
Be sure to follow Raising Whasians for more of your favorite giveaways!