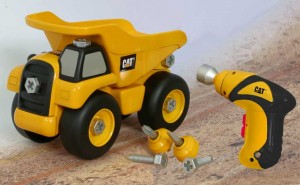 This toy is so much fun for the "builder" in your house! If your boy loves to take things apart and put them back together, the CAT Preschool Take-A-Part Trucks are for him! The trucks are available in 3 different models: CAT Dump Truck, CAT Wheel Loader, and CAT Skid Steer. The included "power drill" screws and unscrews the bolts that keeps the truck together. Your little one will love the feeling of accomplishment of building his own truck again and again!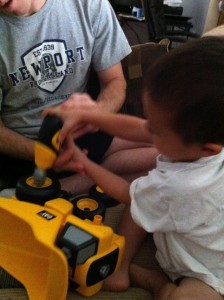 My son could not wait to open his truck and use his "tool!" You could see him thinking hard to fit each screw in the right place. He LOVED the challenge of putting together the separate truck pieces (added bonus "manly" time with his daddy too). After a few tries, he's now able to put together his truck himself. He always comes over with a big smile when his truck is completed to show me his "work." He now loves taking his "power drill" to fix other trucks in the house too. 🙂
As a mommy, I love that each piece is made of high quality durable plastic. Once the truck is assembled, it has survived multiple crashes, drops and "boy adventures," with no wear and tear. Note that the screws are definitely small enough to cause a choking hazard for little ones under the age of 3 years (toy recommended for Ages 3+). You'll want to keep track of screws when the truck is disassembled. There's no extra screws included with the set. The power drill does require 2 AA batteries. I have yet to change them (it's been a few months!). Suggested retail price is only $15, which is quite the steal for this kind of toy!!
I highly recommend the CAT Preschool Take-A-Part Trucks for the boy in your life! Quality toy, easy on the wallet and fosters learning too! You can purchase the CAT Preschool Take-A-Part Trucks at your local Toys R' Us, Wal-Mart, Kmart, Target and Amazon.
*Disclosure ~ I received a free product from the company/PR company in exchange for this review. No other compensation received. While the product was free, the opinions are 100% my own!
Blessings!
Christie