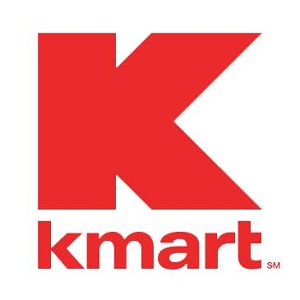 Smiley360 Kmart Decorate It Forward
To be honest, I haven't been to Kmart in years. I was very surprised to receive the new Smiley360 Kmart Decorate It Forward mission, because my curiosity definitely wanted to check out what was new in the Kmart world!
Ready for the Holiday season and armed with my $15 Kmart giftcard, my family spent an evening at Kmart to check out their Kmart Christmas Shop!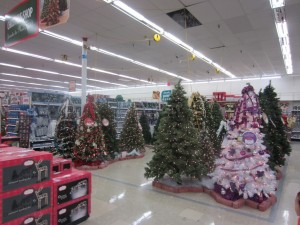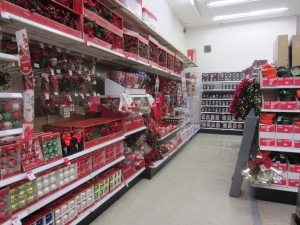 It's beginning to look A LOT like Christmas! I was very impressed with how large and organized the Kmart Christmas Shop was. Aisles of festive lights, trees, ornaments and more to make your holiday decorating needs much easier! So what did I buy? I was immediately drawn to the stockings to get one for baby girl, but since she isn't named yet, I thought it best to hold off so we could get a matching monogram stocking to her older brother. We were lacking in the outdoor decor department, so we get a festive multi-light mini Christmas tree for our yard.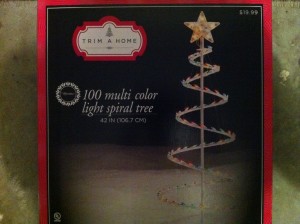 Cute huh? It reminded me of the Charlie Brown Christmas tree. It will make a cheerful addition to our front yard this year, for only $5.99 (after giftcard). The best part of our trip was that my son loved carrying his new light up tree to the cashier. Did you know that Kmart and Sears have rewards when you shop? Join Shop Your Way Rewards to earn points for every $1 spent at Kmart and Sears for some fantastic coupons and rewards!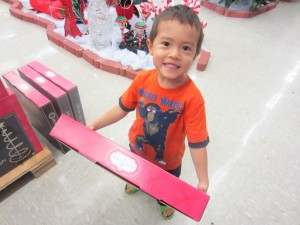 Don't forget to enter the Kmart
Decorate It Forward Sweeps
for a chance to win a trip for 2 to NY City or LA to meet Sandra Lee or Jaclyn Smith!
Thanks to Smiley360
and Kmart, 1 lucky Saving Said Simply fan will win a $15 Kmart giftcard too! Enter today for this QUICK giveaway (ends 11/29!)
Have you joined Smiley360 yet? It's a site that relies heavily on social media to promote company products and services. Companies get honest reviews of their products and get you to do all of the work telling everyone you know about it. You're the company's glorified marketer 🙂
How it works:
You get picked for a Smiley360 mission. This is at their discretion. But it does help to update your profile and answer surveys as soon as they become available.
You use their facebook and twitter applications to post to your wall about the product. You can say anything from how much you like it to the conversation you had with someone.
Face to Face Report: You actually write a report with the # of people you talked to and the conversation you had out in the real world.
Writing on the Smiley360 Product page: This is your review of the product. Did you like it, how you'd rate it, specifics.
Click thrus: You post links to your website, blog, etc. It tracks your clicks while bringing the person to the site to get a potential coupon/information about the product.
The more points your earn on a mission, the likelihood of getting picked for a future mission.
The work? Obviously from the bullet points above, you don't earn freebies for nothing. You do have to promote the product and write the reviews. I would say from experience that it doesn't take very long to do. It was a little confusing at first because you have all of the tasks to do before you receive the product. You feel a little pressured to get the tasks done before you even had a chance to review.
The perks!!! You get to keep the FREE product(s) and get coupons to share with people in your life.
*Disclosure ~ I received free product from Smiley360 in exchange for this review and giveaway. No other compensation received. All opinions are 100% my own!
Blessings!
Christie