Nuby SoftFlex Natural Nurser Bottle Review
While I absolutely LOVE breastfeeding my little girl, I also love having my husband, son, family and friends involved with feedings too. And let's admit, this mommy needs a break every now and then! With so many bottle choices out there, I want to be sure that the bottle/breast transition would be as smooth as possible.
I was given the Nuby SoftFlex Natural Nurser Bottle 3-pack set to review. I have to admit I was pretty nervous about introducing the bottle. I was worried about bottle/breast confusion, choking episodes and bottle rejection. So with a little prayer, I handed my little girl over to Daddy to feed. My little girl took her first bottle in the Nuby SoftFlex Natural Nurser with no choking and dry burps. The wide nipple of the bottle allowed Daddy to see if she was correctly latched on. She drained the bottle pretty quickly, and we have a great memory of "Daddy's First Feed." After a few more bottle feeds, I think we have a good rhythm down!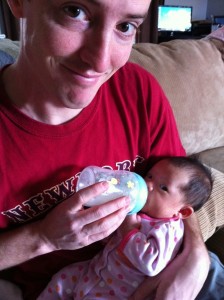 The Nuby SoftFlex Natural Nurser has only 3 pieces to the bottle, making bottle set-up a snap! The wide bottle and nipple allows my little girl to easily latch onto the bottle, just like she was breastfeeding. There are anti-colic valves in the base of the nipple as well as soft nubs to massage my girl's gums while she's eating. The bottle is made of 100% BPA Free plastic. The rubber of the nipple is very soft and EASY TO CLEAN! I can easily wash with a bottle brush and throw into my Nuby Dishwasher Basket for a full clean.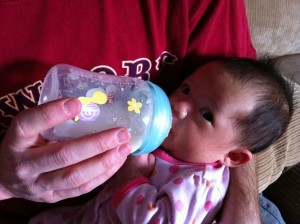 You can purchase the Nuby SoftFlex Natural Nurser at Kmart, Burlington Coat Factory and Buy Baby Direct.
*Disclosure ~ I received a free product as a Nuby Mommy Blogger in exchange for this review. No other compensation given. While the product is free, the opinions are 100% my own!

Blessings!
Christie