Are you ready for cold and flu season? Keep your family healthy with these 4 Ways to Naturally Ease a Sore Throat plus tips for your humidifier. This is a sponsored post written for Vicks Humidifiers. I was compensated and provided complimentary products for this post. All opinions are my own.
4 Ways to Naturally Ease a Sore Throat
It's that time of year again.
And while our family has already had quite a bit of the flu, I know the inevitable cold and flu season will strike our house yet again.
And the worst part? The sore throat. UGH – it always is the worst of the symptoms for our family. So I'm prepping early with these 4 Ways to Naturally Ease a Sore Throat – with one of my family's home remedies and lots of other tips to keep your family healthy this season.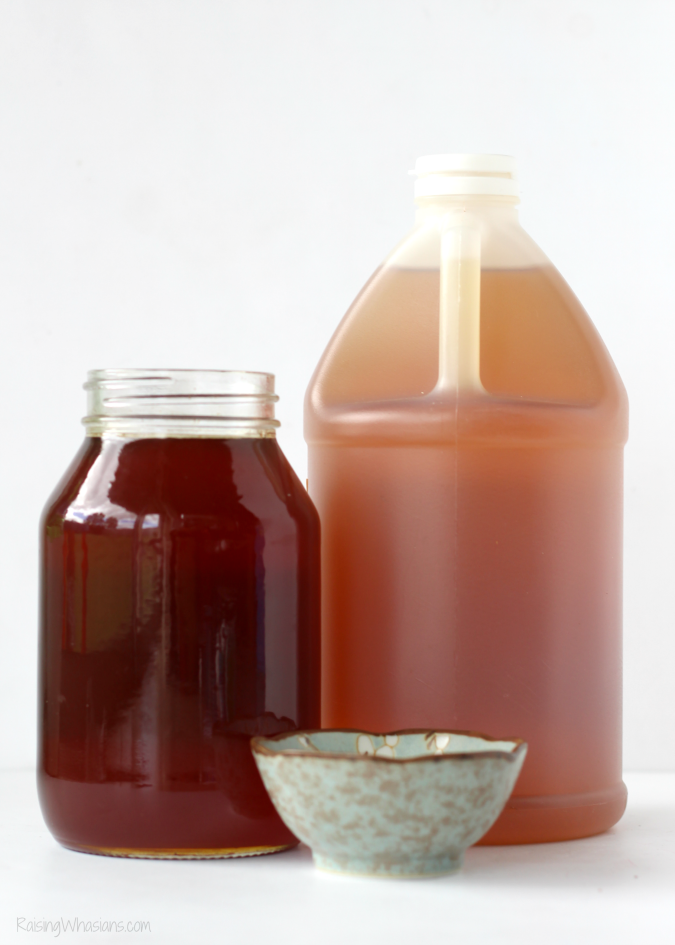 Try Our Family's Homemade Throat Soother
When in doubt, you turn to family for help. My Father-in-Law spilled his secret to keeping sore throats at bay with this Family Homemade Throat Soother. Here's what you need:
Ingredients:
1 oz. cup
apple cider vinegar
honey
Directions:
Fill the cup with equal parts vinegar and honey (warmed tastes better – trust me). Drink as soon as you begin to feel the symptoms of a sore throat. I have tried this home remedy many times and have always felt better the next day. Earlier is better! It's seriously an amazing family health hack.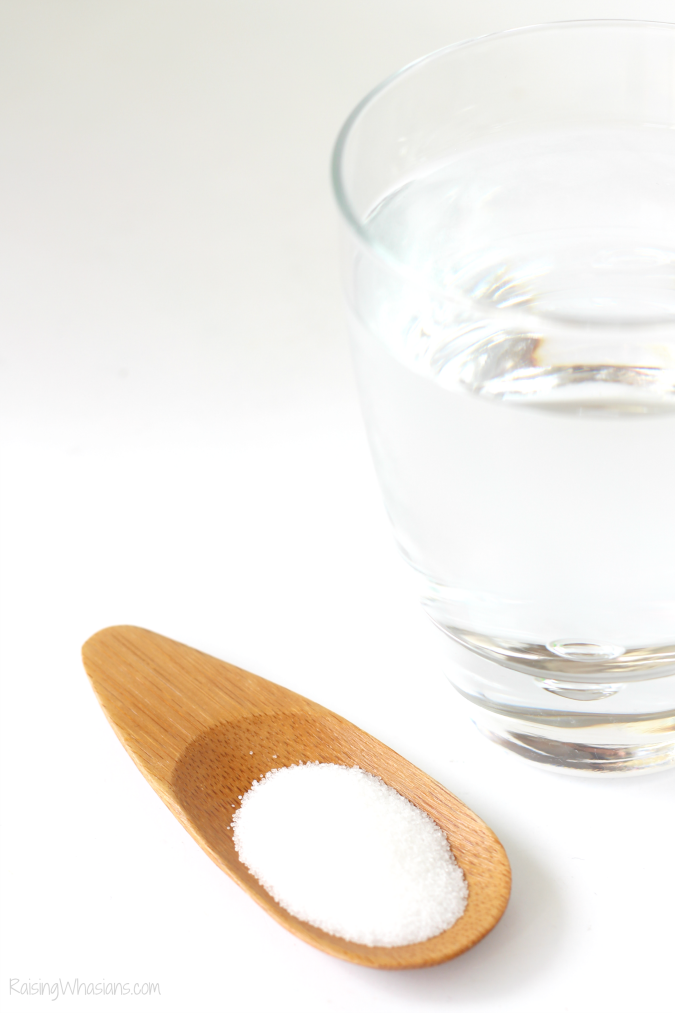 Gargle with Warm Salt Water
Good ole salt. In case you're not warming up to drink vinegar, this is a great natural alternative. Warm salt water can help alleviate sore throat symptoms. Bonus, you don't have to swallow this one.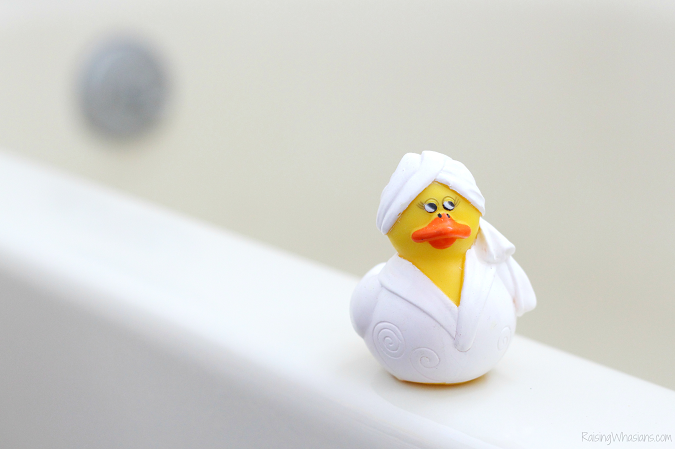 Take a Hot Shower
Steam, it does a body good. When my kids are sick, I always give them a hot shower before bed. Not only does the steam help to open nasal passages, but can also relieve sore throats too.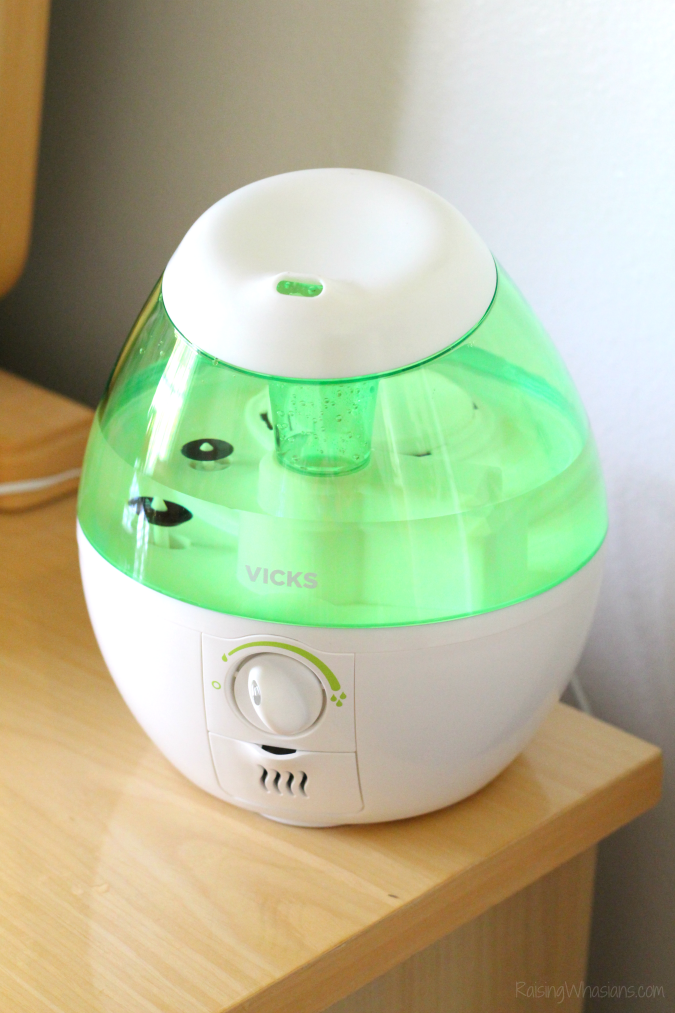 Use a Quality Humidifier | Humidifier Tips
If there's anything I'd recommend as a pediatric nurse, it's to get a quality cool and warm mist humidifier for your family. Not only can humidifiers relieve cough and congestion symptoms during cold and flu season, but proper humidity levels can reduce the survival of flu viruses on surfaces and in the air, keeping your family well year-round. Here are some things to keep in mind when using your quality cool and warm mist humidifier, like Vicks Humidifiers, available at Walmart.
Monitor Humidity Levels. Did you know that the ideal humidity levels in your home are between 40% – 60%? Monitor your home's humidity levels with a Humidity Monitor.
Clean Your Humidifier Properly. Algae, bacteria and mold can all grow inside of your humidifier if not cleaned properly. Consider this easy solution. The Protec Cleaning Fish can reduce up to 99% of odor causing bacteria, unsightly mold and algae growth for up to 30 days – by just dropping into your humidifier tank!
Consider VapoPads. I'm a huge fan of scents when I'm feeling ill, especially at bedtime. VapoPads with comforting scents like Menthol, Rosemary or Lavender can provide soothing vapors for up to eight hours.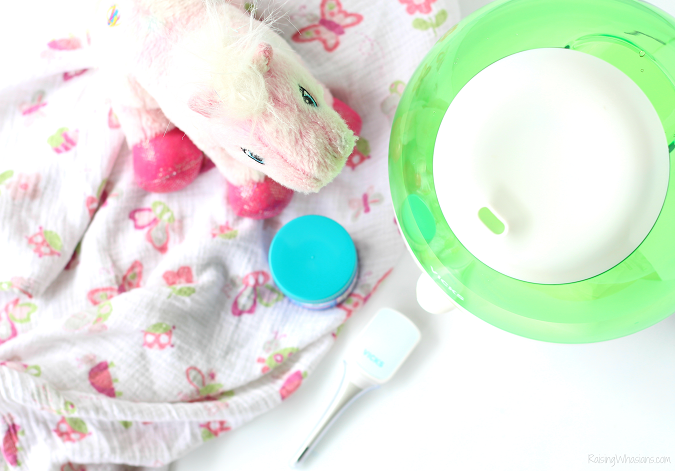 Sore throats are NO fun, especially during cold and flu season. Keep your family healthy with these 4 Ways to Naturally Ease a Sore Throat. How do you keep your family healthy during cold and flu season?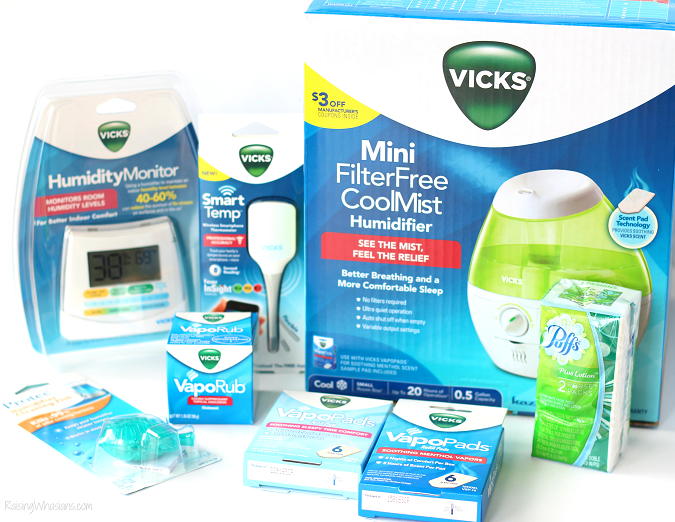 #VicksHumidifer Prize Pack Giveaway
Are you looking to keep your family healthy this cold and flu season? Enter now to win a $100+ value Vicks Winter Wellness Care Package including great products to keep your family healthy this cold and flu season:
Vicks® Mini Filter Free Cool Mist Humidifier
Vicks® SmartTemp™ Wireless Thermometer
Protec Humidifier Antimicrobial Cleaning Fish
Vicks® VapoPads
Vicks® Humidity Monitor
Puffs Plus® Lotion Tissues
Vicks® VapoRub™ Topical Ointment
Contest entrants are only eligible to win once per sweepstakes, per household as a part of a campaign sponsored by Influence Central and must reside in the United States. Ends 11/22. Here's how to enter: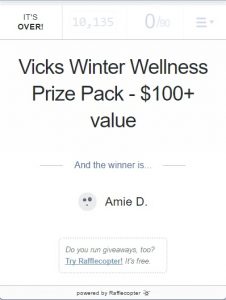 GIVEAWAY NOW OVER. THANKS TO EVERYONE WHO ENTERED
Contest open to U.S. residents only, ages 18 and over. No Purchase Necessary to enter. This giveaway is in no way affiliated with Facebook, Pinterest, Youtube or Twitter. One entrant per household/IP address.
This disclosure is made in accordance with the FTC 10 CFR, Part 255 Guides Concerning the Use of Endorsements. Entrants must only enter with either one email address, IP address, and/or Facebook account. Anyone found violating these rules will be disqualified. It is at the sole discretion of the admin of the giveaway if the winner has met the rules or not. Be sure to follow Raising Whasians via Facebook, Twitter, Instagram, Pinterest and YouTube for more of your favorite giveaways!