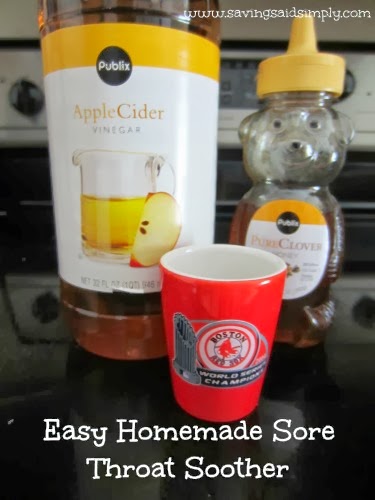 How to Easy Homemade Sore Throat Soother (and Possible Cure?)
This post is for my father-in-law, who swears that this concoction has prevented him from having a sore throat for his whole life. This is an easy at-home remedy for your sore throat. I cannot guarantee that this will cure everyone, but it definitely coats and soothes. I have personally used this method
as soon as I feel my throat getting scratchy
, and woke up the next morning feeling better 🙂 Ready to feel better sooner? Here's how to: Easy Homemade Sore Throat Soother (and possible cure?).
What You Will Need:
Apple Cider Vinegar
Honey
A Small Shot Glass or 1 oz. Measuring Glass
Directions:

Mix together equal parts (50/50) of apple cider vinegar and honey. (If you can do more vinegar vs. honey, that would even be better). Basically, the honey is for your taste buds! Then just sip or "shoot" the mixture.
The key is to take this remedy as SOON as you start to feel your throat getting scratchy. The sooner in the sickness, the better chances of avoiding a full blown cold or flu. I recommend making this homemade sore throat soother up to twice a day (once in the morning and once at night) until you feel better. You may want to take with food (especially if the vinegar doesn't sit well with your stomach).
With winter here, I definitely look to natural remedies to help fight ailments. My Father-in-law's solution has worked for him for over 50 years. So there's the proof in the pudding right there 🙂 Did this Homemade Sore Throat Soother work for you? Let me know!
What is your best parenting hack when your family is sick?
Be sure to follow Raising Whasians via Facebook, Twitter, Instagram, Pinterest and YouTube for more parenting hacks, travel tips, easy recipes and kids craft ideas!