Have you tried Shutterfly yet? I love this company! They are always offering promo codes and cool freebies for their customers. I just placed my Christmas card order. I was able to use 9 promo codes on one order!
75 free 4×6 prints
5 free 5×7 flat stationery cards
1 free 5×7 stationery card
Holiday Card House Party Host and Guest Calendar Offer: 1 free 12 month wall calendar
10 free 5×7 flat stationery cards
15 free 5×7 flat stationery cards
Holiday Card House Party Guest and Host Tell a Friend: free standard shipping on your order
10 free 5×7 flat stationery cards
40% off holiday cards
Ok, so here's how I got the deals. I went to a Shutterfly House Party last night. With our bag of goodies came codes for 15 free holiday cards, 1 free calendar, and details on how to get free shipping by sending shutterfly cheer (see my facebook page for the details!). 2 friends sent me the house party shutterfly cheer email, which gave me 20 free holiday cards!
On their site they have the code for 1 free holiday card – CARD4U. They also have a code on their site for 40% off their cards – CARD40.
Remember that Karma Shutterfly deal? You send the email to 5 friends and they get 5 free cards and you get 75 free prints? Well I got my 75 free prints, but also had a friend email me. So I got 5 free cards (used) plus a code for another 75 free prints (not used yet).
I think that covers all of the codes!!!
I went through Shopathome.com for 10% cash back 🙂 Total before codes $233.13. Total after codes and cash back $5.33
Here's my Christmas card for this year. What do you think?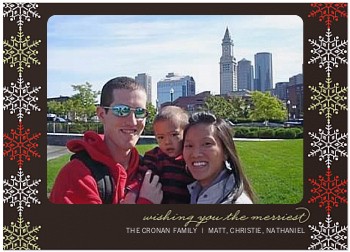 Stationery card
View the entire collection of cards.
So, make sure you sign up for Shutterfly emails and become a part of their family! You get 50 free 4×6 prints just for signing up! Check the site for extra codes. Stack the codes together! If you have a free shipping code, try to get multiple orders done at once! Buddy up with a friend during friend referrals so you both can get the good deal! And know someone who throws Shutterfly House Parties 🙂
Blessings!
Christie