This is a Type-A Parent paid post to discuss sleep issues, and to share a new insomnia resource from the National Sleep Foundation.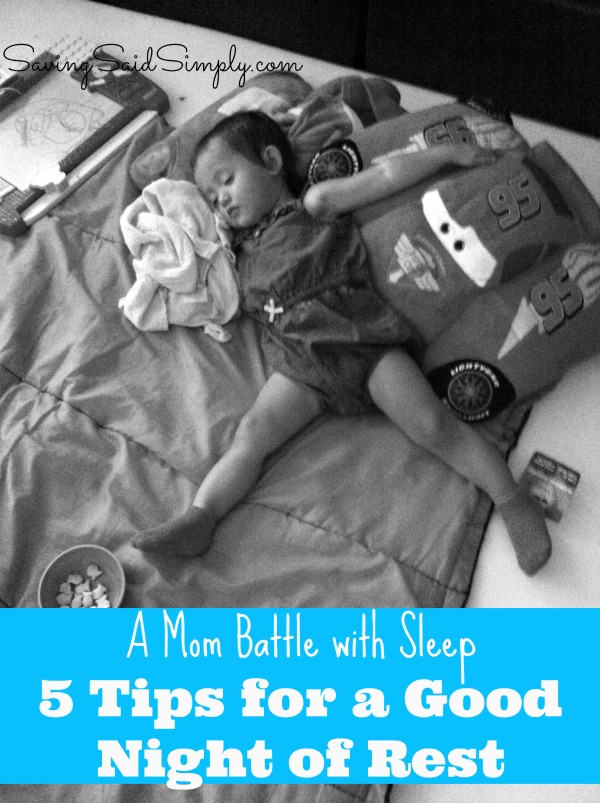 A Mom Battle with Sleep – 5 Tips for a Good Night of Rest
When was the last time I had sleeping trouble? Um….that would be last night. Or how about the night before? Or the night before that? I am living the insomnia nightmare. I am just your average mom with a baby girl teething 3 molars, a blogger schedule full of posts and of course that dreaded "To Do" List. To say I have sleeping issues, you're preaching to the choir! Don't you wish you could sleep like a baby (like my adorable girl above)? She looks so peaceful and relaxed! Well, I've got 5 tips to help you get a good night's rest again, even for busy moms!
1. Lay OFF the Caffeine
I'm so guilty. I hit that afternoon slump around 2-3 pm everyday, right after your belly is happy from lunch and that loss of sleep from the night before stomach punches you. I want tor each for another cup of caffeine….if only to get me to 5:30 when Daddy comes home. But it never fails, right? You're bouncing awake right when your head hits the pillow. Instead, try a change of scenery. I'll take the kids for a walk outside to give me that extra afternoon boost!
2. Exercise Regularly
Another one that I need to get in the habit of. Good regular exercise helps to boost energy levels and help you to "feel" good. This also helps with relaxation at night.
3. Say Night-Night to All Electronics
I'm a mom blogger. Sometimes it's tough to click that "off" switch. Take the last 30 minutes before bed time to "unplug" from everything. No TV, no phone, no computer. Try reading a book, settling in with a warm bath or snuggling with the kids instead.
4. Empty Your Mind
Not of your smarts, of course. I try to jot down those things I'm going to forget like post ideas or grocery items before I hit the bed for the night.
5. Desperate Times Call For….
Dealing rough kids' sleep schedules like me? Hard enough to get my own sleep when the baby is fussing all night! Try tag teaming if you can. Switch off a few hours with your spouse or switch nights for baby watch. May want to call in reinforcements (i.e. grandparents, friends, babysitters) to give you a few hours of uninterrupted sleep too.
Twitter Party
Join me tomorrow for a National Sleep Foundation Twitter Party!
When: Wednesday, June 18th, 2014 at 12 pm EST
Prize: Type-A Parent Conference Pass ($297 value)
Who: @sleepfoundation, @typeamom, @typeaparent
Hashtag: #insomniahelp
Get more details and RSVP at
What are your best tips for a good night's sleep?
Be sure to check out a new resource from the National Sleep Foundation at sleepfoundation.org/insomnia – a good place to start if you think you have insomnia or aren't sleeping. The National Sleep Foundation is your trusted resource for everything sleep – understanding how sleep works & why it's important, learning healthy habits, creating a relaxing bedroom & bedtime routine, & finding solutions to your sleep issues.

Be sure to follow Saving Said Simply via Facebook, Twitter, Google, Instagram, Pinterest and YouTube  for more of my mommy brain thoughts and more.