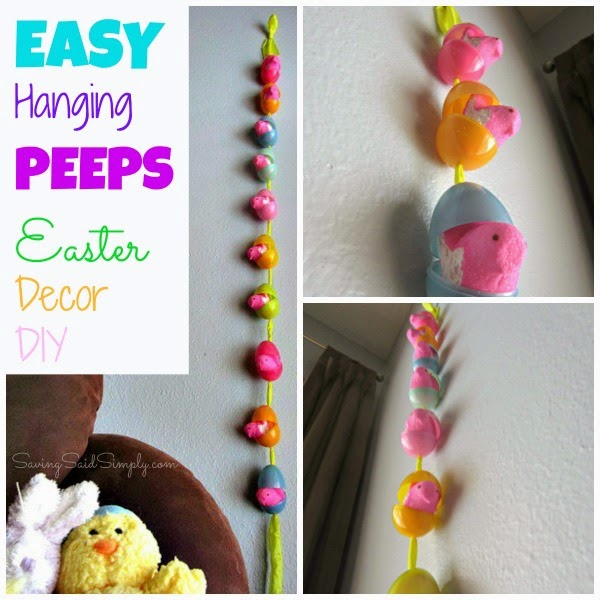 Easy Hanging Peeps Easter Decor DIY 
Can you tell we're excited about Easter? To continue our PEEPS fun (and while enjoying Spring Break), we made this easy and super cute Hanging Peeps Easter Decoration! It's a lovely addition to our walls and definitely a frugal festive piece for under $3! Grab the kiddos for this craft. Here's how to make this one:
What You Will Need:
10 Plastic Easter Eggs (helps if they're still attached in 1 spot)
Ribbon that is at least 1.5 inches thick and about 50 inches in length (shorter if you want the eggs closer together)
Dull Needle or Pipe Cleaner
Directions:
1. Thread ribbon through the holes in the top and bottom of the Easter Eggs using the pipe cleaner/dull needle. Be sure to keep the eggs "open." Leave equal amount of space between each egg.
2. Insert Peeps inside the eggs so their faces are peeking out 🙂 Adjust eggs as needed.
3. Hang ribbon on a wall, door or wherever you are feeling festive!
What's great is that I allowed my son to do most of the work!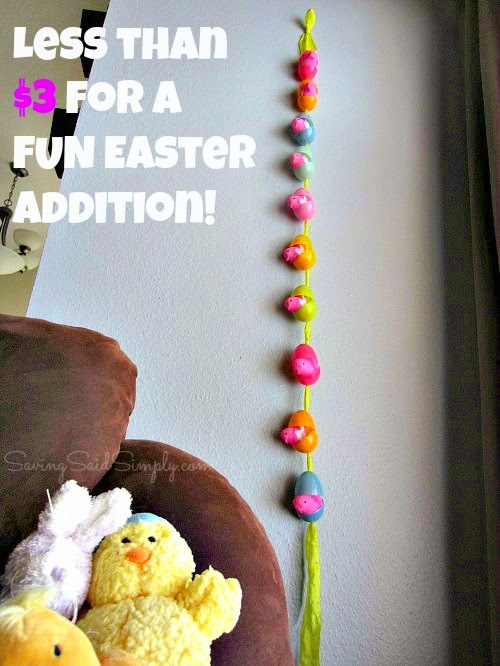 We are definitely feeling Easter festive here! Let me know if you make this one. For less than $3, we love our cheery new wall hanging! How are you showing your #peepsonality?
Did you see the PEEPS Peanut Butter Nest Recipe too? Bring the kids into the kitchen for this one. YUM!
Be sure to follow Raising Whasians via Facebook, Twitter, Google, Instagram, Pinterest and YouTube for more fun DIYs, Kids Crafts, Recipes and more!
Blessings!
Christie