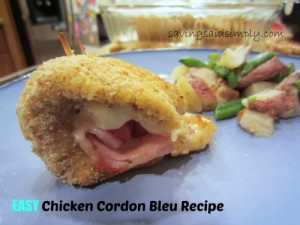 Easy Chicken Cordon Bleu Recipe
Here's a fantastic family pleasing recipe with only 6 ingredients. My family loves gobbling up this meal! The chicken stays moist and dinner gets on the table quickly! And you can jazz it up with quality cold cuts too. Here's how to make this family fave!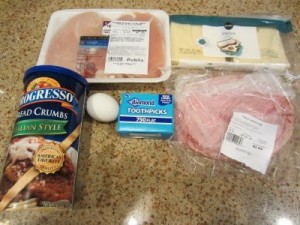 Ingredients:
3 Chicken Breasts Cut lengthwise in half (about $3.50)
3 Slices of Ham (I bought deli ham at $7.99/lb. – about $1.30 for 3 slices) – cut in half
6 Slices of Swiss Cheese (about $2.50 or less per package)- cut in half
1 Egg, Beaten
1-2 Cups of Italian Bread Crumbs
Toothpicks
Cooking Spray
TOTAL = about $8 for 6 servings (or $1.33 per serving)
1. Pre-Heat oven to 425 degrees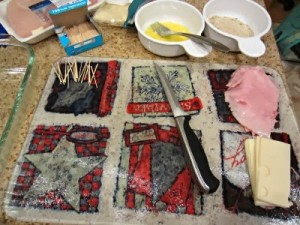 2. Prep – this is the biggest step. Since you'll be working with raw chicken and other ingredients, it's best to have the ingredients set up in easy arm's reach.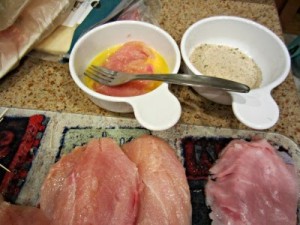 3. Dip chicken in beaten egg. Shake off excess. Then dip into breadcrumbs. Shake off excess.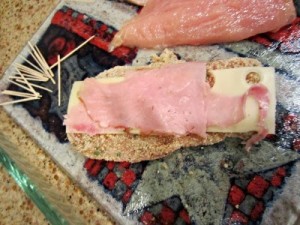 4. Place cheese slice and ham slice on top of the chicken. Roll into a circle. Secure with toothpicks.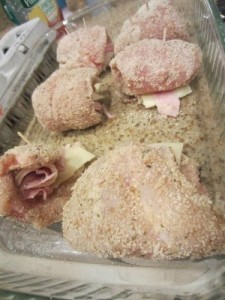 5. Spray shallow 13×9 pan with cooking spray. Place chicken in shallow baking dish. Bake at 425 for 20 minutes. Flip chicken so cooked side is down and bake again for another 15-20 minutes until cooked through, or until meat thermometer reads 170 degrees.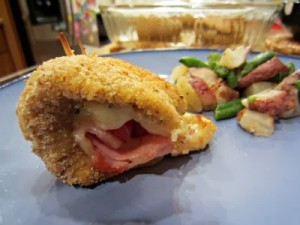 Can we say yumm-o? I love melted cheese on just about anything. The egg keeps the chicken from drying out during cooking, which is a huge plus for this mommy (Chicken and I tend to fight a lot).
Hope this was Cooking Said Simply! I'd love for you to pin, make and come back and tell me if you loved it!
Blessings!
Christie