Disney Tomorrowland Movie Review | Safe for Kids? #Tomorrowland Is Disney's newest live action film ok for children? Full parent review, no spoilers!

Disney Tomorrowland Movie Review | Safe for Kids?
The future. It's where hopes and dreams lie. It's also where fears loom. But in a few hours of an out of this world experience, I was captivated by Disney's latest movie, Tomorrowland. What is it about the mysterious plot and the headline actors that has you gripped into seeing this summer blockbuster? We are diving into the Tomorrowland movie review, and DEFINITELY talking about that PG rating. Is Tomorrowland safe for your kids to see this summer?

The Plot
When you combine the minds of the man behind The Incredibles and the man behind Lost, you know that the plot is going to be stellar. Having mystery on their side for the marketing of this movie, it definitely has the audience wondering about this Hollywood secret. To compare without giving the big picture away, it for me was like Wall-e meets Back to the Future meets Men in Black. It's definitely about the future. It's most certainly NOT about the famous Disney "land." It's a story about dreamers, artists and engineers. It's about how what we do affects our tomorrows.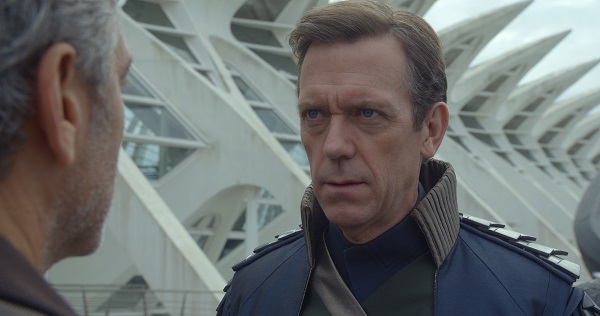 A land of utopia called Tomorrowland, separate from Earth, calls forth "special" people to come and join. But the Tomorrowland project goes wrong. And with the inevitable end of the world at the door, time is running out. Frank Walker (George Clooney) and Casey must save the world from David (Hugh Laurie).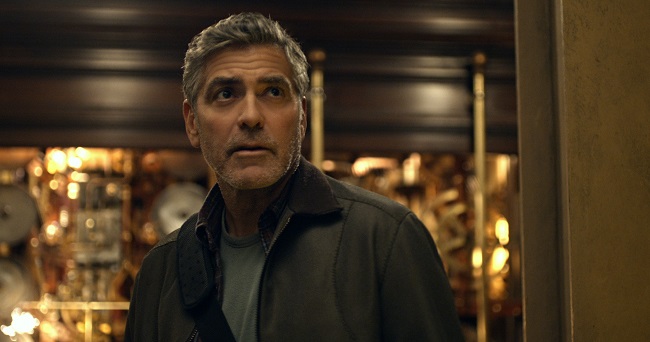 That PG Rating
Ok, parents. Listen up. I would definitely take that PG rating into consideration before bringing your littles into this film. There's suspense. There's violence. And there's even a couple of swear words (hell and a British version of balls). The "violence" has been dropped a scale from PG-13 because basically they are fighting robots. But let me tell you, they are very lifelike. Guns are used. Hand to hand combat is common. There's heads being ripped off. And even one scene with a baseball bat. Now again, you're going to want to consider whether robot violence vs. Real people violence crosses a line for your family. But as a mom of a 6 year old, I would want him to be at least 9 or 10 before letting him watch. I would suggest parents screen the movie first before deciding to take their children.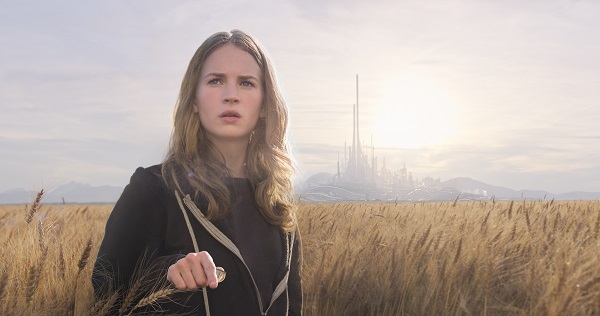 The Overall
I was entertained. There were some really cool technology integrated elements and futuristic architecture to appreciate. The effects were awesome too. The suspense and action scenes were fun and gripping. Frank's house and The Eiffel Tower are definitely some of my faves. And I loved seeing Hugh Laurie and George Clooney together in a movie. The banter was amusing. For the two hours of watching, I definitely left feeling a sense of responsibility and purpose. We hold Tomorrowland in our hands. That message is clear. It's what we do next that has us wondering "what if" as we leave the theater. I like movies that make me think long after the screen goes black.
Ready to take your family into Tomorrowland this summer? Check out my full Tomorrowland movie review, including whether this movie is safe for your kids to see.
Like TOMORROWLAND on Facebook:
https://www.facebook.com/DisneyTomorrowland
Follow Disney Pictures on Twitter: https://twitter.com/DisneyPictures with hashtag #Tomorrowland
Visit the official TOMORROWLAND website: www.Disney.com/Tomorrowland
TOMORROWLAND is in theaters starting TODAY, May 22, 2015!
I was invited to attend a media screening of this film in exchange for Disney Tomorrowland Movie Review | Safe for Kids? Be sure to follow Saving Said Simply via Facebook, Twitter, Instagram, Pinterest and YouTube for more reviews, giveaways and more.