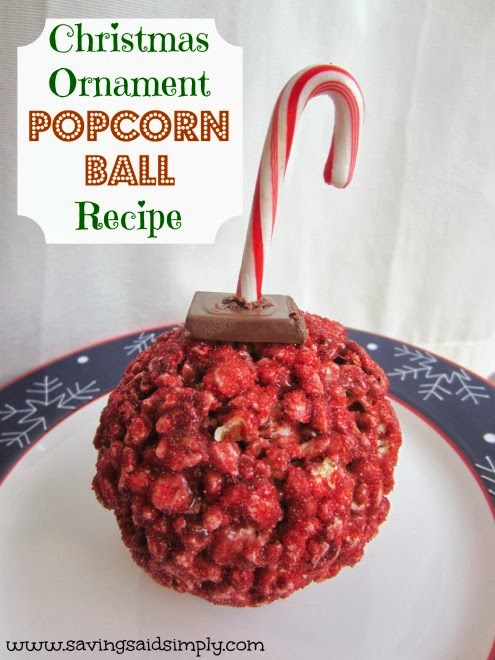 Christmas Ornament Popcorn Ball Recipe
Here's a FUN recipe to do with the kids! I love Christmas ornaments AND I love popcorn! So here's a cute recipe to make Christmas ornament popcorn balls. These would make cute teacher gifts! 🙂
1 Bag of Microwaveable Popcorn – Popped (I used JOLLY TIME)
1 Bag of Large Marshmallows
3 Tablespoons Butter/Margarine
2 Small Candy Canes
2 Small Chocolate Bars (minis or pieces from large bar)
Red Colored Crystallized Sprinkles
1 Popcorn Ball Maker
1. Melt butter/margarine in large saucepan over low/medium low heat. Add marshmallows and stir until marshmallows are completely melted. Add popped popcorn and stir until completely coated. Remove from heat.
2. Place half of coated popcorn in greased popcorn ball maker. Crush until sphere is formed. Let cool. Repeat with second half of popcorn.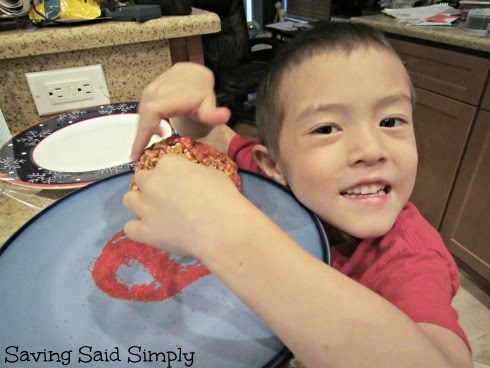 3. Place popcorn ball in dish coated with sprinkles. Roll ball through sprinkles until completely coated.
4. Melt chocolate bars in microwave (about 10-20 seconds) or until just soft enough to gently twist candy cane into center of the bar (without breaking). I personally did 10 seconds, than 5 second increments until I could easily place cane in center. Stick chocolate bar on top of the popcorn ball and let cool.
Makes about 2.
VOILA! Wrap in cellophane for a great gift idea. I think teachers would love this unique and homemade gift. My son LOVED helping to make this. He basically did all of the work himself 🙂
Looking for more?
Blessings!
Christie