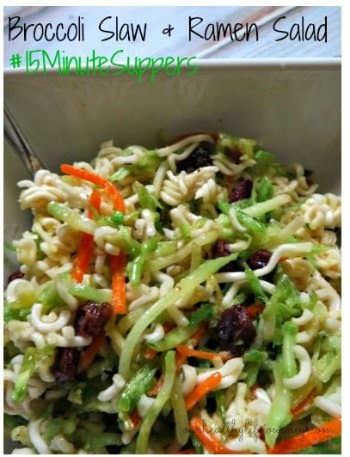 Broccoli Slaw & Ramen Salad Recipe
If you are looking for a delicious and low calorie diet dish or even a meal, make sure to check out this recipe for a broccoli slaw and Raman noodles! Yes, ramen noodles! I loved growing up on ramen (I know, terrible). Who knew they could be in a salad and the best part is it is even weight watcher approved so are you are watching your waistline this is a great one to add to your weekly menu. It also stays great in the refrigerator.
My friend Tracy just started a new blog Our Healthy Lifestyle, so I'm super siked to bring her recipe from her new blog!
Check out the Broccoli Slaw & Ramen Salad Recipe
Love this easy recipe? Then check out my recipes tab or Pinterest page for family-friendly recipes.
Be sure to follow Saving Said Simply via Facebook, Twitter, Google, Instagram, Pinterest and YouTube for more fun recipes, giveaways and more!
Blessings!
Christie