11 Baby Safety Month Tips + Safety 1st Baby Proofing. Post sponsored by Safety 1st. All opinions are my own. May contain commissioned links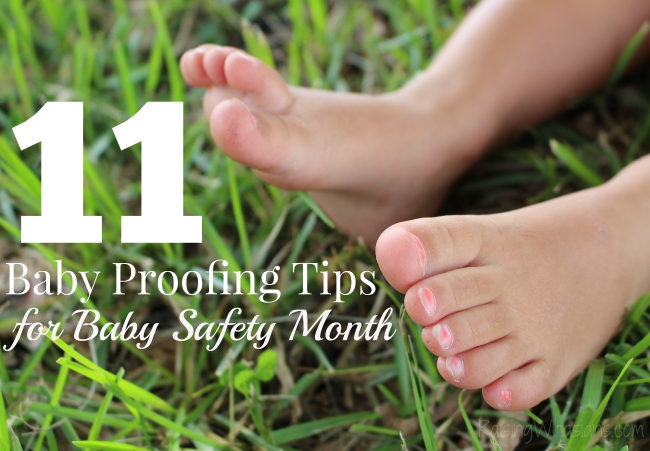 11 Baby Safety Month Tips + Safety 1st Baby Proofing
Is there anything sweeter than baby feet? September is Baby Safety Month, an important time for us to go over and reinforce some really important safety tips for you and your little ones. Here's 11 Baby Safety Month Tips for Baby Proofing and be sure to scroll down for a Safety 1st Giveaway!
Baby safety is NOT something I take lightly. When you go through traumatic baby experiences like I have (see My Theme Park Nightmare) you look at the safety of kids, especially my kids much differently. Baby proofing is essential to the safety of my daughter, and this post is definitely something that moms of little ones should read. Let's make sure that we are covering all angles of house safety during Baby Safety Month.
For The Crawler
Outlets, drawers and sharp corners. Many of the hazards in your home are below your knees and directly within a little crawlers reach. Getting down on your hands and knees to view your home from your child's perspective is a great way to begin childproofing. Seeing the world from their view can give perspective to the potential hidden dangers in your home.
Whether it's the kitchen or the play room, sharp corners are inevitable. Soften the edges with Foam Edge Protectors or an Expandable Table Edge Bumper from Safety 1st.
Outlets are another danger at eye level with your little crawler. Outlet plugs are an easy and effective way to avoid electrical dangers.
Pay close attention to the cupboards that are the easiest for your crawler to open and make sure the items in that cupboard are safe for your child to play with – if not make sure you put a lock on it.
For The Climber
New climbers bring home safety checks to a whole new level. While we pass quickly through hallways and stairwells, they are a climber's favorite place to play.
A climber has to climb! It's OK to teach your child how to climb the stairs but she should only do so when you're right behind her, every step of the way.
At the top of the stairs, always use a gate that can be installed with hardware, rather than a pressure fit gate. For the bottom of the stairwell try Safety 1st's Lift, Lock & Swing Gate.
Also, make sure to move potentially dangerous items out of reach, especially in the kitchen and bathroom.
Keep toy bins away from a window. Children will find a way to climb on top of the toy bin or stack toys on top of one another to look outside. According to the U.S. Consumer Product Safety Commission (CPSC) one of every three children required hospitalization after falling from a window.
Secure TVs and furniture to the wall using Safety 1st Furniture Wall Straps to prevent tip-overs. These kinds of accident happen more than you might think so take a few minutes, secure your TV and furniture, and then never worry about it again.
For The On-Foot Explorer
From kitchen appliances to bathroom cabinets, the on-foot explorer loves to find trouble anywhere it is available. Walking toddlers call for undivided attention at all times – or locks, latches and covers of all sorts.
Ovens and stoves are hot and can burn your child. It is a good idea to use the back burners of your stove whenever possible and remember to turn pot and pan handles in, and away from the edge of the stove. Reinforce with your toddler that the oven is hot and he or she should not touch it.
Cabinets and drawers contain many hazards, such as cleaning supplies, plastic bags, breakable and sharp objects, and food that can be a choking hazard. Be sure to lock all cabinets and drawers to keep your child away from the contents. Multi-Purpose Appliance Locks and Press 'n Pivot Latches are great for keeping hazardous items out of reach.
Exploring is good but some adventures shouldn't be taken without a parent. High Door Locks help keep on-foot explorers from wandering into unwanted areas.
To get started on childproofing your home this month try the 46 piece Essentials Baby Proofing Kit. from Safety 1st. And don't forget to follow Safety 1st via Facebook and Twitter for the latest safety products for your little ones, tips and more!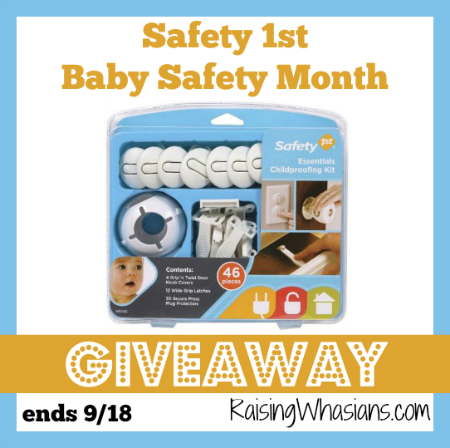 Giveaway
Ready to get your baby proofing underway this Baby Safety Month? Then enter to win the Safety 1st 46 piece Essentials Baby Proofing Kit. Perfect for new parents and seasoned alike, let the focus this month be on keeping our little ones safe! Open to U.S. residents only. Ends 9/18. Here's how to enter: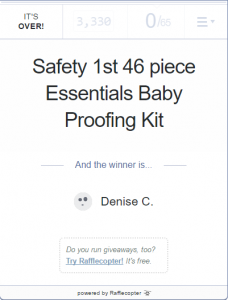 GIVEAWAY NOW OVER. THANKS TO EVERYONE WHO ENTERED
I'm so thankful to Safety 1st for sponsoring this giveaway. Raising Whasians is not responsible for shipment of prizes. Be sure to follow Raising Whasians via Facebook, Twitter, Instagram, Pinterest and YouTube for kids craft ideas, easy family recipes, travel memories, giveaways and more!