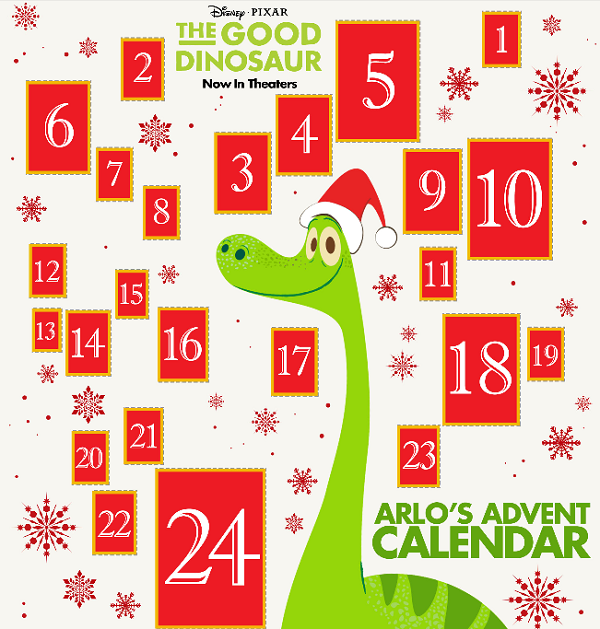 The Good Dinosaur FREE Advent Calendar + Printable Activities #TheGoodDino
It's December, WHAT?! Where have the past 12 months gone? As we enter the season of Advent, now is the perfect time to break out those calendar countdowns! So how about a FUN Disney Advent calendar? YES! Grab your Disney The Good Dinosaur FREE Advent Calendar and printable activities for the winter season! Packed with 40 pages of Arlo and all of his dino friends, you will love exploring The Good Dinosaur world with your kids this December! Grab your FREE Good Dinosaur printables:
I love the new snowflake and origami activities! And how fun is it to have your kids open a new Arlo Advent door everyday until Christmas? Be sure to grab those popular coloring pages to keep those little hands learning during this busy time of year!
We just love sharing the excitement for Disney's latest movie with our kids. They always do such a great job with printables too! Looking for more FREE Disney printables? Check out these popular ones:
Like THE GOOD DINOSAUR on Facebook: https://www.facebook.com/PixarTheGoodDinosaur
Follow THE GOOD DINOSAUR on Twitter: https://twitter.com/DisneyPixar
Follow THE GOOD DINOSAUR on Instagram: https://instagram.com/disneypixar/
Follow THE GOOD DINOSAUR on Pinterest: https://www.pinterest.com/disneystudios/
Visit THE GOOD DINOSAUR on Tumblr: http://disneypixar.tumblr.com
Follow Disney/Pixar on YouTube: https://www.youtube.com/user/DisneyPixar
Have you seen The Good Dinosaur yet? Head into theaters this December and check out the latest film from Disney/Pixar!
Be sure to follow Raising Whasians via Facebook, Twitter, Google, Instagram, Pinterest and YouTube for Disney movie updates, kids crafts, recipes, family travel, and more