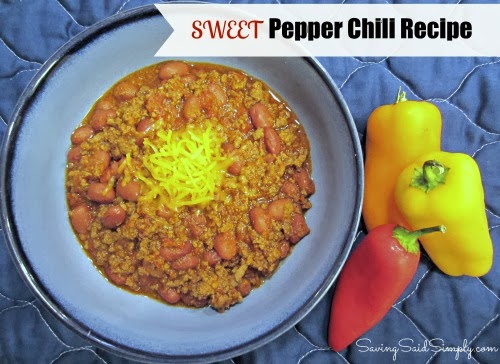 Sweet Pepper Chili Recipe
It's cold outside, and at this time of year, I love a warm bowl of chili! Not having hours to slave at the stove, I came up with this simple chili recipe with a mild sweet pepper taste. Delicious for the whole family and easy to make! Here's how:
Ingredients:
2 lb. ground beef
(2) 14.5 oz. cans of red kidney or pinto beans, drained – on sale for under $1 each
(1) 28 oz. can of diced tomatoes, UNdrained – on sale as low as $1
about (10) mini sweet peppers, de-seeded and diced
(1) onion, diced
1/2 TSP. of black pepper
1 TSP. of dried basil, crushed
3 TBSP. of chili powder
TOTAL = about $15 to feed about 8 🙂
Directions:
1. In large Dutch Oven, brown ground beef with diced onion and diced sweet peppers. Drain fat.
2. Add beans, diced tomatoes, and spices. Stir well. Turn heat to high until mixture comes to a boil. Simmer covered on low for 2 hours.
***Mommy Make Ahead Tip: Pre-dice your veggies the night before or an even faster prep!
I love that this chili has the sweet pepper taste and all of the flavor of chili, but I can still play with my kids and get my mommy duties done while everything is simmering. That's multi-tasking!
Need more simple recipe ideas? Check out my recipe tab for more inspiration!
Be sure to follow Saving Said Simply via Facebook, Twitter, Instagram, Pinterest and YouTube for more fun recipes, giveaways and more!
Blessings!
Christie