3 Super Mom Reminders for Back-to-School with Colgate Total Daily Repair. Post sponsored by Colgate-Palmolive Company. All opinions are my own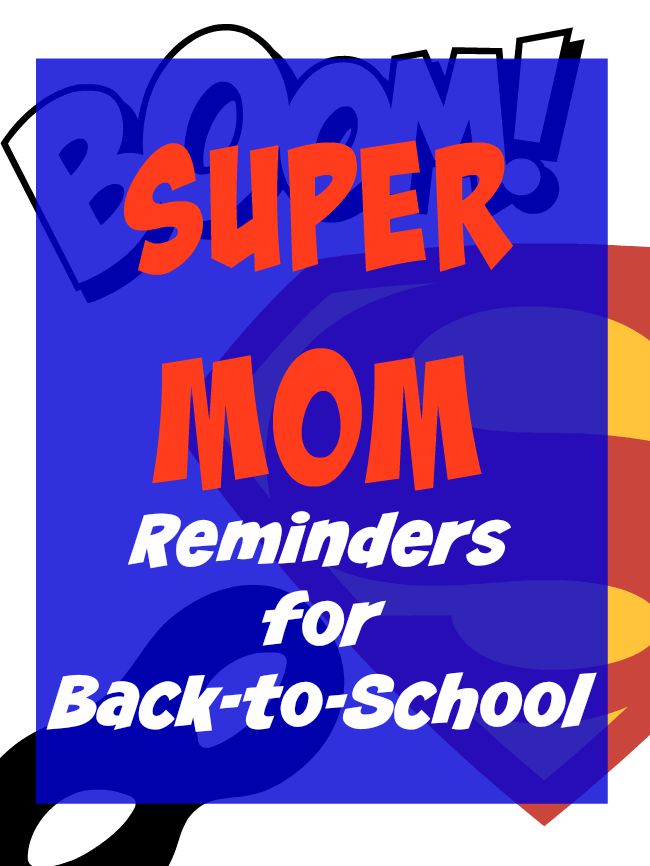 3 Super Mom Reminders for Back-to-School with Colgate Total Daily Repair
Hey, mom! How are we doing? It's Day 4 of Back-to-School for us, and the schedule change has been…well, not very kind to our morning routine. A morning family we are NOT, but because I love you and want to check on you, here's your laugh for today. 3 super mom reminders for back-to-school season are here to power you up for an amazing school year. Love, folks. Nothing but love.
1. Did You Go Potty?
Have you had that startle awake syndrome this week? I know there were a few heart racing moments when I thought I had overslept the alarm. Or the baby having nightmares. Or the sleepy/grumpy boy that tries to hit you when you wake him. Yes, that's been ALL this week. Rushing around in the morning can lead to a fuller and fuller bladder. Gravity….not so nice right now. Trust me when I say the world will be so much sunnier once you take care of business. And exhale. Feel the super mom powers coming on? I can too.
2. Did You Eat Breakfast?
There's a big difference between whether your kids and family have eaten breakfast and whether YOU ate. A mom brain can remain pretty scrambled without the proper morning nutrition. "The most important meal of the day…" remember that, mom? While guilty as charged most mornings, I am now making a more dedicated effort to eat something before taking my child to the bus stop. The world thanks me for not coming hangry. Yes, Super Mom. You are rocking!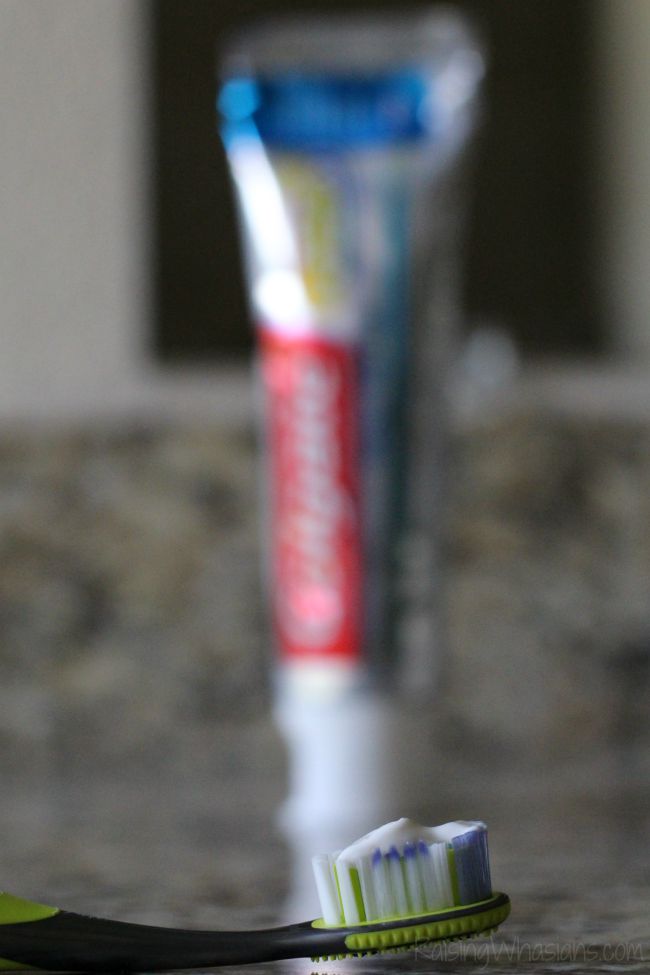 3. Have You Brushed Your Teeth?
Hey, I'm not judging. There are days when I can't even remember if I've brushed my teeth. With a laundry list (literally) of things that have to be done on top of the super mom duties, brushing your teeth can end up in the back of the mind. Don't be caught with lingering morning breath (NOT a super power)! Instead repair your teeth daily with new Colgate Total Daily Repair. Super Mom, this toothpaste is for you. Let's talk about the super hero of toothpastes.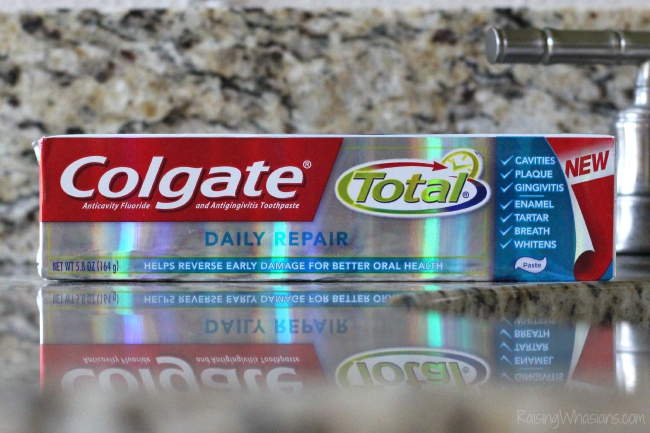 Colgate Total Daily Repair is helping out the busy mom by repairing damage, protecting your teeth and knocking out gingivitis everyday. Check out all of the super hero powers possessed inside one tube.
Remineralizes weakened enamel – anyone else have sensitive teeth like me?
Helps to kill bacteria that causes gingivits
Protection against cavities, plaque and tartar
Freshens breath
Whitens teeth
Safe to use daily for stronger teeth and healthier gums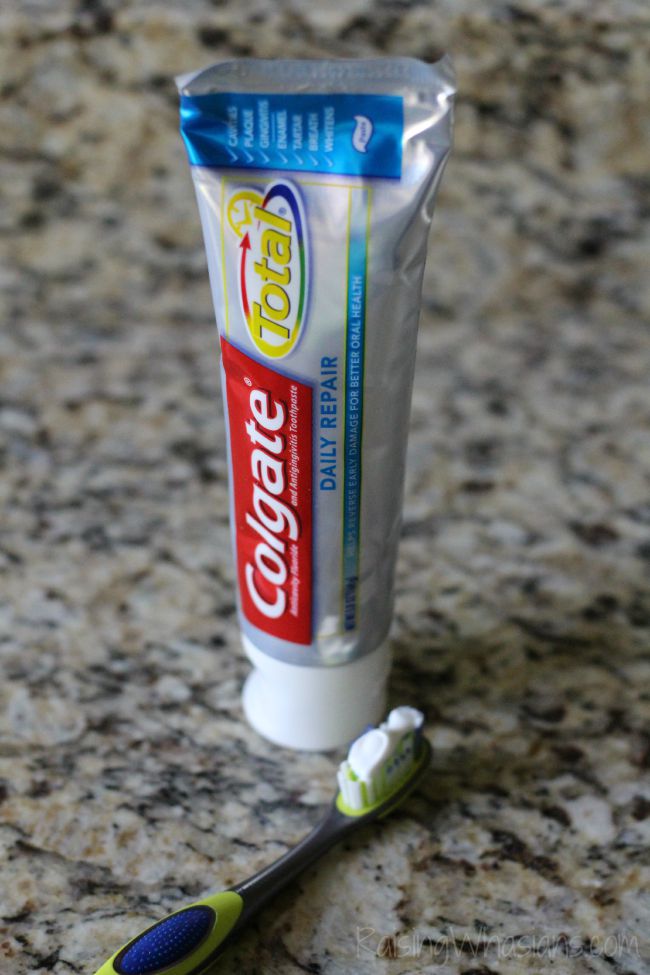 I had no idea a toothpaste can do so much! And with an MSRP of under $4, this tube is super priced too! So Super Mom, I hope this post gave you a daily smile! A little TLC and some humor, I am armed for my super mom day thanks to new Colgate Total Daily Repair.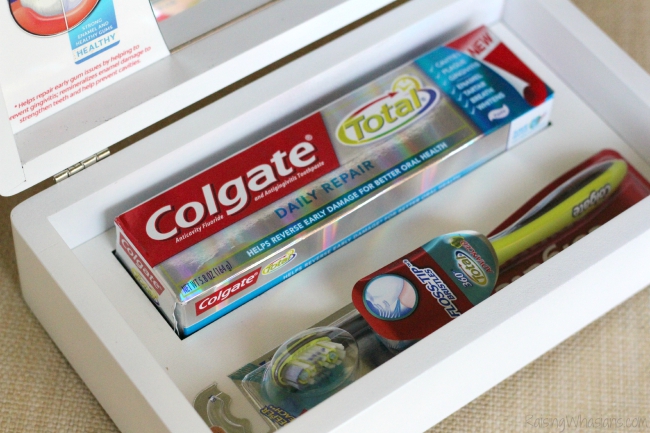 Head over to http://www.colgatetotal.com to find out more about the all new Colgate Total Daily Repair and how this toothpaste can give you the super mom powers you need to tackle back-to-school. Be sure to follow Colgate via Facebook, Twitter and YouTube for the latest products, health tips and more!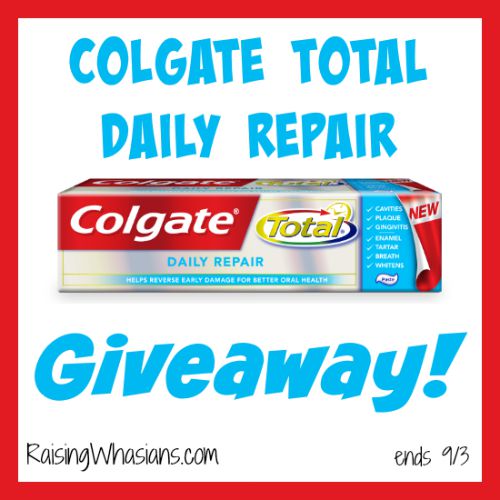 Giveaway
Ready for a giveaway? This is for you! 2 lucky winners will win a Colgate Daily Repair Kit! Includes:
NEW Colgate Daily Repair Toothpaste
Colgate 360 Total Advanced Floss-Tip Bristles Toothbrush
Colgate Total Daily Repair Limited Edition Wooden Storage Box
Open to U.S. residents only. Ends 9/3. Here's how to enter:

GIVEAWAY NOW OVER. THANKS TO EVERYONE WHO ENTERED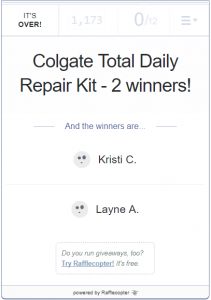 Disclosure ~ I received a free product from Colgate-Palmolive Company in exchange for this review. All opinions are my own. Raising Whasians is not responsible for shipment of prizes. Be sure to follow Raising Whasians via Facebook, Twitter, Instagram, Pinterest and YouTube for more reviews, giveaways and more.