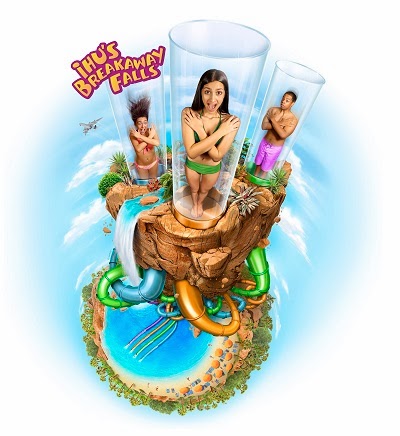 SeaWorld Aquatica Ihu's Breakaway Falls Opens TODAY
TODAY! 5/9/14 marks the opening of the new Ihu's Breakaway Falls Ride at SeaWorld Aquatica. The tallest, steepest multi-drop slide is now ready to take on the most fearless riders for a free fall of their lives! Are you ready?
Check out our review of SeaWorld Aquatica for more family-fun!
Fear the Falls … Fun Facts
Ihu's Breakaway Falls™ features the tallest, steepest, and only multi-drop tower slide of its kind in Orlando.
Those who dare to brave Ihu's Breakaway Falls™ will experience an almost vertical drop for nearly 40 feet, the steepest slide of its kind in Orlando.
Ihu's Breakaway Falls™ is the longest water thrill slide of its kind featuring three "breakaway boxes" – orange, green, and blue — and one open slide – purple – offering four completely different slide paths.
Drop more than three stories and slide for 420 feet, the longest of the four slides, on the orange slide.
The green slide path has the shortest drop, but it's still a 28-foot fall – that's the same as four seven-foot tall basketball players!
Fall from the blue slide if you're looking for the steepest slide with a breakaway box.
While the purple slide isn't a true drop slide, it is by no means a "chicken slide". In fact, this open-aired slide is the steepest of all four slides.
Once the floor disappears, riders will drop 20-24 feet per second.
126 steps to the top of this ride….can you take them all?
Ihu's Breakaway Falls™ is the only high-speed water thrill slide in the world with three breakaway boxes that face each other so riders can share the full experience.
For more information about Ihu's Breakaway Falls, please visit AquaticaOrlando.com. With tickets starting at only $28, you can find a great deal for your family this summer! Follow along with hashtag #BREAKAWAYBRAVE for the latest in Ihu's Breakaway Falls action!
Be sure to follow Raising Whasians via Facebook, Twitter, Instagram, Pinterest and YouTube for more travel tips and Orlando happenings!