Disclosure ~ Post sponsored by Smiley360 and Pompeian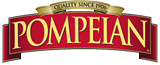 Pompeian Extra Virgin Olive Oil Recipe + Coupon
Love to cook? I don't know about you, but whenever I cook, I always have some olive oil on hand. Olive Oil is so handy to have from simple dips to fancy recipes! Pompeian Extra Virgin Olive Oil is my number #1 Olive Oil to turn to. Always fresh, tasty and I can find coupons for the product too! Thanks to Smiley360, I was able to try out some Pompeian Extra Virgin Olive Oil and share one of my yummy family recipes with you!
One of my favorite recipes for fall is Braised Pork Chops with Sweet Potatoes and Apples. We just picked apples up north, so what a perfect way to eat them! Here's how to make this yummy recipe!
Braised Pork Chops with Sweet Potatoes and Apples
1/4 Cup All-Purpose Flour
1/2 teaspoon salt
1/4 teaspoon black pepper
4 pork chops, equal size, about 1/2 inch thick (I use loins, some use with bone-in) ~ $5-$6 on sale
2 TBSP Pompeian Olive Oil
2 large sweet potatoes, peeled, cut into bite sized cubes ~ $1-$2
5 medium apples (or 4 large), peeled and cored, cut into bite sized cubes ~ $3-$4
Apple Cider – about 4 cups ~ $2-$3
Total Cost = about $11 (or $2.75 per serving)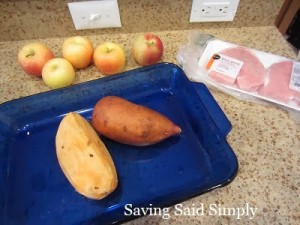 1. Preheat Oven to 425.
2. Combine Flour, salt and pepper in medium bowl. Dredge pork chops through seasoned flour on both sides until fully coated, shake off excess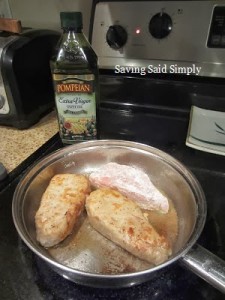 3. Warm oil in large skillet over medium-high heat. Add chops and cook each side until lightly golden brown (about 2 minutes per side)
4. Place sweet potatoes and apples in large 9×11 caserole dish. Pour over apple cider until covering top of sweet potato/apple mixture. Place braised pork chops on top.
5. Preheat oven to 425. Cover dish with tinfoil loosely, allowing some steam to escape. Heat casserole in oven for 45 minutes – 1 hour, or until apples/sweet potatoes are soft.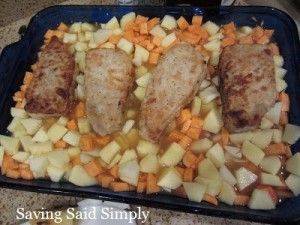 Added bonus, your house will smell delicious too! The braising keeps the pork chops juicy while cooking. The cider steams through everything too for great fall flavor!
Grab your coupon for $1 off your next Pompeian Olive Oil Purchase. Let me know if you make this great Braised Pork Chops recipe and how your family enjoyed it!
Disclosure ~ I received a free Pompeian Extra Virgin Olive Oil, Gift Card, and Measuring Spoon from Smiley360 to conduct this review. No other compensation received. Though the products are free, the opinions are 100% my own!
Blessings!
Christie