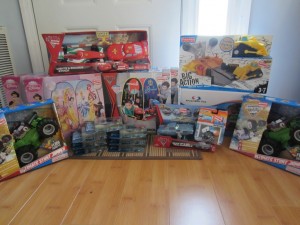 My local Super Target finally marked their stuff down to 70% off!!! Needless to say, I bought A LOT of awesome things. Here's my breakdown:
Tron Legacy Command Ship x7 at $0.58 each (was $1.99) <—- Great Toys for Tots purchase!
Matchbox Big Rig Buddies $1.48 (was $4.99)
Sportcraft Fun Skywinder Disc Toss $3.48 (was $6.99)
Fisher-Price Big Action Boulder Blast Quarry $6.88 (was $22.99)
Hot Wheels Monster Jam Ultimate Stunt Jumper x 2 at $6.58 (was $21.99)
Cars 2 Gear Up & Go Finn McMissile $6.88 (was $22.99)
Cars 2 Lights & Sounds Lightning and Francesco 2-pack $13.48 (was $44.99)
Disney Princess Campout Tent x 2 at $4.88 (was $14.99)
Disney Cars 2 Campout Tent x2 at $4.88 (was $14.99)
So I got $210.95 worth of toys for $71.40. Total savings of 66% :):):)
***Note the tents were actually in another aisle with the outdoor toys/vehicles/tents. They were my favorite purchase!!!
Happy Shopping! Let me know what you find!
Blessings!
Christie