Kmart Black Friday Pre Sales 2014 | Get #MoreChristmas #KClub. Post sponsored by Kmart. I'm proud to be a Kmart K-Club blogger this holiday season. All opinions are my own

Kmart Black Friday Pre Sales 2014 | Get #MoreChristmas #KClub
I cannot believe that we are at the end of November already. The holidays at my heels, and I'm So. Not. Ready. Maybe it's my age. Lack of sleep and 2 busy kids means this momma can no longer keep up with the Black Friday crowd. But thankfully, there's still a way to partake in the hot holiday deals! Kmart allows us to get more this season with their Black Friday Pre-Sales for 2014! What early savings events can you take advantage of? What are the best deals to plan for? And how can we grab the season's best without grabbing the car keys?
Kmart has not one but TWO early saving events this season to help take the stress out of your holiday shopping. Avoid unnecessary spending, grab your favorite brands and hottest trends all at early doorbuster prices. This gives YOU more flexibility to shop when and how you want to.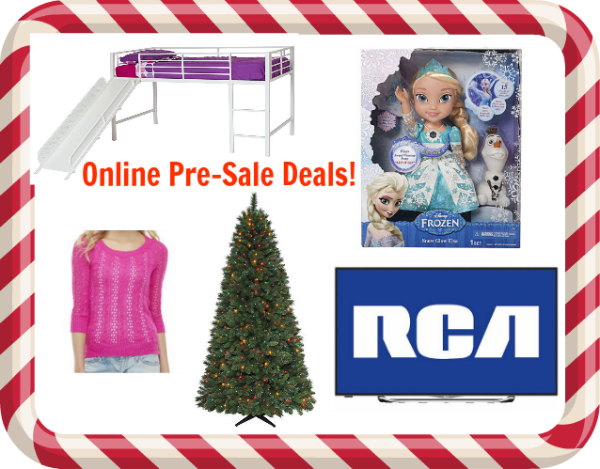 Shop In Our PJ's!
Kmart's online pre-sale means we no longer have to leave the fine comforts of home. Starting November 22nd at 5 am through 11:59 pm on November 23rd, grab the hottest deals on your holiday gift list!
Some of the best deals include:
Save $200 on a RCA 50″ LED HDTV; sale price $399.99, (reg. price $599.99) plus members get $50 back in points
Save $10 on the Disney Frozen Snow Glow Elsa Doll; sale price $29.99 (reg. price $39.99)
50% off 7.5′ Pre-Lit Sheffield Pine Tree; sale price $129.99 (reg. price $259.99)
$10 Jaclyn Smith and Route 66 women's sweaters, and Dream Out Loud by Selena Gomez and Bongo junior's sweaters; reg. $19.99-$21.99
$100 off Slumber & Slide Loft Bed; sale $149.99 (reg. $249.99)
And for a full 5 days, you can grab Black Friday doorbuster deals right at the click of a mouse. Yes, that means 5 days of shopping in no make-up, hair up comfort!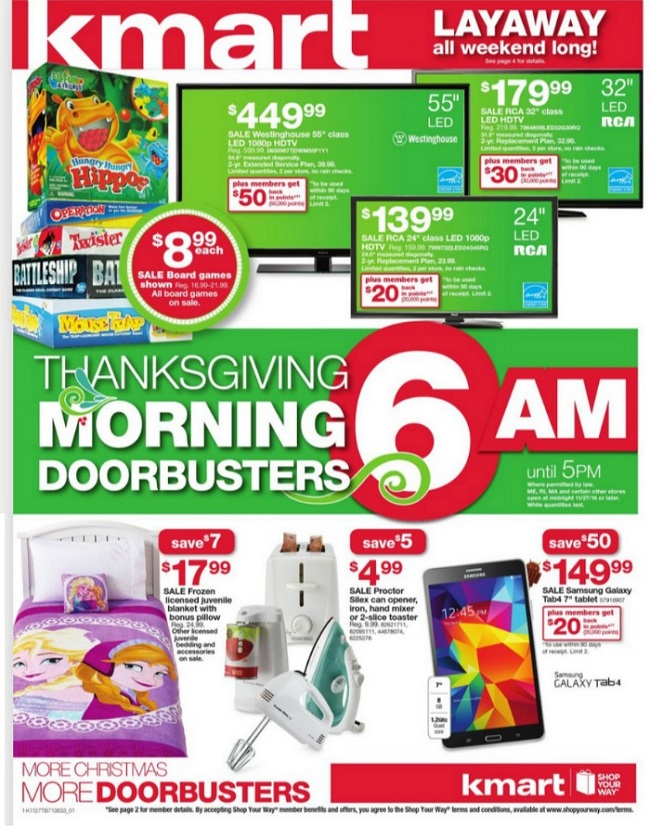 Roll Out Early on Thanksgiving
For those traditional folks that love shopping in-person, there's some great deals you can grab as well. Starting 6 am on Thanksgiving Day through Midnight on Black Friday, head into your local Kmart store for your Holiday Doorbuster Deals including:
Save $50 on a Samsung Galaxy Tab4, 8GB, 7" Tablet; sale price $149.99 (reg. price $199.99) plus members get $20 back in points (begins Thanksgiving morning at 6 a.m.)
$8.99 assorted board games; reg. price $16.99-$21.99 (begins Thanksgiving morning at 6 a.m.)
Buy one get one for $1 on all men's, women's and kid's footwear (begins Thurs, Nov. 27 through Sat, Nov. 29)
$40 off a 32" RCA LED HDTV; sale price $179.99 (reg. price $219.99) plus members get $40 back in points (begins Fri, Nov. 28 at 6 a.m.)
Up to 50% off Craftsman tools (begins Fri, Nov. 28 at 6 a.m.)
I'm feeling the holiday spirit! How about you? Kmart definitely helps to give us #MoreChristmas this season with plenty of deals for your holiday gifting and shopping preferences for everyone! Head over to Kmart.com to get a sneak peek of more of the amazing Black Friday Pre-Sales. Don't forget to take advantage of the Kmart Layaway this season too!
What Kmart's Black Friday Pre-Sale deal are you most excited about?
Disclosure ~ I received compensation in exchange for this post. All opinions are my own. Be sure to follow Saving Said Simply via Facebook, Twitter, Instagram, Pinterest and YouTube for more reviews, giveaways and more.