How to Support March of Dimes with Kmart. Post sponsored by Kmart. All opinions are my own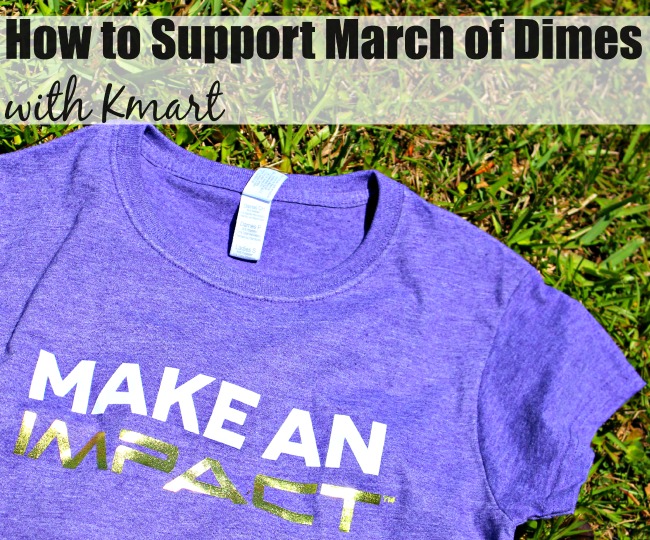 How to Support March of Dimes with Kmart
I support March of Dimes. Do you? It's April which means it's one of the BIGGEST months for March of Dimes, one of my favorite organizations! Premature births are no longer a taboo word, but now a term that means hope. And it's thanks to the amazing research, support and passion from March of Dimes. Check out more on how to support March of Dimes with Kmart and an EXCLUSIVE giveaway!
For years, March of Dimes has been working hard to ensure safe pregnancies, births and health of children, and so much more. Look at all of the amazing work taking place right now!
Providing the best information on healthy pregnancy and delivery
Advocating for better healthcare coverage for the most vulnerable
Fighting for better newborn screening standards in every state
Helping moms to overcome substance abuse with community outreach programs
Increasing access to prenatal care with mobile clinics and transportation to doctors
Educating generations of parents on the value of vaccination
All of March of Dimes' hard work is paying off. Their efforts have helped reduce the US preterm birth rate EVERY year over the last seven years. Not only has March of Dimes saved the littlest lives, but has saved an estimated $12 billion in health care costs. And the goals of this organization keep growing. When you have goals this big, you need big help.
Kmart understands the importance of March of Dimes' mission, which is why they are THE top corporate fundraiser for March of Dimes. 2015 marks it's 32nd consecutive year as a supporter and 23rd year as a national sponsor of the March of Dimes walks each Spring. It's through Kmart's help that March of Dimes can continue to help pregnancy, birth and health. The funds raised by Kmart will help support teams of scientists who are working to discover the causes of premature birth and develop innovative treatments at five March of Dimes Prematurity Research Centers and a lifetime of beautiful lives.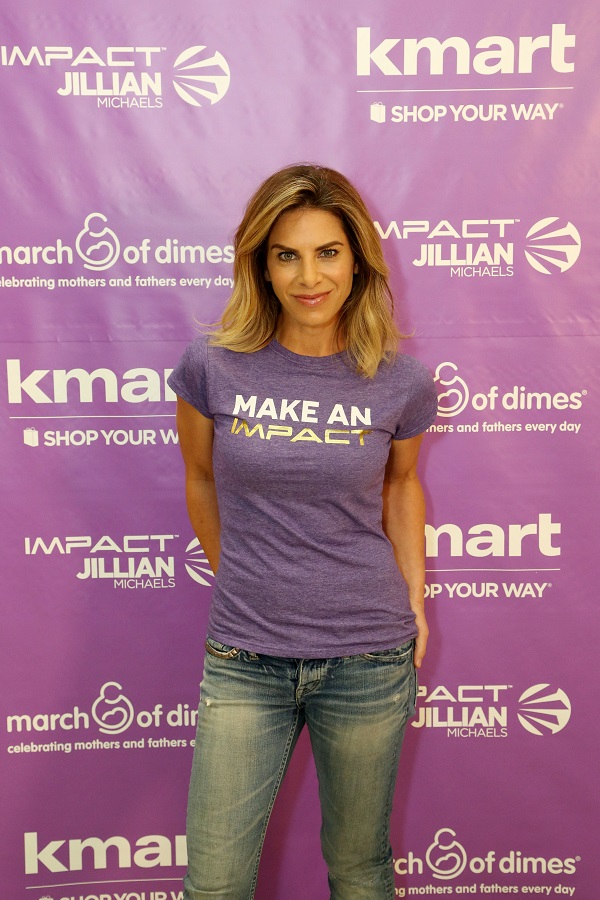 In efforts to bring excitement to the 2015 campaign, Kmart has teamed up with fitness icon and Kmart ambassador Jillian Michaels to kick-off an amazing season! In addition to speaking out in support of the campaign, Jillian Michaels joined Team Kmart at the Los Angeles walk. Michaels, whose Impact by Jillian Michaels performance activewear line is carried exclusively at Kmart, designed a custom t-shirt for members of local March of Dimes chapters to wear at walks in other major cities. NOT sold in stores, this tee is making an "impact" for babies everywhere! Fans of the @Kmart Twitter page have chances to WIN one of these exclusive tees, so be on the lookout!
1. Donate
March of Dimes wouldn't be so successful with YOU. Your donations greatly impact the continued decreased premature birth rate in America. You can donate now online and in-store at Kmart, with 100% of the funds directly benefiting March of Dimes. http://bit.ly/1GL0dhP,
2. March
Over 700 communities will walk this Spring in support of March of Dimes. If you haven't had the opportunity to march with thousands of other fellow March of Dimes supporters, you should! So many amazing families, stories and hope is present in each walk. I have had the pleasure of walking in 3 so far, with many more expected for my family. Find a March of Dimes walk in your area and get involved!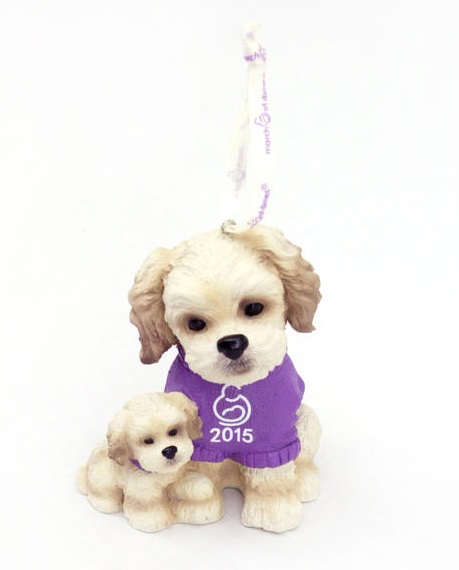 3. Shop In Stores and Online
Isn't this March of Dimes Collectible Puppy Figurine so sweet? Sold exclusively online and in-stores at Kmart, your $5 figurine purchase will also make a huge impact. $1 of every purchase goes directly to March of Dimes.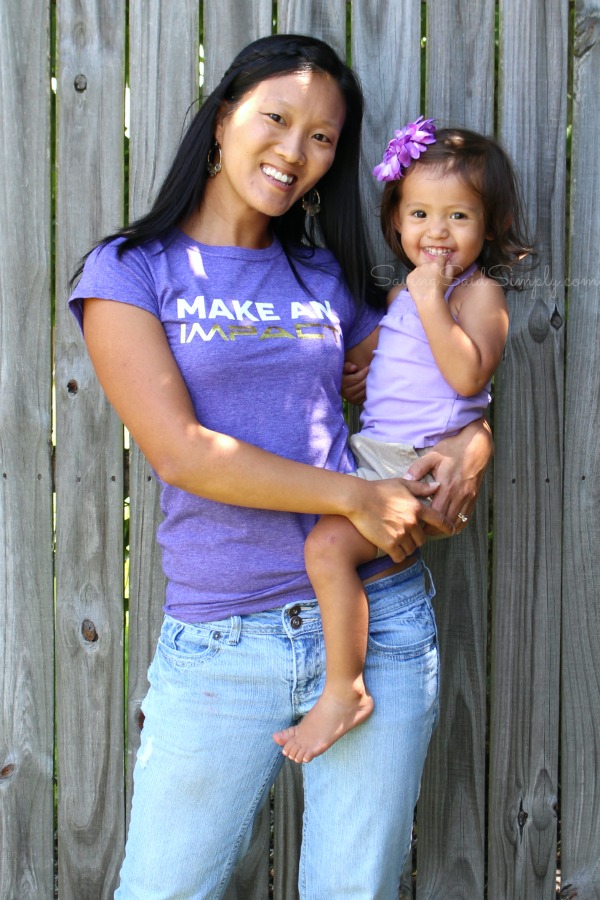 4. Be Rewarded
As a special thank you to Shop Your Way members, Kmart is rewarding members who give back – through June 20, members will receive a coupon for five percent back in points on their next qualifying in-store or online merchandise purchase.
And SO much more than actual Kmart rewards, you're rewarded with the goodness of helping out an amazing cause! Supporting research, saving lives, and helping people to grow, you are doing your part to ensure that every little life is cared for! I never for one day take advantage of the fact that my kids were born healthy. I know it's due to the work of March of Dimes and Kmart that we can have snuggle our beautiful children. I hope your family will consider doing your part this season to make a lifetime impact on children in the U.S. Support the March of Dimes and Kmart's efforts for healthy babies everywhere!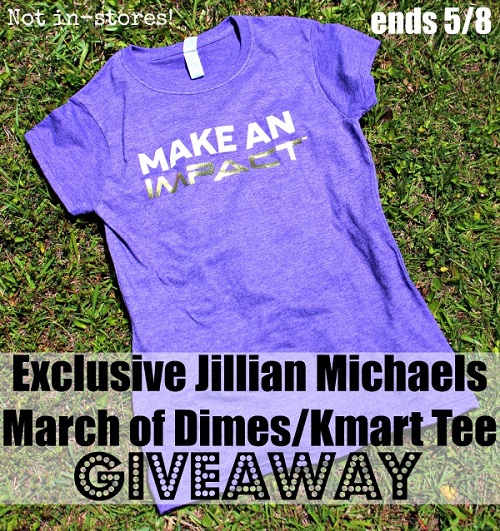 GIVEAWAY!
Ready for an exclusive giveaway! So exclusive in fact, you can't get these in-stores! Enter now to win 1 of 5 Jillian Michaels exclusively designed March of Dimes T-shirts! Open to U.S. residents only. Ends 5/8. Here's how to enter:
GIVEAWAY NOW OVER. THANKS TO EVERYONE WHO ENTERED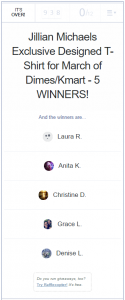 Disclosure ~ I'm proud to be a Kmart blogger for 2015. I have been compensated in exchange for this posting, but all opinions are my own. I am passionate about my support for March of Dimes! Saving Said Simply is not responsible for shipment of prizes. Be sure to follow Saving Said Simply via Facebook, Twitter, Instagram, Pinterest and YouTube for more reviews, giveaways and more.