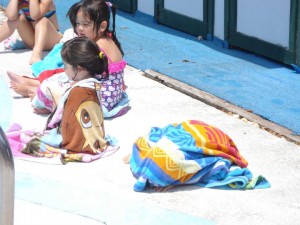 Funny Friday 6-7
Funny Friday! A chance for me to give you a little insight in the joy and laughs that I get from my kids (and what mommy doesn't love to brag about her kids?). And it's also a chance for YOU to share with me (and about 9,000+ other folks) something fun, funny or happy in your life!
Sometimes we take life so seriously with all of the daily things that need to get done, that we don't slow down and appreciate those moments that really get us to smile! So here's my Funny Friday for 6/7!
In continuation of my Funny Friday post from last week, with many prayers we began swim classes for the 3rd year this week. It's so great how each year my son understands a little more and how much more I can reason with him.He finally gets the concept of how we take swim classes to be safe! This week, here's a summary of the past 3 years of swimming 🙂
Summary of the past 3 years:
1st year – pooped in the pool (OOOOOOOOOOH, yes! Most embarassing moment of my life)
2nd year – induced up-chucking before each class (Let's not even go there)
3rd year – AKA the excuse year. He knows exactly when his turn is coming (little booger!). He then turns to me and pleads "Mommy, I have to go potty!"
Sigh! No worries, folks. This mommy doesn't give up that easily! I make him go potty AFTER he completes his turn. But at least this year, we have no tears!
SUCCESS in my book!
Blessings!
Christie