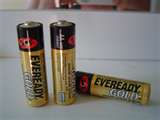 Did you get the $1 off Energizer brand batteries coupon in the SS 4/22/12?
At Target in the One Spot, they have Eveready battery packs for $1 each!
Check the back of the package and you'll see that Eveready is a subsidary of Energizer!
Yup, FREE batteries with this coupon!
Head to Target and get your FREE batteries!
Don't forget your reusable bag for $0.05 off your purchase 🙂
Coupon expires 6/30/12
Blessings!
Christie