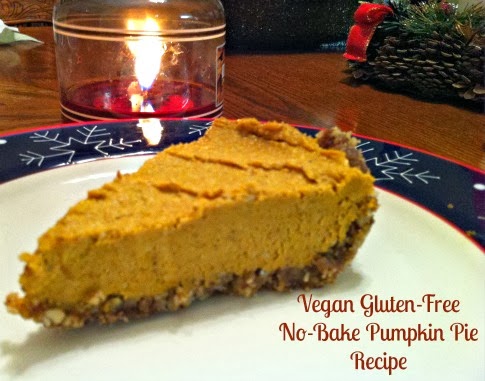 Easy No-Bake Vegan Pumpkin Pie Recipe – Gluten-Free
This recipe came about this past Thanksgiving because A) I needed a vegan low-sugar pie option for my diabetic grandmother to enjoy this Thanksgiving and B) because I didn't have all of the supplies for the original recipe I wanted to use 🙂
Here's how to make:
Ingredients:
1 Cup Pecans
1 Cup Raw Almonds
15 Pitted Dates 
1 1/2 Cups Lightly Salted Cashews – soaked for 2-3 hours then drained
1 1/2 Cups Pumpkin Puree 
1/2 Cup Coconut Oil, melted
1 Tablespoon Agave Nectar
1/2 Teaspoon Liquid Stevia
1 Teaspoon Pumpkin Pie Spice (or 1/2 teaspoon cinnamon, 1/4 teaspoon ground ginger, 1/8 teaspoon ground nutmeg and 1/8 teaspoon ground cloves)
1. Using a food processor, blend together the pecans, raw almonds and pitted dates (becomes a very coarse sticky paste). I personally found it easier to blend the nuts first, then add in the dates. Press into bottom of pie plate
2. Puree lightly salted cashews, pumpkin, coconut oil, agave and stevia in blender or food processor until the ingredients are silky smooth. Pour into pie crust.
3. Refrigerate for at least 4 hours (over overnight) to harden. Slice and serve. Serves 8-10.
I must say that even my skeptical husband said that he thoroughly enjoyed this pie! Great for holidays!
Blessings!
Christie