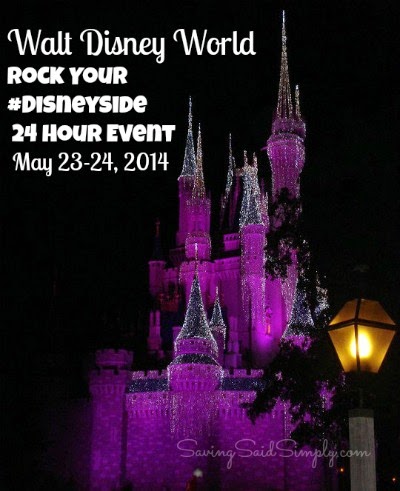 Walt Disney World – Rock Your #Disneyside 24 Hour Event
Want the chance to be at Walt Disney World for a glorious 24 hours? Save the Date for May 23-24, 2014! Disney is hosting a Rock Your Disney Side 24 hour event where you and your family can ride rides, enjoy shows, entertainment and even come dressed up as your favorite Disney character! Hosted at both Disney World and Disneyland, we can rock it out from coast to coast, the magical Mickey way!
Check out the Rock Your Disney Side 24 Hour Event
Laugh bigger, scream louder and stay out all day and night at an enchanting summer kick-off celebration! No matter which coast you find yourself on, prepare to "Rock Your Disney Side" with a gang of pirates, princesses, villains and party animals, right inside select Disney Parks!
From 6:00 AM to 6:00 AM, May 23 to May 24, 2014, you and your family are invited to dress up for the occasion and join a gathering of Disney heroes and villains for 24 hours of fun and follies—along with a selection of beloved attractions, popular shows and classic entertainment only Disney can bring to life.
Whether you make your way to the Theme Parks of Disneyland Resort in California or find yourself at Magic Kingdom in Walt Disney World Resort in Florida, you're sure to enjoy a memory-making day and night that will go down in history as "wicked fun for everyone."
General Event Details:
Hours of operation for the event will take place from 6:00 AM, May 23, 2014 to 6:00 AM, May 24, 2014.
Only select attractions, entertainment and services will be available.
Valid theme park admission is required.
Event is subject to restrictions and change without notice.
Costume Details:
Costumes should be child-friendly and adhere to any guidelines determined by Disney.
Costumes should not be obstructive, offensive or violent; drag on the ground; contain sharp objects, pointed objects or materials that may accidentally strike another Guest; contain any weapons or objects which resemble or could easily be mistaken for an actual weapon.
Masks may be worn, but they must not obstruct vision, and eyes must be visible at all times.
Guests who dress like Disney characters may not pose for pictures or sign autographs.
Guests who do not adhere to these guidelines may be refused admission.
I'm hoping this means you can get all of the 24 hour fun with a 1 day park admission ticket. This would definitely be worth the ticket price!
Be sure to follow Be sure to follow Raising Whasians via Facebook, Twitter, Instagram, Pinterest and YouTube for more fun Orlando happenings, Disney fun and more!