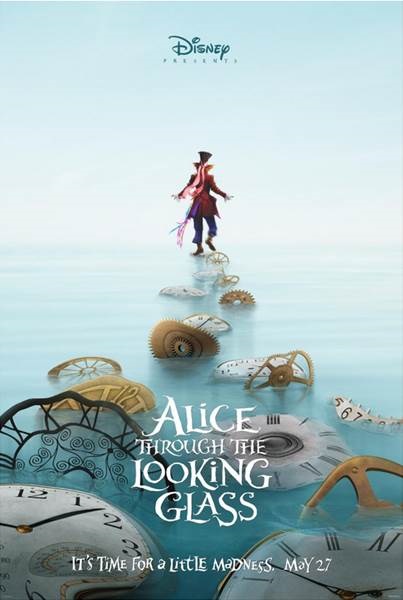 Disney Alice Through the Looking Glass Teaser Trailer #DisneyAlice
Disney has gone a little mad with their latest movie teaser trailer! Are you ready to join the tea party? Time is of the essence as Alice, the Mad Hatter and the whimsical world of the Underland returns in Disney Alice Through the Looking Glass in 2016! Just released as Disney continues to unveil their extensive upcoming Live Action Movies (much to our excitement!) this newest teaser trailer proves to surprise and leave us in awestruck wonder. Who returns in the (2010) Alice in Wonderland sequel? Check out the details and watch the trailer:
ALICE THROUGH THE LOOKING GLASS reunites the all-star cast from the worldwide blockbuster phenomenon, including: Johnny Depp, Anne Hathaway, Mia Wasikowska and Helena Bonham Carter along with the voices of Alan Rickman, Stephen Fry, Michael Sheen and Timothy Spall. We are also introduced to several new characters: Zanik Hightopp (Rhys Ifans), the Mad Hatter's father and Time himself (Sacha Baron Cohen), a peculiar creature who is part human, part clock.
"Saving the Hatter is only a matter of time." 2 minutes of 2 seconds long, this teaser trailer definitely is a visual delight. I cannot wait to see where the mind of Tim Burton takes us next!
"Time is a he?"
Like ALICE THROUGH THE LOOKING GLASS on Facebook: https://www.facebook.com/DisneyAlice
Follow ALICE THROUGH THE LOOKING GLASS on Instagram: https://instagram.com/DisneyAlice
Follow Walt Disney Studios on Twitter: https://twitter.com/disneystudios
Disney's ALICE THROUGH THE LOOKING GLASS opens in theaters everywhere on May 27, 2016! Will you be watching?

Be sure to follow Raising Whasians via Facebook, Twitter, Instagram, Pinterest and YouTube for more Disney movie updates!