7 Best Tips to Fight the Flu #FightFlu. This post is part of the blogger program by The Centers for Disease Control and Prevention (CDC) and The Motherhood, who compensated me for my time. Opinions shared here are my own.
7 Best Tips to Fight the Flu #FightFlu
I've been on both sides of the fence. I've been the nurse treating children with the flu. I've been the sickest patient with the flu. And this year, the flu season seems to be worse than ever, with many people of all ages contracting this horrible and possibly deadly illness. But we can do something about it. I'm teaming up with the CDC this flu season to spread the word (and not the germs) so we can #FightFlu and get everyone back to being as healthy as possible. So today, I'm sharing my 7 best tips to fight the flu. I would warn everyone to not just "gloss" over the information, but equip yourself to best protect you and your loved ones.
1. Be Aware of the Signs and Symptoms
Influenza can be a tricky diagnosis, mostly because it can hide itself behind the mask of a common cold. But it's important to know and familiarize yourself with the signs and symptoms so you can quickly fight the flu and be on the road to recovery. Note you may experience only a few or all of these:
Fever or feeling feverish/chills
Cough
Sore Throat
Runny or Stuffy Nose
Muscle or Body Aches
Fatigue (Tiredness)
Vomiting/Diarrhea (Though More Common in Children Than Adults)
2. Know Who Is At High Risk
Did you know that there are people that are at high risk for getting the flu? It's important to know who is in danger of escalating and dangerous signs and symptoms, so they can avoid potential hospitalizations and complications due to sickness. High Risk Patients include:
Children under the age of 2 years old
Pregnant women
People over the age of 65 years
People diagnosed with chronic conditions (such as diabetes, heart/lung diseases, or other chronic illnesses)
It's important for high risk patients to call their doctor immediately if experiencing any flu-like symptoms.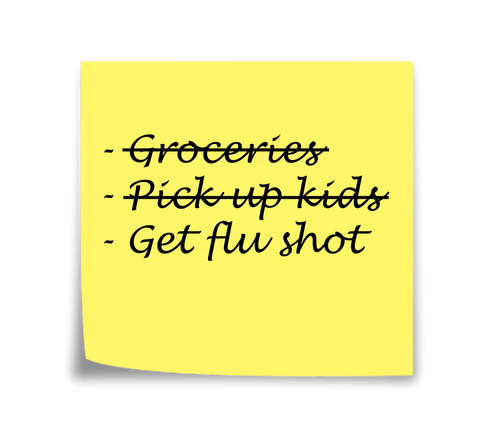 3. Get Vaccinated
It's been a busy flu season, with many people (including family) being diagnosed this winter. You may think you're out of the woods for flu season or that it won't happen to you. But the CDC's urges everyone to get vaccinated if you haven't yet. Did you know the flu season can last as long as May? That's still 4 months of potential flu virus hitting your household. And this year's flu season is bad. The "H3N2" predominant strain is a particularly nasty strain of the flu virus, and in years where H3N2 has circulated so highly, there tends to be more hospitalizations and, sadly, more deaths. Despite this year's vaccine being a poor match for the H3N2 virus, CDC continues to urge people to get vaccinated since vaccination may still offer some protection. In many flu seasons, there are other strains of the virus that circulate late in the season that this year's vaccine is well matched against. This year's flu shot can protect your family up to 4 different influenza strains. As long as the flu is out there, the CDC recommends a flu vaccine. Have a little one at home? While children under the age of 6 months are not recommended to get the flu shot, their parents are. Have you gotten yours yet? What are you waiting for?
4. Take Preventative Measures
We all can be Superman, but we can take the proper measures to protect ourselves and our loved ones from contracting the flue virus. Some may be obvious, but do you know them all?
Handwashing – This is my #1 preventative tip for everyone. There's so many unseen germs that are passed daily by your hands. An easy solution, wash your hands and wash them often. Be sure to use soap and water and wash the whole hand surface, including under nail beds. If no soap and water are available, use an alcohol-based hand rub/sanitizer.
Avoid touching your eyes, nose, mouth as much as possible. Germs and viruses (like the flu) are easily spread this way
Clean and disinfect germ-infected objects and surfaces to minimize exposure. Have you disinfected that computer keyboard lately?
Avoid close contact with sick people. Consider breaking up your air travel. Avoid overcrowded public places.
If you have flu-like symptoms, stay home for at least 24 hours AFTER your fever is gone (without the help of medicine) and limit your contact with people to avoid spreading the sickness to others.
5. Stock Up on Supplies
No one wants to leave the house let alone their bed when sick with the flu. Make sure you already have your stock of flu fighting supplies in your house, and have them early! Consider tissues, hand sanitizer, soap, plenty of fluids, disinfecting cleaners, fever reducers, vitamins, and laundry detergent.
6. Don't Underestimate Antivirals
You can easily be tested in the doctor's office to determine if you have the flu. Once diagnosed, antiviral drugs may be prescribed. Do not underestimate their power and effectiveness to fight the flu. Antiviral drugs are not the same as antibiotics, but must be prescribed by a doctor. When taken correctly, they can reduce the time of sickness as well as the severity of symptoms. This can be life-saving, especially to those of high risk. What is not widely known is that flu treating antivirals work best when taken within the first 2 days of becoming sick. But starting them later can still be helpful, especially if the sick person has a high-risk health condition or is very sick from the flu. Follow your doctor's instructions for taking your antiviral.
7. Be Proactive
I think one of the biggest things we can do to fight the flu is to spread the word. Fear, rumors and negativity can have harmful effects, especially when dealing with one of the worse flu seasons this year. Fight the flu. Fight the stigma. And learn the facts to keep your family safe and healthy this flu season.
Join me for a #FightFlu Twitter Party
Want to get the 411 on this year's flu, tips and live Q&A with the Centers of Disease Control and Prevention? I've got the twitter party for you! There's a whole lot of buzz, rumors and scares regarding this year's flu season! Join me this Tuesday to find out how to best keep your family safe!
When: Tuesday, January 27, 2015 from 12-1 pm EST
Hosts: @CDCFlu, @The Motherhood, @TheMotherhood25, @CooperMunroe, @EmilyMcKhann
Hashtag: #FightFlu
RSVP: http://vite.io/themotherhood

Ready to take the next step? Fine out more Flu Fighting Tips at the CDC website. The Centers for Disease Control and Prevention are clear. Take the time to get vaccinated if you haven't yet. Take preventative actions to avoid contracting the flu. And if diagnosed, be sure to take your prescribed antivirals to get better sooner. Together, we can fight off the flu and keep our loved ones safe and as healthy as possible. But it's up to you to Fight the Flu.
What's your best tip to fight the flu?
Be sure to follow Saving Said Simply via Facebook, Twitter, Instagram, Pinterest and YouTube for more reviews, giveaways and more.