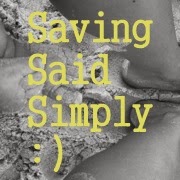 A Difficult Decision – Please Read
As I have always said, this blog is more to me than making money. My family comes first. And since the craziness of all of the wonderful deals and coupons, my family life has suffered. With a lot of help (and prayer) I have come to a difficult decision.
I am NOT shutting down my blog. This blog has always been a wonderful outlet for me, in more ways that I have ever shared with my fans. It is my "blog baby."I can't get rid of it. But as time changes, so can I and so can my blog.
This blog is now my mommy lifestyle blog. What does that mean? I will be focusing on more things that have to do with FAMILY, which is my #1 priority. That means more recipes, more crafts, more DIYs and more thoughts from me. More honest reviews and fun giveaways. I will still be showing you how save a bit of money, time and hopefully saving memories with your own family. But I won't be posting 10+ posts a day. I won't be sitting all day in front of the computer. I want to create quality content that lasts, that you'll enjoy and that you want to share with your own families.
In the end, I need to be happy with this blog for me. I want this blog to leave a legacy of my life as being one that concentrated my time and effort on my family. I want this blog to showcase an outpouring of love I have for them. And through all of that, I want to be able to live life to the fullest and share that with you.
Am I giving up coupons, deals and freebies? Well, I can never say never. I'm sure I'm going to come across and super awesome, amazing, fantastical deal that I just have to share with you. I hope this means that you will still be here and that you'll still follow. I have enjoyed my 2+ years of providing ways for your family to save money through couponing. I hope you'll join me on the next leg of my journey as I prepare for this difficult decision to move forward with something new and different.
I'll be honest. I'm afraid that everyone is going to pick up, leave and never look back. I am in tears as I write this. If this ends up being the last post you ever read from me, I pray the best for you and your family. I love my fans dearly. For those that do stick around, thank you.
Thanks for continuing on this journey with me and through the seasons of change in my own life.
Blessings!
Christie