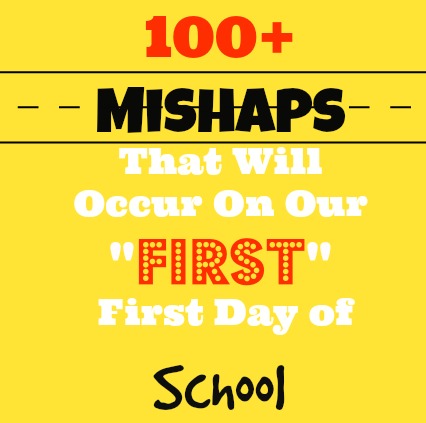 100+ Mishaps That Will Occur the First Day of School
One week stands between us and my boy's "first" REAL First Day of School. I'm nervous. I'm excited. I'm getting old. But with all of this commotion, changes in schedules and 2 unpredictable kids, I needed an outlet to laugh, vent and shed a tear or two as we reach this new Kindergarten milestone. So bear with me, and enjoy 100+ mishaps that will occur on our "first" First Day of School.
1.
1 grumpy wake up followed by 3 blanket-over-head turnovers
2.
3 Cheesy mom smiles as I attempt to get my son out of bed
3.
10 nudges to wake up child and force him to eat breakfast before nose hits cereal bowl
4.
3 cereal remnants stuck in hair
5.
1 missing sock from clothes I JUST laid out last night
6.
8 minutes of searching for said sock, only to find it clenched in my fist the whole time
7.
1 dab of toothpaste to fall onto new first day of school shirt
8.
7 poses to get the PERFECT First Day of School Pic
9.
8 pairs of rolling eyes from son in response to #8
10.
47 First Day of School paparazzi photos taken…to use as placemats at son's upcoming wedding
11.
6 "I don't want to go" whines
12.
1 screaming baby serenade for undergoing a brutal schedule change
13.
21 "Hurry Ups" as I realized how late we are
14.
10 dragging footsteps to car
15.
1 limp noodle in car seat as I frantically attempt to buckle him
16.
2 attempts to make coffee followed by 1 left behind coffee mug
17.
4 bangs of head on steering wheel for forgetting said coffee
18.
3 red lights hit on the way to school…because God needed to get His laugh in today
19.
12 pleading "conversations" with the cars around me who don't know how to drive as we slowly inch towards the school
20.
20 embarrassing kisses for my Kindergartener in front of his friends
21.
2 giant bear hugs followed by 1 silent plea to NOT grow up
22.
1 sad life flash before your eyes moment as you watch your independent 5 year old child walk into his classroom
I cannot believe how fast time flies. It feels like only yesterday I was holding my son in my arms, tears flowing then as I realized that he just made me a mom. Be prepared for more tears next Monday as I let go of my baby as he enters Kindergarten. I hope you enjoyed my tongue and cheek humor for our First Day of School. Hopefully NONE of these mishaps happen, to any of us 🙂
Be sure to follow Saving Said Simply via Facebook, Twitter, Instagram, Pinterest and YouTube for more Mommy Brain Moments, Giveaways and more.