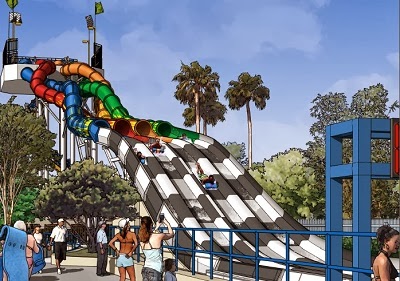 Wet 'n Wild: New Aqua Drag Racer Opening Summer 2014
It must be the kid in me, but I LOVE a good waterslide! I'm so excited about the new ride opening at Wet 'n Wild, called the Aqua Drag Racer! This slide combines racing excitement, a little friendly competition and an exhilarating experience in Florida's newest, tallest and fastest racing slide!
Opening this summer 2014, The Aqua Drag Racer will be six stories tall and propel guests through four lanes of head-to-head competition at fifteen feet per-second before splashing them across the finish line. Guests will take their mark, get ready for a full throttle adrenaline rush and then power through enclosed braided, twisting tunnels as they accelerate into four parallel racing lanes. They will gain even more speed before rushing toward the finish line. The Aqua Drag Racer is designed to be the wettest and wildest high-speed drag race ever.
"The new Aqua Drag Racer will pull guests into a high-speed thrill ride unlike any other around," said Michael Black, Sr. Vice President & GM of Wet 'n Wild. "This ride combines friendly competition along with the excitement of sharing the rush with family and friends."
This just adds another way for families to have fun! With over 15 themed rides and more multi-person water attractions than any other place in Central Florida, Wet n' Wild is ready for Florida FUN!
Are you excited? Me too! I cannot wait for this new ride to open this summer in Orlando's Wet n' Wild Water Theme Park!
Be sure to follow Saving Said Simply via Facebook, Twitter, Google, Instagram, Pinterest and YouTube for more fun Orlando happenings!
Blessings!
Christie