Wet N Wild: New Aqua Drag Racer Opens June 12, 2014
A new Wet n Wild experience is opening this June in Orlando! Introducing the all new Aqua Drag Racer, opening June 12, 2014! Are you ready to race against your family and friends in an intense racing attraction? Wet n' Wild is so excited for this brand new ride
Standing six stories tall and featuring four parallel racing lanes, the Aqua Drag Racer is Florida's tallest and fastest water-based racing attraction of its kind. Guests will take their place at a starting line that is 65 feet high and prepare for a turbo-charged adrenaline rush the whole family can share. Get ready for a full throttle plunge at screaming speeds while powering through enclosed braided, twisting tunnels at fifteen feet per second. It is full throttle acceleration with no brakes allowed and the newest way families share the rush in a head-to-head racing competition at Wet 'n Wild!
Be the First 500!
In celebration of the opening of the Aqua Drag Racer on June 12, 2014 the first 500 guests to enter the park at 9:30 am on Thursday will be given a pass into the 'fast lane' with a one-time Express Pass wristband. This is a fun way to celebrate, with the ability to "skip the line" for the rest of your day at Wet 'n Wild!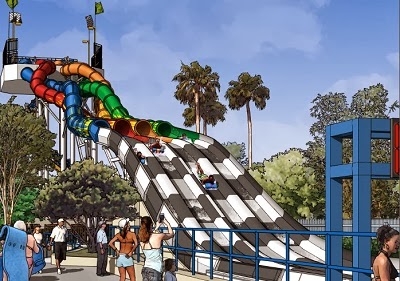 Contest!
Live locally? Then be sure to enter the Wet 'n Wild Aqua Drag Racer Grand Opening Contest! Submit your family's BEST "Ready to Race" faces via a picture or video to http://www.wetnwildorlando.com/attraction_aqua/ by Friday, June 6th at 5 pm EST. The BEST family entries (notified by June 9th, 2014) will go head to head in a bracket style competition on Opening Day. The winning family will win a trip to the winner's circle AND Wet n' Wild Annual Passes! How fun would that be? Be sure to enter soon!
Save!
Don't forget about that Florida Resident Deal too! You can purchase a Pay for a Day Come Back All Year  pass right now, good through December 31, 2014! This is a steal of a deal at $51 per person, when purchased online! Everyone else can save up to $10 off admission when you purchase online as well.
The Wet n' Wild Aqua Drag Racer opening  June 12th, 2014! It's the only dragster with NO brakes! Who's ready to race?
Be sure to follow Saving Said Simply via Facebook, Twitter, Google, Instagram, Pinterest and YouTube  for more Orlando happenings and more.