How Our Family Does Baseball
Somehow a whole season of little league baseball flashed before my eyes. This week I finally brought my camera to the field to take some priceless photos of my boy in action….and quickly realized how there's only 2 games left of this year. What?! But my son isn't the only one "in the heat" of baseball this year. So today, I'm sharing this priceless moment in time as the whole gang shares How Our Family Does Baseball. Thoughts about Dad, Son, Mom and Baby. You gotta scroll to the end for the priceless laughs, as I bring you another edition of Family Focus Friday.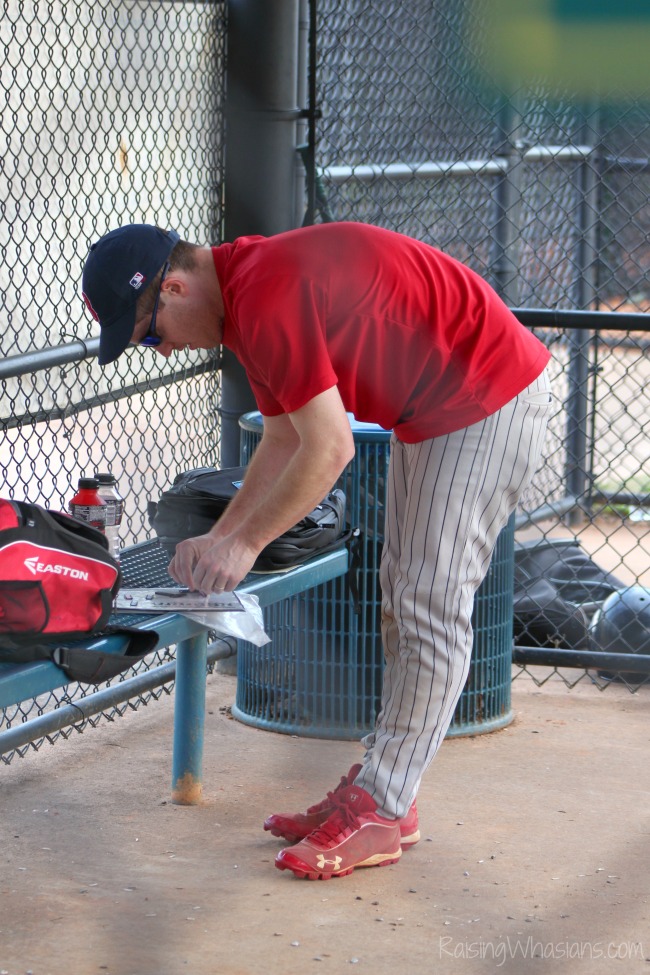 Daddy
I'm not going to lie, it was a tough season for Daddy. 2016 marked the year of moving up in our Babe Ruth league. No longer a coach pitch option, this medieval and mysterious contraption was now to be used every game to pitch to the kids. At 40 mph I might add. This cringing mom was all white knuckles the first couple of weeks, waiting for my frail little guy to get whacked in the head with a concussion (I know, that's where my pediatric nurse mind goes…it's a curse). But I digress. This was also the first year where Daddy (aka Coach) got to be a part of a baseball draft. Yes, 6, 7, and 8 year old kids being "picked" for teams. I was mortified, thinking about the poor little boy that would be last picked for the team. This was also the year when coaches began their inner "competitive" tactics to win games, boost runs and get a little sly in the base stealing. A purist at heart, my husband was thrown (unintentional pun) into the midst of a whole new set or rules, regulations and a new, New, NEW team.
Unknown to him, all of the other coaches had been in the league the year before. They knew the drill. They knew exactly who to pick and who was going to be good "assets" on their teams. My poor husband had to base everything off of what the kids were like on draft day….which by the way was over 4 hours long. 6, 7, 8 year old boys, long day and heat…..do the math. Doing the best he could, he ended up picking basically the newest team in the league, almost all of them kids he knew from coach pitch that were moving up for the first time. Poor Coach.
Fast forward to today, I will say the team has won ONE of their games (out of 10+, but who's counting). But thanks to my husband's excellent leadership, the kids think that they win EVERY game. I can see on their faces how much they respect "Coach," with their words, their smiles and their actions on the field. They love their coach. And to this guy who was their captain of his high school baseball team, I know that he is teaching them so much more than baseball. He is giving these boys the memories that will last forever.
Coach is a winner to me. And yes, he looks darn good in those baseball pants too. Another year in the books, I cannot wait to see how much HE grows next baseball season.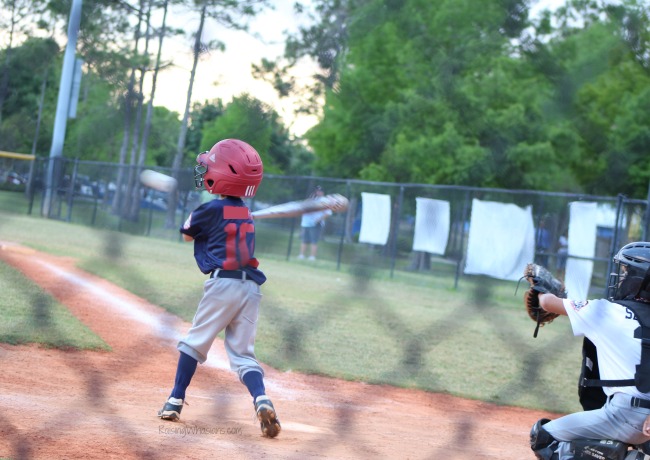 Son
This was the first year where I saw a glimmer of real athleticism in my son. Always the teeny, klutzy, goofy guy on the field, I didn't hold out much hope on his skills as I did for his excitement of the game. Always cheering on his teammates, that hasn't changed. I love that about my son. The Encourager.
But this year I saw his love of baseball morph into something else. Passion. His wild bat swing turned into a focused, compact and powerful swing. His dedication to each game and his pals was unmatched. And the smile on his face every time that he even got to "touch" the ball, I saw a glimmer of my baby boy in there.
His first hit, REAL baseball hit with the medieval contraption…you bet I was the loudest cheering mom in the crowd.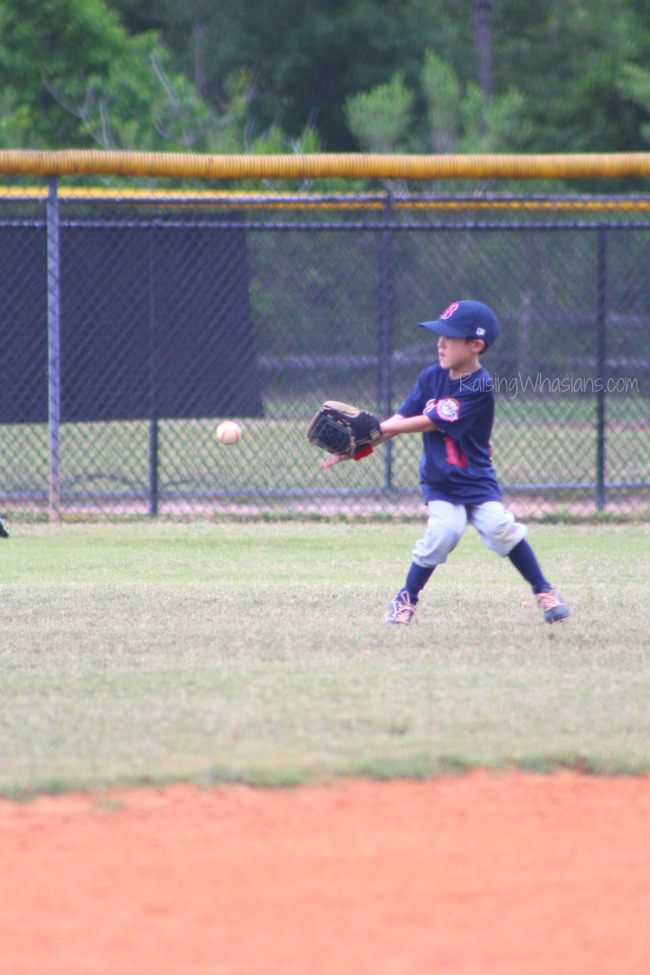 Mommy
Speaking of crowd, that circles back to how I did this season. Nope, you won't find a picture of me in the stands….because I was the one with the camera! But wow, it's been a busy season. Every year I go in thinking it's going to be a better year. The first year with a newborn. The 2nd year with a 1 year old. The 3rd year with a melting down 2 year old. This year, I had a fiesty 3 year old. And it was tough. Balancing between actually watching the game and making sure my daughter didn't fall off the bleachers alone was a full time job. But then try to take pictures, feed snacks, and keep a child entertained for an hour and a half………a FULL 90 MINUTES…….I basically earned my chocolate after every game. My husband would wonder why I was more exhausted than he was after a game.
Baby
So that brings us to Miss Fiesty Pants.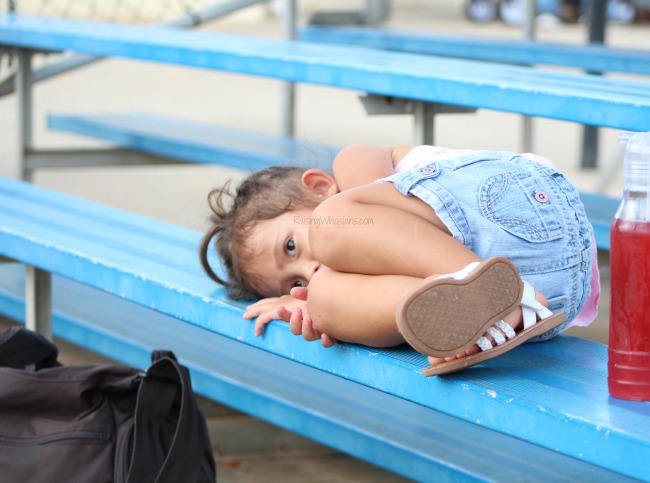 And as you can see, my toddler LOVED coming to the baseball games. 🙂 Always moving, complaining, eating, and yes even lying down, I'm sure that her brother felt her enthusiasm on the field. The epitome of How Our Family Does Baseball, right?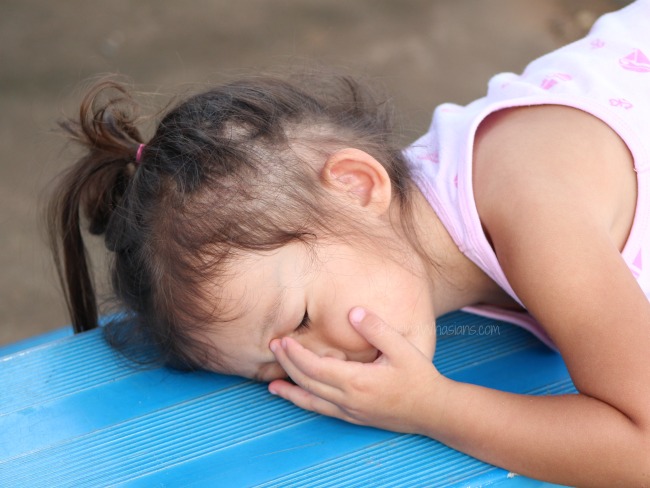 I'm sure next year will be better, right? Please tell me it will!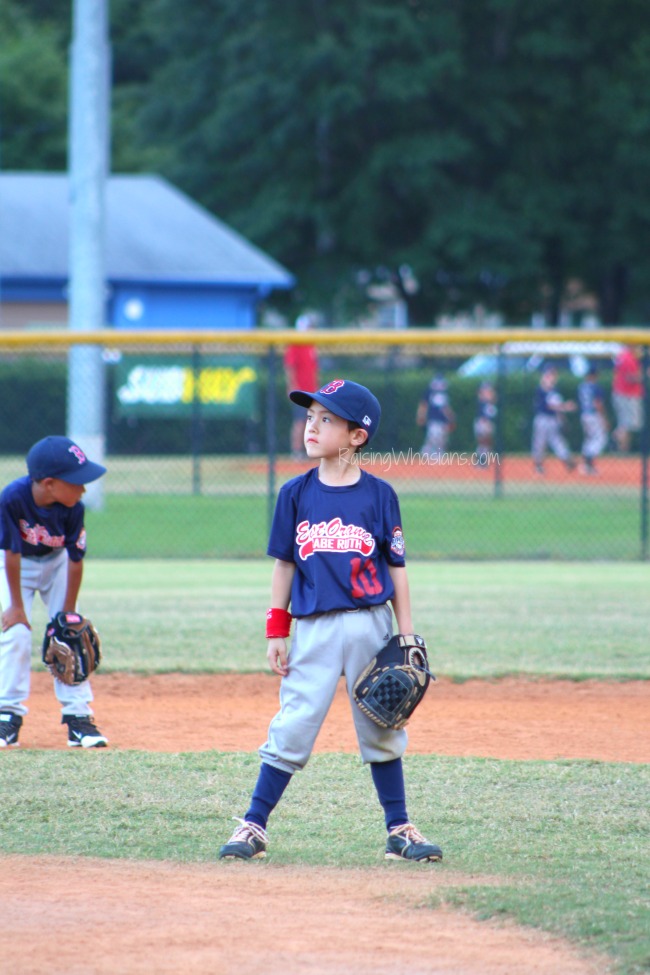 But with only 2 more games left, I'm in shock of how quickly yet another year of baseball has flown by. While our team probably won't win 1st place in the division this year (1 win and 11 losses….odds aren't that good, right?), we all had a vivid year of baseball memories. Family togetherness in sports, it certainly kept the conversation flowing at dinner time. Hope you've enjoyed a look into How Our Family Does Baseball, at least this season.
How does your family do baseball?
Be sure to follow Raising Whasians via Facebook, Twitter, Instagram, Pinterest and YouTube for more of our Family Focus Friday moments.