Have you tried Treat cards yet? Tiny Prints has a new partner site, bringing us beautiful personalized greeting cards. These cards are great! They're made on high quality cardstock, with vibrant colors and crisp pictures, even when you upload your own! I love this because you can make a card as unique as you are….or as unique as the person receiving it. 🙂
Did you know….?
ALL new users get a FREE card when you use code FREETREAT at checkout!
You can easily add a giftcard from top retailers (Amazon, Target, iTunes and more) to your card for a great all-around gift!
Treat has a neat feature of importing birthdays from Facebook. You can also set up reminders for yourself so you don't forget another important birthday!
You can schedule delivery of your personalized cards up to a year in advance! (No excuses!)
Father's Day is coming soon! I love making personal cards for the ones I love. Adding pictures and memories to each card let's my loved ones know how much they mean to me! I'm checking out this card for my husband 🙂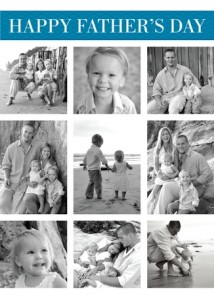 I love it because I can catalog some of our family's best moments in a beautiful mosaic card.
What kind of Father's Day Cards do you gravitate towards? Funny? Sentimental? Pictures? Simple? Treat has you covered with over 500+ Father's Day Cards to choose from! Check them out and let me know which card you're leaning towards!
Thanks to Treat and Global Influence Network, one fan will win 10 Treat tokens (which = 10 FREE cards)!
Enter today!
*Disclosure ~ I received free products in exchange for this review, in compliance with FTC Guidelines. While the products are free, the opinions are 100% my own.

a Rafflecopter giveaway
Blessings!
Christie