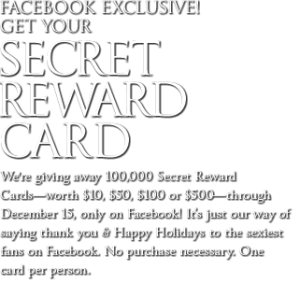 Did you grab your FREE Victoria's Secret Rewards Card on facebook? They've been offering them everyday at 9 am EST until 12/15/11. Here's a few things about your Victoria's Secret Rewards card that you might want to know.
1. This is like a giftcard. There's a balance, specific card # and an expiration date
2. You can call 1-800-411-5116 to get your balance info. This was quick and painless for me. I think it took less than 5 minutes to get the balance on my 2 cards. The only other way to find out your balance is by going in the store and buying something. This saved me some of the hassle.
3. You do NOT have to use the whole amount in one shot. As long as you use the amount before 12/21/11, you're good.
4. There's plenty of items at Victoria's Secret for $10 and under. Most of the underwear is under $10. There's also plenty of beauty products for $10 or under. The travel fragrance mists were $10, the lip glosses were only $7.
I, myself purchased 2 fragrance/lotion sets. They were originally $18 each, on sale 2 for $25. I ended up paying $15 or $7.50 each for a savings of 58%.
Hope this is helpful. Happy shopping! 🙂
Blessings!
Christie