I'm sharing the Top Mom Lies I Told Myself This Week, as a humorous look at my life as a mom. No one was hurt during the creation of this blog post. I also am not condoning lying. It's Friday, folks…so let's just laugh at our mom lives together. OK?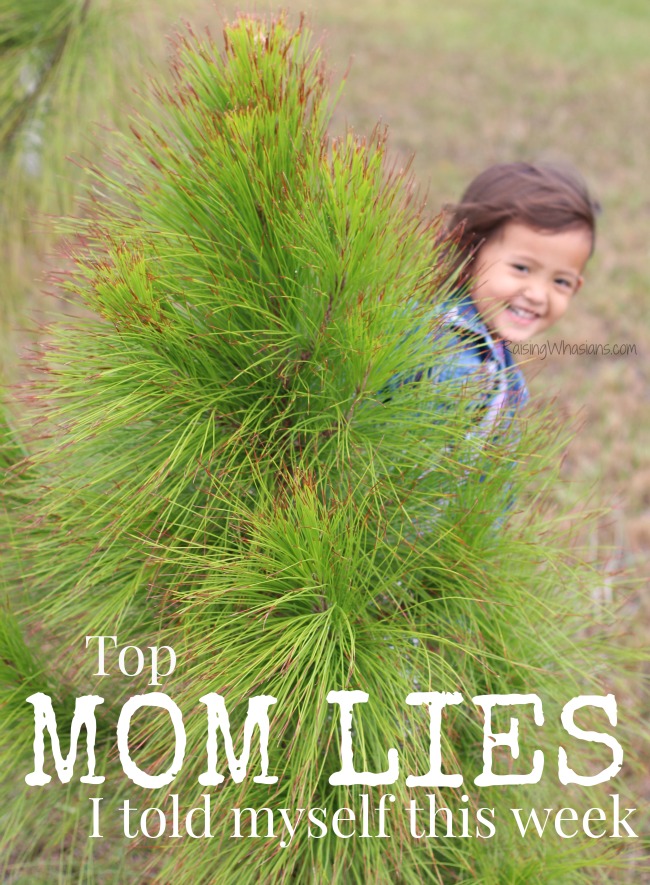 Top Mom Lies I Told Myself This Week
I've been on a humor kick these Family Focus Fridays. I hope you don't mind. It seems to be my outlet for the stress of the week. And this week, I read this viral post on Facebook and I hadn't laughed so hard and out loud in a long time. Full of lies, it was one mom squeezing every ounce of humor possible to get through the day. Self defecating in the best possible way, I loved how her sarcasm stretched into the depths of my mommy soul. She could rip on her life as a mom and laugh about it. And it left me inspired.
It immediately got me to thinking what mom lies I told myself this week. At first, I shook my head and thought there was absolutely NO way that lied…because I'm just that perfect (I'm already hurling myself headfirst into a vat of lies). But then I laughed. I shed my "this-is-what-the-world-sees" mom skin and got down and dirty in the thoughts in my head….all for your reading pleasure, of course. Throne of lies? Absolutely. Let's begin.
Lie: I drove my child to the bus stop because it was a frigid 39 degrees outside and I didn't want his little body to shiver.
Reality: I drove my child to the bus stop because it was flipping freezing outside and there was no way I was changing out of my hideous flannel pajama bottoms to walk him to the bus stop like I normally do.
Lie: I didn't shower today because I was too busy using my mom super powers to save the world.
Reality: I didn't shower today because all I did was repeated wipe my stubborn potty training child's butt from poop all day long. I wasn't cleaning another butt today, even if it was my own.
Lie: Is my husband coming home yet?
Reality: It's been a day, and if I blow up at you, that's why. This is your warning. Prepare yourself accordingly.
Lie: Good morning, princess! Did you sleep well? Give me a big kiss!
Reality: WHOA, you have the most horrid morning breath, child! What animal died in your mouth last night?
Lie: I wore the same shirt again today because I only wore it for a few hours yesterday and BONUS, I'm saving water and laundry too.
Reality: I'm so lazy.
Lie: If you wear big girl underwear, we get to go to Disney World. Don't you want to go see Mickey?
Reality: I'm seriously burning all of your princess dresses this time.
Lie: Hey honey, can you pick up a few things from the store on the way home?
Reality: I haven't seen a human being outside of this home all day. I look like a creature from the deep dressed in pajamas. Don't make me face the world today, please. 
Lie: Let's lay on the couch and watch a movie together while we snuggle. Isn't this cozy?
Reality: Please for the love! Go to sleep so that I can nap too. Your toddler drama is exhausting.
Lie: I'm just heading to

Target

to pick up a few essentials.
Reality: Husband, haven't you figured out my code words yet? I'm going to drown my sorrows in a sea of everything I don't need. Don't be surprised when I come home with a trunk full of STUFF.

Lie: I should exercise more.
Reality: I should stop eating those boxes of Girl Scout cookies in our house. And I probably should exercise too.
Lie: I'm a horrible mom, a mom fail this week.
Reality: I'm a good mom. I'm not perfect. But guess what, tomorrow is another day. And hey, at least I have my humor.


Ok moms, let's be honest. What "mom lie" have you told yourself this week?
Be sure to follow Raising Whasians via Facebook, Twitter, Google, Instagram, Pinterest and YouTube for more of my mommy brain thoughts, family moments, recipes, crafts, travel & more!