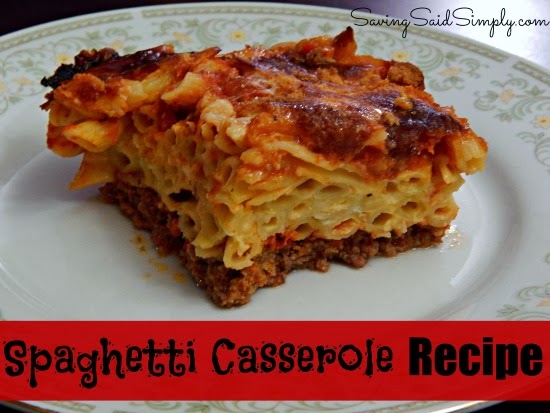 Easy Spaghetti Casserole Recipe
I am a pasta fanatic and so are my kids! I love my simple Spaghetti Casserole Recipe because it makes quite a bit of food for a very low budget! Great for leftover night too 🙂 Here's how:
(1) 16 oz. box of pasta (I use Angel Hair, Penne, Bow Tie, Elbows for my go-tos) – I buy on sale as low as $0.25-$0.50
(1) lb. of Ground Beef – about $4
(1) 26 oz. jar of your fave red pasta sauce – about $1 on sale
(1) Green Pepper, diced – $0.75
(1) Small Onion, Diced – $0.75
(1) Teaspoon Seasoned Salt
(1) Teaspoon Oregano
(1) Teaspoon Garlic Powder
(5) Eggs, divided – about $1 or less
(2) Cups of Shredded Mozzarella or 5-Italian Cheese, divided – about $2.50 or less per bag
TOTAL Cost: less than $12 for up to 12 servings (that's $1 per meal!)
Directions:
1. Preheat oven to 400 degrees F.
2.. In medium bowl, combine Ground Beef, Green Pepper, Onion, Seasoned Salt, Garlic, Oregano and 1 Egg until well mixed. Press evenly into bottom of 9×13 dish.
3. Take half of pasta sauce jar (13 oz) and pour over meat layer. Spread evenly.
4. In large bowl, beat 4 eggs and 1 cup of cheese with whisk.
5. Cook pasta according to package. Drain and add to egg and cheese mixture. Toss until well coated.
6. Spread evenly over top of 9×13 pan. Top with shredded cheese.
7. Bake for 30-40 minutes or until meat is fully cooked (165 degrees F)
The pan will be HEAVY, so be prepared! But this makes a ton of food and is definitely one of my go-tos for a large crowd! Serve with sprinkle parmesan cheese. YUM 🙂
Did you enjoy this dish? Let me know! Need more simple family recipe ideas? Check out my recipe tab for more inspiration!
Be sure to follow Saving Said Simply via Facebook, Twitter, Instagram, Pinterest and YouTube for more fun recipes, giveaways and more!
Blessings!
Christie