Safety 1st Car Seat Safety Tips. Post sponsored by Safety 1st. All opinions are my own

Safety 1st Car Seat Safety Tips
Child Safety is something that really hits a piece of my heart. Everyday, my two little ones travel with me in the backseat of the car. Every day, it's my job to keep them safe with me in the car. My kids are the most precious cargo that I will ever carry with me. Making sure that they are the safest possible on the road is one of my most important jobs and responsibilities. Having the right equipment, like Safety 1st car seats, is imperative. Did you know Sept. 14-20 is Child Passenger Safety Week, with September 20th being National Seat Check Saturday? Car crashes are a leading cause of death for children 1 to 13 years old, and often times deaths and injuries can be prevented by proper use of child restraints and seat belts.
Sponsored by the U.S. Department of Transportation and the National Highway Traffic Safety Administration (NHTSA) the goal of Child Passenger Safety week is to make sure all parents and caregivers are properly securing children (ages 0-12) in the best car restraint (rear-facing, forward-facing, booster, seat belt) for age and size.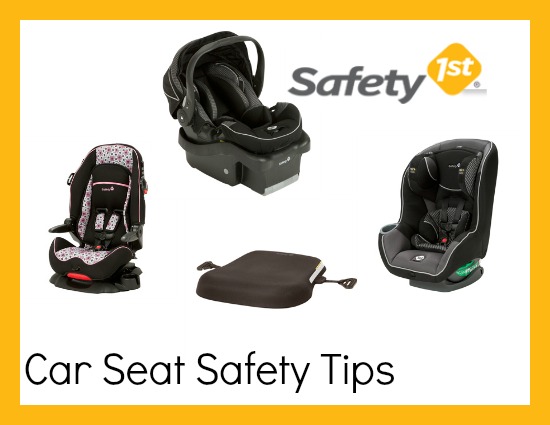 Importance of Rear Facing
In March of 2011 the American Academy of Pediatrics (AAP) updated their car seat recommendations advising that children should remain rear facing until the age of two. According to a study in the Journal of Injury Prevention children under the age of two are 75% less likely to die or be severely injured in the event of a car crash if they are rear facing. When a child is rear facing their head, neck and spine are better supported and in the event of an accident, crash forces are distributed over the child's entire body.
Location
Typically the center rear seat is the safest place for a car seat, and never install a car seat in the front seat. If your car does not have a latch connector for the middle seat, you can use the middle seat belt to properly secure the base. When installing, make sure the base of the car seat moves no more than an inch from side to side. An easy way to test this is to hold at the belt path.
Car Seat Expiration
Car seats do have an expiration date, it is recommended that car seats be replaced every 5-8 years, or immediately after a crash. The reason for an expiration date is because plastic can warp and materials can fray, which can make car seats not as effective in the event of a crash. Additionally car seat technology and state and federal car seat regulations change over time. Important warning labels may wear out and instruction books may get lost, which can lead to improper use of the car seat.
Safeguard the Car
Childproof the inside of the car and eliminate projectiles. Anything in the car that is not secured is a possible projectile – even a child's toy, or a water bottle. In a crash, objects take on greater weight due to crash forces.
Get Your Seat Checked
You can make sure that your car seats are installed correctly and safely by a certified technician at a car seat inspection station near you. Check out http://www.safercar.gov/cpsApp/cps/index.htm to find your closest location.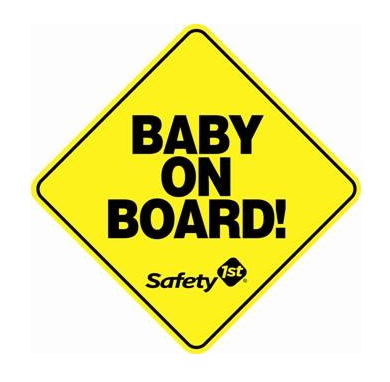 Make the Diamond Safety Promise & Win!
Safety 1st understands the importance of child safety! In fact, this year marks the 30th anniversary of the Safety 1st Baby on Board sign. Made in the diamond safety sign shape, Safety 1st is honoring their iconic diamond shaped sign with a Diamond Safety Promise! Join the Diamond Promise movement now to keep our kids safe and you could win a $1,000 pair of diamond earrings!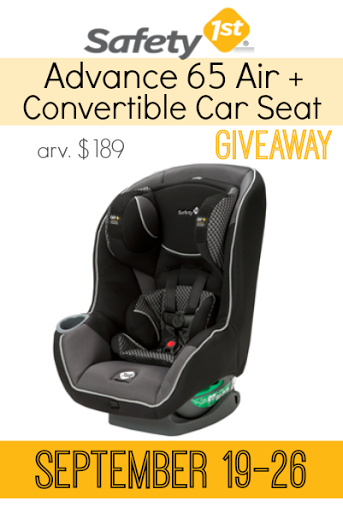 GIVEAWAY
Ready for a giveaway? To celebrate National Child Passenger Safety Week, one lucky fan will win the Safety 1st Advance SE 65 Air +Convertible Car Seat ($189 value) to keep your little one safe in the back seat! For children from 5-65 pounds, this car seat features Air Protect + and combines the advanced protection of the Air Protect® cushion system with patented GCell HX™ foam designed with hexagonal shapes for superior protection around the torso. TOGETHER they provide full body side impact protection. In addition to Air Protect +, the Advance 65 Air + uses a steel-reinforced metal frame for extra stability and includes a 4-position recline for an optimal fit to your vehicle. Included color-coded belt paths and installation labels to help you install it quickly and correctly. Yes, Safety 1st definitely has your child's safety in mind! Open to U.S. Residents only. Ends 9/26/14. Here's how to enter:
Disclosure ~ No compensation received in exchange for this posting. Safety Tips provided by Safety 1st. All opinions are 100% my own. Saving Said Simply is not responsible for shipment of prizes. Be sure to follow Saving Said Simply via Facebook, Twitter, Instagram, Pinterest and YouTube for more reviews, giveaways and more.